Travel & Tourism
Popular Turboprop
Despite occasional crashes, ATR 72 remains a popular aircraft
Yeti Airlines maintains a fleet of five, while Buddha Air boasts eleven ATR 72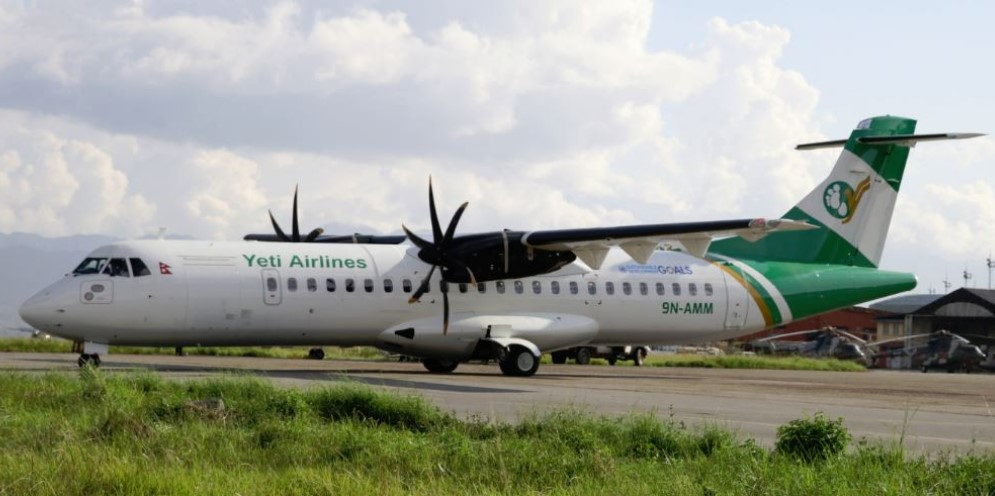 The type of aircraft that crashed in Pokhara on Sunday is said to represent the latest generation of turboprop aircraft. First manufactured in 1988 by a French-Italian joint venture, its developers call ATR 72 aircraft "the best with turboprop engines".
Yet the other side of the story is this: The ATR 72 has been involved in 46 aviation accidents and incidents resulting in nearly 400 fatalities as of now, according to a count on Wikipedia.com.
In 29 of the accidents the aircraft's hull or the main body were lost.
The first ATR 72 crashed on October 31, 1994, in Roselawn, Indiana, USA. The American Eagle operated flight crashed due to icing. Before Sunday's Yeti Airlines ATR 72 crash – while approaching Pokhara airport, there have been at least a dozen other fatal air crashes involving ATR 72.
Before Sunday's tragedy, the last ATR 72 crash happened on February 18 near Yasui airport, Iran, when the Iran Aseman operated flight crashed into Mount Dena.
Popular aircraft
Despite occasional accidents, ATR 72 remains popular in South Asia. It dominates India's private airline, Indigo's fleet of 300 aircraft. Nepal's Yeti Airlines boasted a fleet of six ATR 72. After today's crash, there are five left.
Another leading Nepali airline, Buddha Air, too boasts nearly a dozen ATR 72 aircraft.
On its website, Buddha Air appreciates the aircraft's "comfort and performance". It says: "Powered by PW127 engines, which are also used to power ATR 42-500, the ATR 72-500 provides outstanding short-field performance for an aircraft of this size."
The airline also notes "a range of improvements in the field of noise and vibration" in ATR 72-500 series.
Also, it says, "ATR 72-500 emits about 50 per cent less CO2 per passenger-km than new-generation jets and up to three times less CO2 than older ones. Compared to a car, the ATR 72-500's carbon dioxide (CO2) emissions per seat/km on a 200-Nm (370 km) sector are 15 per cent lower.
Crash investigation
Nepal's government has formed a five-member panel under former secretary Nagendra Ghimire to investigate Sunday's crash in Pokhara.
Aviation expert Nepali Army retired captain Deepak Prakash Bastola, retired captain Sunil Thapa, aircraft maintenance engineer Ekraj Jung Thapa are the members, while Buddhisagar Lamichhane, joint secretary at the Ministry of Culture, Tourism and Civil Aviation is the member secretary on the commission.
The panel is expected to submit its report in 45 days. According to Aviation Safety Network, this is Nepal's deadliest incident since March 2018, when a US-Bangla Dash eight turboprop flight from Dhaka collapsed upon landing in Kathmandu, killing 51 of the 71 passengers on board.
At least 309 people have perished in plane or helicopter crashes in Nepal since 2000. The European Union has imposed restrictions on Nepali planes from using its airspace due to safety concerns since 2013.
Also read: Thirty years after Nepal's worst ever air crash in Bhattedanda
Also read: 16 years after Ghunsa air crash, legacy of conservation heroes lives on