Travel & Tourism
Aviation Safety
Thirty years after Nepal's worst ever air crash in Bhattedanda 
Thirty years after the fatal air crash in Bhattedanda, Nepal's aviation safety challenges remain
Wednesday, September 2022, marks the 30th anniversary of the Pakistan International Airlines flight 268 crash at Bhattedanda, nearly 10 nautical miles south of Kathmandu airport.
With a loss of 167 people on board, the 1992 crash is considered the worst ever in Nepal's aviation history. That news had shocked many people around the world, including me.
Then I was a junior high-school boy growing up in eastern Kathmandu and trying to make sense of numerous things and happenings.
Yet news of that crash was simply too shocking for Nepalis - and people around the world. After all, the tragedy had occurred 59 days after Thai Airways International flight 311 - an Airbus 310-304 - slammed into a mountainous terrain 23 miles north of Kathmandu, killing all 113 on board.
More on the Thai Airways crash a little later.
But if everything had gone right on its final approach that afternoon, the PIA Airbus 300 - on a two-and-a-half-hour routine flight from Karanchi to Kathmandu – would have landed safely at the Tribhuvan International Airport in less than six minutes – at around 2:35 NST that afternoon.
But that was not to be. Then Kathmandu airport was not equipped with Radar – which makes navigation easier - and the plane lost communication with the air traffic controller.
The news of the fatal crash left the near and dear ones of those on board devastated, from the United Kingdom to Nepal, Pakistan to Europe, and Bangladesh to US, Canada, Japan and New Zealand. It may be fading away from our memories, but the crash continues to haunt many, especially those directly affected.
Cause of the crash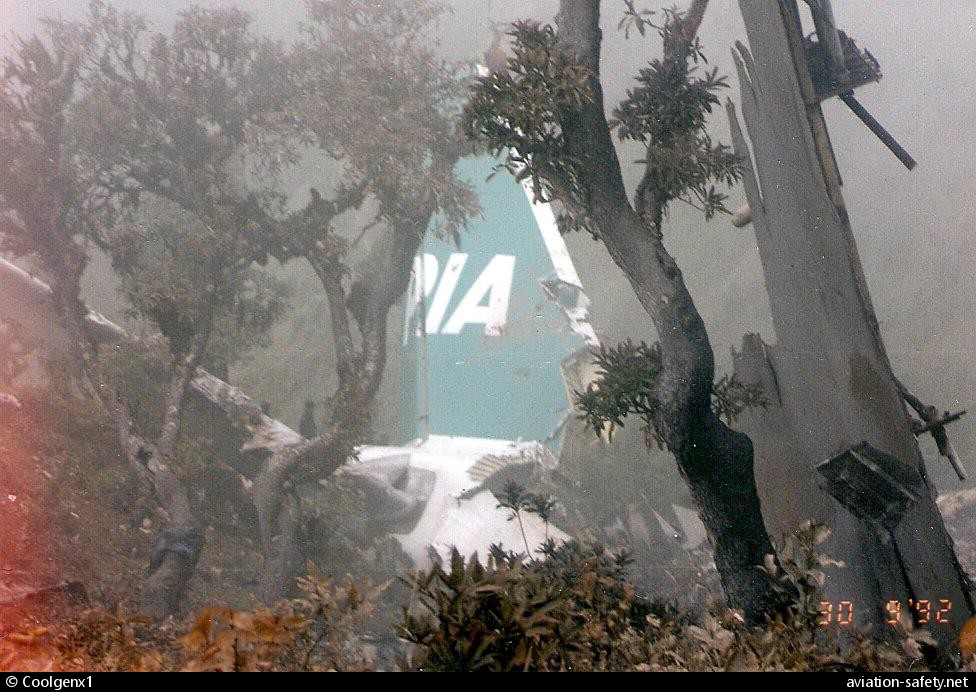 Everything was perfectly fine until the aircraft arrived at a reporting point called Romeo, located 41 miles south of Kathmandu at an altitude of 15,000 feet. But something went horribly wrong during its final approach – a carefully stepped approach - to a point called Sierra, 10 nautical miles south of the Kathmandu airport.
Once there, an aircraft would have already entered the valley. Having crossed the final hill barrier of the Mahabharat mountain range at Bhattedanda (8,250 feet), pilots feel safe to communicate with the tower and begin to look straight ahead for the runway.
As investigators later found out, the pilots of flight 268 made a fatal mistake on its stepped approach to Sierra. From the Romeo to the Sierra point and into the valley, the pilots were required to descend into the valley in seven careful steps. That meant they needed to descend from 15,000 feet to 5,800 feet.
But investigators probing into the actual cause of the crash found out that the pilots were one step ahead, or "one step too early" to descend into the valley, and that the mistake had been made after the pilots misread the chart and descended to 10,500 feet at 16 miles.
When that mistake was made, investigators found out that the aircraft was 1,000 feet below the prescribed altitude. As it continued to descend, the aircraft was on a collision course. At 2:30pm, moments after informing the tower that it was at 10 nautical miles, the aircraft crashed at Bhattedanda.
Investigators blamed pilot error, but also pointed out that the air traffic controllers failed to alert pilots about the inaccurate altitude in time. They also pointed out that the approach plates issued to PIA pilots were unclear, and recommended that the approach to Kathmandu airport be made simpler and easier to follow.
Thai Airways flight 311 experienced similar circumstances. Investigators probing into that crash blamed the captain and air traffic controller's loss of "situational awareness" and underlined the need for better training for the ATCs and pilots flying into Kathmandu.
Soon, Nepali officials sought international assistance to improve its aviation safety standards.
Improvements
Five years later, in 1997, Nepal's first Radar facility was installed at Kathmandu airport with Japanese assistance. Another Radar was installed at Bhattedanda, not far from the PIA aircraft crash site, in 2017. Aviators consider it a giant leap forward for pilots flying into and out of Nepal.
"We have come a long way," says Tri Ratna Manandhar, former director general of the Civil Aviation Authority of Nepal. "Now we have Radars and even localisers at the airport. That help pilots navigate and land safely." Moreover, as in 1992, the step down approach is no longer needed. We have better procedures to approach Kathmandu airport."
Thirty years after the 1992 crashes, I'm a fully grown up man, working as a journalist and writing about aviation safety, among scores of other issues. It's heartening to know that Kathmandu airport now boasts better safety infrastructures and a whole new procedure – like Required Navigation Performance Authorisation Approach (RNP AR) - for international flights. The RNP AR allows aircraft to fly along a precise path with accuracy.
Even so, air safety issues continue to plague Nepal, with aircraft flying into terrain - piercing thick clouds - crashing almost every year. The country has already suffered 67 major air crashes in 60 years – and in them over 818 people lost their lives, according to Civil Aviation Authority of Nepal figures.
Equally important, Nepal's airlines continue to remain on EU's blacklist.
Watch embedded video of flight 268 crash investigation on Smithsonian Channel's YouTube:
Also Read: 16 years after Ghunsa helicopter crash