Politics
Power Centre
Rabi Lamichhane piles pressure on Prachanda, demanding Home Ministry
The Prime Minister reassures Lamichhane that the matter would be resolved after political consultations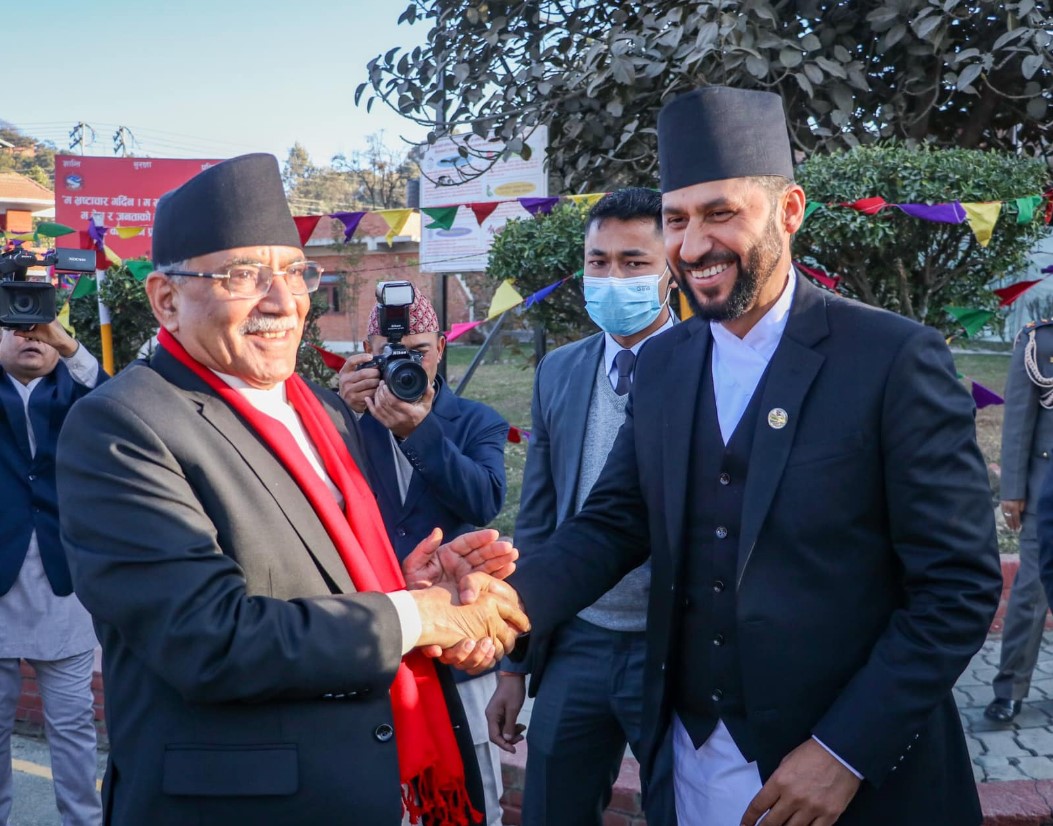 It's official: Rastriya Swatantra Party will leave the Pushpa Kamal Dahal Prachanda government if the party doesn't get the Home Ministry.
Two days RSP spokesperson said that the ministry belongs to his party, it's president demanded yet again on Tuesday that the ministry be given to the fourth largest party as per the Dec 25 deal between coalition partners.
The ministry remains leaderless after the Supreme Court on January 27 stripped Rabi Lamichhane of all the powerful posts he headed over his 1994 Nepali citizenship that, the apex court ruled, became defunct after he acquired US passport in 2014.
Two days later, on January 29, Lamichhane was reappointed the party chief, hours after he reclaimed his Nepali citizenship. Lamichhane has since been piling pressure on Prachanda to reappoint him as Home Minister.

The former deputy prime minister did that again on Tuesday, warning Prachanda in a Baluwatar meeting that his party would be forced to pull out of the ruling coalition if his party is not re-awarded with the powerful ministry.

Other RSP leaders too have been reiterating that demand.

Aranico Panday, a central committee member of RSP, took to Twitter earlier on Tuesday to clarify RSP's position.

He (@arnicopanday) wrote: "Friends let's not mix up two things: 1) Home Ministry must be returned to RSP? For sure. We must remain unified to get it - our right - back."

He continued: "2) Who will be that capable, controversy-free and qualified candidate who could elevate the glory of our party and nation? That's a different question altogether."
Panday's tweet saw a handful of takers with the majority either dismissing his party's obsession with the home ministry or dismissing the idea altogether.
Arun Dhoj Adhikary (@arundadhikary) replied: "I had expected n still expect RSP to sit in the opposition bench, demand good governance and accountability. By joining the government n being a TINY part of it, you run the risk of being a part of the problem! Wait 5 years and come back with a bigger band to LEAD the government."
Earlier, RSP General Secretary Mukul Dhakal made it clear that there was no point debating who should get the home ministry as the matter was already decided upon by coalition partners.
On Tuesday, Lamichhane reportedly told Prachanda that if RSP doesn't get home ministry, the situation would return to December 25, 2022, when the parties hammered the preliminary power sharing deal.
But leaders close to Prachanda say the prime minister is not keen to give home ministry to Lamichhane or another RSP MP. He reportedly suggested Lamichhane not to hurry until the complete verdict is public and his passport controversy, being investigated by the police, is settled.

The issue is also expected to be discussed during CPN Maoist Centre's ongoing meeting of secretariat members.
Passport case
Despite concerns over conflict of interest stemming from a passport abuse complaint against him, Lamichhane led the ministry for 32 days.
He sounded confident during Monday's meeting that he would be re-elected as a member of the House of Representatives once the by-election is held in Chitwan-2. The election date has not been announced yet.
Lamichhane may have re-acquired his Nepali citizenship, but he continues to face police investigation into a case relating to his alleged passport misuse.
Despite being a US passport-holder, the former TV show host had acquired Nepali passport in 2015 using his 1994 Nepali citizenship.
Now that he no longer remains Deputy Prime Minister and Home Minister after Friday's verdict, Nepal Police is expected to continue investigations into his passport abuse case.

Because the police investigation into his "illegal possession" of dual passports is unfinished, the stalled investigation process is expected to reopen in the days to come.
If that process goes ahead, Lamichhane may have to face criminal charges under the Passport Act.

Its Section 21 states that "one who receives or attempts to get a passport or travel documents by submitting false details can be fined Rs200,000 to half a million rupees and imprisoned for one to three years or both".

If the verdict goes against his favour, legal experts say, Lamichhane might not be able to restart electoral politics.
Work permit
He is also accused of working in at least two Nepali media outlets between 2014 and 2018 without a valid work permit. He also led several controversial sting-operations, violating journalists' codes of conduct.
After the Press Council of Nepal raised objections, he furnished a written reply in June 2018, challenging its officials and famously stating that he was "not a journalist".

He also wrote that he would "feel honoured to work as a shoe-shiner rather than obtain a Press Pass" from the Department of Information.