Nepal
SHORT CUTS
When competing interests come into play
Conflict of interest in Nepal: It's swept under the rug, resurfaces, then fades away — the cycle continues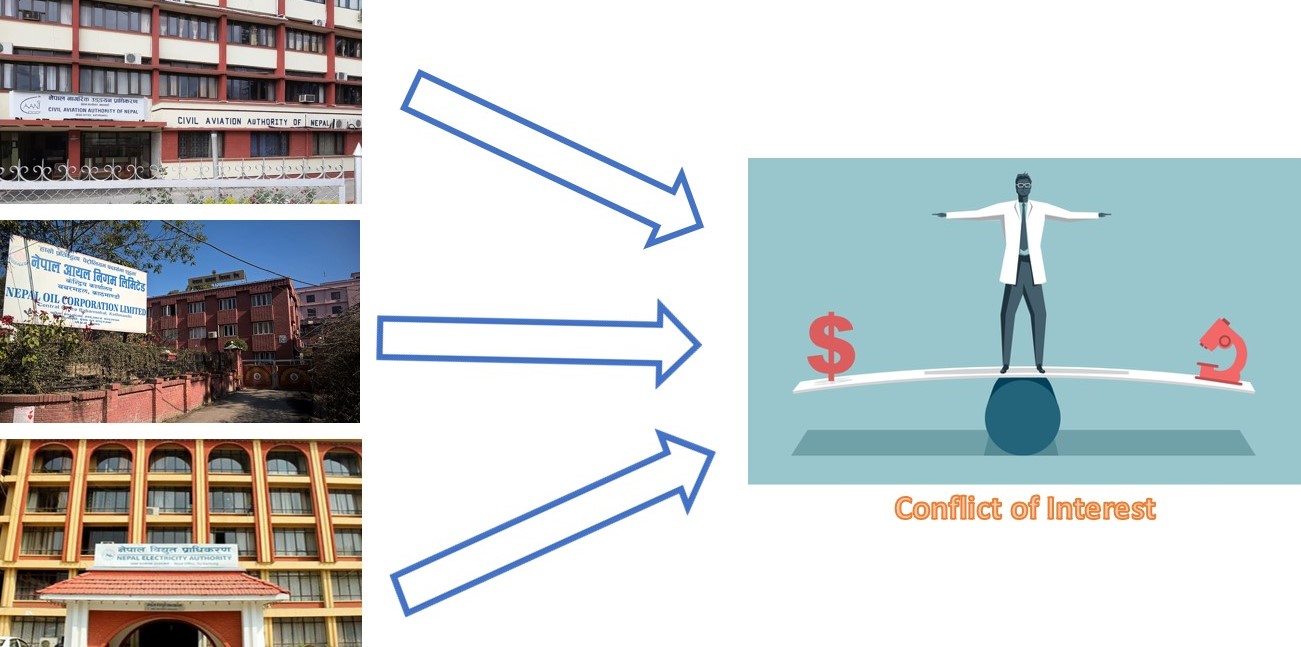 The appointments of Rastriya Swatantra Party President Rabi Lamichhane as Home Minister, his fellow MP Dol Prasad Aryal as Labour, Employment and Social Security Minister and Bikram Pandey as Urban Development Minister have kicked up a whole lot more than dust surrounding conflicts of interest (COL).
COL is typically a dormant issue in Nepal; it appears once in a while, is swept under the carpet, resurfaces after a while, and then fades out — until the cycle repeats itself.
This is exactly what is happening this time as well. Like it has in the past, it will soon be a thing of the past. Despite the potential fallout, Lamichhane, Aryal, and Pandey are confident that they will retain the coveted portfolios. The knee-jerk responses are like "easy come, easy go."
Prime Minister Pushpa Kamal Dahal 'Prachanda' gave each of them the ministry of their choice, so they all have a direct and immediate stake in it. Hence, COL.
Ideally, there should be no COL. Period. While we talk passionately about the controversies surrounding COL for individual MPs and ministers, what about COL in state-run institutions?
The Yeti Airlines crash, in which all 72 people on board were killed in Pokhara on Sunday (January 15), has triggered debate surrounding another dormant issue – splitting the Civil Aviation Authority of Nepal (CAAN).
Everyone knows that CAAN has never been effective because the regulating body is fully under the control of a section of airline operators who enjoy political patronage.
The society of influences changes a bit each time there's a change of guards in Singh Durbar. But the thing is the "fundamentals" do not change. They remain constant. Even so, the public and smart people tend to give the discredited CAAN and its way of doing things the benefit of the doubt.
We know CAAN will be able to perform better if it is dismantled into separate institutions as a regulator and operator. Will this ever be done? For obvious reasons, this is not an easy answer.
Also look at the Nepal Oil Corporation (NOC). The state-owned oil monopoly imports petroleum products; transports them; sells them as a retailer and then also acts as a regulatory body. Is this done?
The Nepal Electricity Authority (NEA) is another case in point. This agency is solely responsible for power generation; transmission and distribution. At best, the proposed "unbundling" of the NEA is a work in progress.
Let's be clear: COL is least likely to be addressed in Nepal. For, it is in nobody's interest. Not least of the state's to see entities like CAAN, NEA and NOC split up.
Till that happens, efforts to address the issue of COL involving powerful private citizens, lobby groups or elected MPs and ministers, will only serve some "hot topics" for passionate debates and parlance.