Travel & Tourism
Yeti Airlines Crash
Flightradar24 reveals 'erroneous data' sent by YT691
Flightradar24 notes that 'the flight stopped transmitting position data 7 minutes before the last data was received'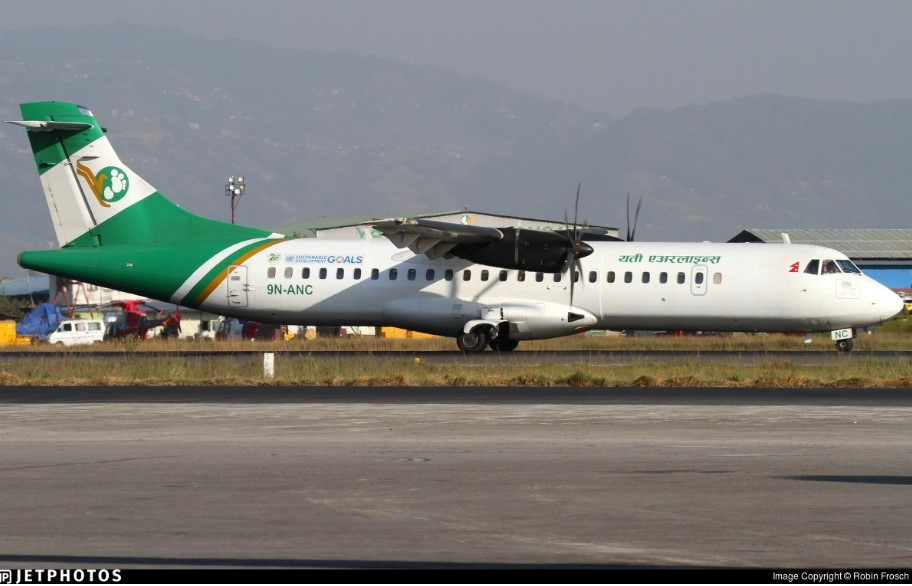 The Yeti Airlines flight 691 that crashed into a gorge near Pokhara airport on Sunday sent "erroneous altitude and speed data throughout the flight", according to flightradar24.com.
According to Civil Aviation Authority of Nepal (CAAN), the flight took off at 10:30 NST and was expected to land at 10:59 NST. But minutes before its expected touchdown the plane flew dangerously close to human settlements and crashed into the gorge of the Seti River.
Having recovered bodies of 68 out of 72 aboard the ATR 72 aircraft, rescue workers have given up hopes of finding any survivors from the gorge. Rescue efforts are continuing at the site on Monday afternoon, more than 24 hours after the crash.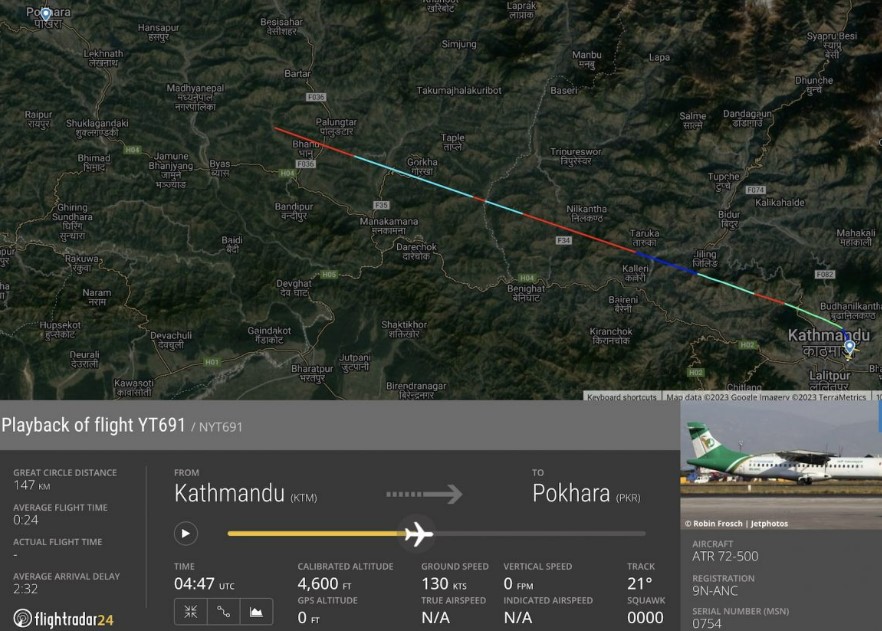 In his January 15 blog, flightradar24.com's director Ian Petchenik notes that there was a rapid change in the altitude of YT691. "The rapid change in altitude shown in the graphic above [as noted by the different colours in the trail] is indicative of those erroneous values," he writes.
Flightradar24's records show Yeti Airlines 691 departed from Kathmandu at 04:47 UTC [Coordinated Universal Time or GMT] – which is five hours and 45 minutes behind NST.
"Flightradar24 receivers gathered position data from the aircraft until 5:05 UTC. The last signal received from the aircraft was at 5:12 UTC at an altitude of 2,875ft AMSL [above mean sea level]. Pokhara Airport elevation is approximately 2,700ft AMSL."
Ian Petchenik notes that "the flight stopped transmitting position data 7 minutes before the last data from the aircraft was received. The aircraft continued to send altitude, speed, and extended Mode S data until 5:12 UTC".
According to him, flightradar24 downloaded and processed granular ADS-B data (multiple frames per second) to better understand the flight data.
"Using historical data from other similar aircraft operating the same route over the past few weeks and the "MCP alt" settings received for this flight, we've removed erroneous altitude data to show a clearer picture of the flight path," he writes.
Yeti Airlines 691 was operated by an ATR 72-500, registered 9N-ANC (MSN 754), which was initially delivered in 2007. It was later acquired by Yeti Airlines in 2019.