Travel & Tourism
Lumbini Airport
Four issues plaguing Gautam Buddha International Airport
Frequency of international flights has failed to take off from three per week at Nepal's second international airport. A closer look reveals several pitfalls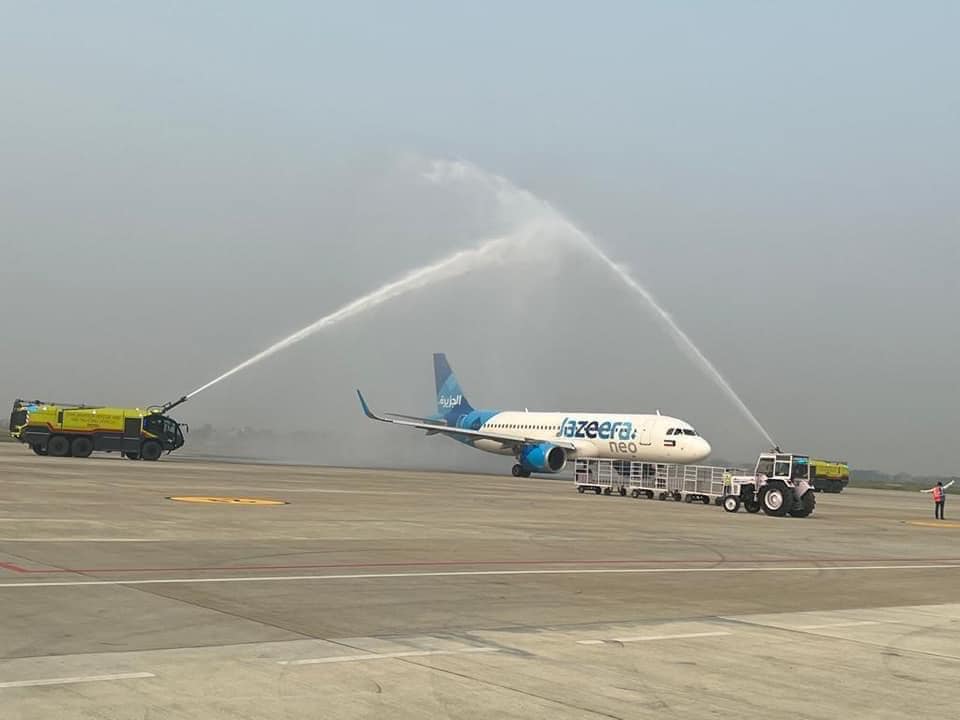 BHAIRAHAWA, November 1-
Most airports remain busy during the festive season or on weekends. But on a recent morning, Gautam Buddha International Airport here in the capital of Lumbini Province looked quiet, with no international flight movement.
Nothing extraordinary for an airport that has been handling around 40 domestic flights – including landings and take-offs – for years.
The civil aviation and security staff looked less busy even as Jazeera Air, the only airliner operating international flights, prepared for departure.
Currently, the airline operates three weekly flights - on Saturday, Tuesday and Thursday.
Five months after its official inauguration, the airport's seemingly endless wait for eager international carriers and passengers continues.
The Civil Aviation Authority of Nepal has also nudged two of the country's biggest airlines – Nepal Airlines Corporation and Himalaya Airlines – to swiftly start services from the Gautam Buddha airport.
The carriers seem reluctant. Officials are unclear when new international carriers will approach it and transport more international travellers to and from Lumbini, the birthplace of Gautam Buddha.
Lumbini, the most important pilgrimage site for Buddhists, lies 17 km west of the airport. Hopes were high that, once opened, the airport – a $76.1 million infrastructure venture - would attract airlines from such Buddhist countries as Sri Lanka, Thailand and beyond.
Five months on, there aren't any signs of that happening. And yet officials are finding solace that, in addition to domestic airlines, at least one international carrier, Jazeera Airways, a Kuwaiti airline, is holding the fort.
Being the first international carrier to launch its service to the airport, Jazeera Airways commenced its flights on May 15, 2022, a day before the airport's official inauguration.
Encouraged by the flow of Nepali expatriate travellers, beginning September 16, it started daily flights to the airport. But as the flow of passengers did not match its expectations, the airline cut down on its frequencies to three flights per week starting October 17.
So what's plaguing the brand new international airport at Lumbini, a Unesco world heritage site? Is it a lack of marketing and promotion? Or is it another big airport opened right across the border in India, the Sarnath International Airport, which also plans to attract Buddhist pilgrims?
To find out more, NepalMinute.com spoke to the General Manager of Gautam Buddha International Airport, Govinda Prasad Dahal, an official at the Lumbini Development Trust and a leading hotelier in the area.
No straight route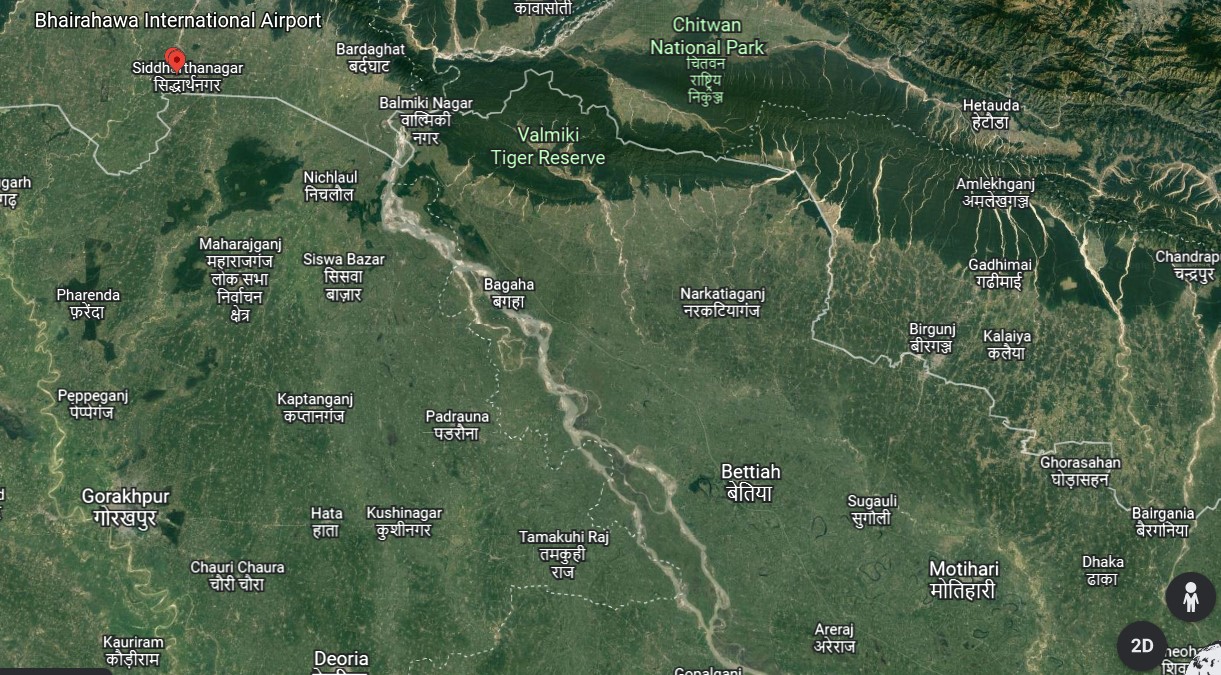 The airport's 3,000-metre-runway has been built 2km west of the city of Bhairahawa, in Lumbini Province in western Nepal. It is located 8km away from the Nepal-India border.
Because Nepal has failed to secure permission from India to use Indian airspace for flights bound for Gautam Buddha airport, international pilots have been forced to fly to Simara in central Nepal and turn around to begin their descent. That requires aircraft to burn more fuel.
The new airport is located nearly 100km north of the bustling Indian city of Gorakhpur in Uttar Pradesh, which boasts one of the biggest air bases of the Indian Air Force. That, Nepali officials like Dahal say, could be the reason why India denies an aerial route for aircraft bound for the Gautam Buddha airport in Nepal.
No green signal from India
The formal inauguration of Gautam Buddha airport on May 16, 2022, coincided with the Buddha Purnima celebrations in Lumbini. That day, Indian Prime Minister Narendra Modi flew into Lumbini.
In a clear indication that his government was not too happy with the inauguration of Gautam Buddha airport, which was built by a Chinese construction company, Modi flew into Lumbini in an Indian Army helicopter.
Additionally, the Indian government has yet to issue 'No Objection Certificates' to Indians willing to visit Nepal via the Gautam Buddha airport. India's policy is also believed to have discouraged Indian airliners from flying into the airport.
"If India allows its people to use our airport, we could attract a lot of Indian visitors to Lumbini," Dahal said.
No promotion and publicity

Officials and hoteliers in Lumbini say the government has done little or nothing to promote Gautam Buddha airport or Lumbini as a major tourism destination.
General Manager Dahal blames a lack of publicity and promotion. "A well thought out marketing or promotional campaign would go a long way in boosting tourist numbers to Lumbini. That, in turn, would prompt airlines to operate more flights."
Hoping that the new airport would bring in more tourists, hoteliers have recently invested around Rs 20 billion in building more than 100 hotels in the area.
President of the Siddhartha Hotel Association C P Shrestha blamed the policymakers for the lack of international flights and tourists in Bhairahawa.
"Many hotels were built with expectations that the GBIA would bring in a stream of tourists. But that didn't happen," Shrestha said. "Now, the airport wears a deserted look and the hotels are all empty."
For hotels in the airport area to run smoothly, Shrestha added, the government should devise plans to entice more tourists to Lumbini.
A Tour Guide Officer at Lumbini Development Trust, Mukunda Gautam, expressed frustration that nothing has changed in Lumbini in the five and half months since the airport's opening.
He said: "The airport isn't working as planned. This has affected the tourists that were expected to come to Lumbini. We can see that Jazeera Airways is the only airline currently operating flights at the GBIA. It only brings passengers that bring remittances to the country which is not helping,"
Officials say they have urged the government to do more to attract international flights and tourists to Lumbini.
Labour permit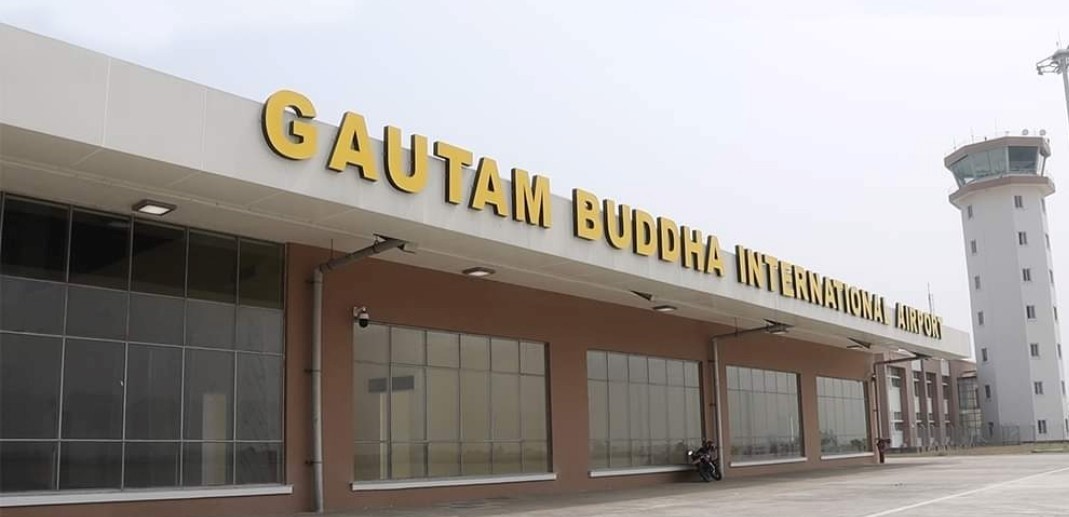 Since May 16, 10,084 passengers – mostly expatriate Nepali workers bound for Kuwait and other Gulf countries – have flown out of the Gautam Buddha airport, with 11,345 passengers flying back.
But the problem is that Bhairahawa city doesn't have any facility for foreign employment seekers who need to produce medical test reports, visas, and foreign employment permits.
"If they could get medical examinations and labour permit facilities from Bhairahawa it could stop them from going to Kathmandu," Dahal said.
For obvious reasons, students seeking overseas education cannot use the Gautam Buddha airport because most facilities are concentrated 300km away in the federal capital of Kathmandu.
When you have to go to the capital for every process, people don't want to spend their time and money to return to the Gautam Buddha airport, said Dahal.
But things might change.
Dahal said the issues have been brought to the notice of the higher-ups in Kathmandu. "We are hopeful that some of the problems will be resolved after November. And the airport will be in a position to extend every facility to the passengers."
Also Read: In favour of a much stronger national flag carrier