Politics
Vote of Confidence
Vote of Confidence: Prachanda receives unprecedented support in House
A majority of the House of Representatives members - 268 - vote for the multi-party coalition leader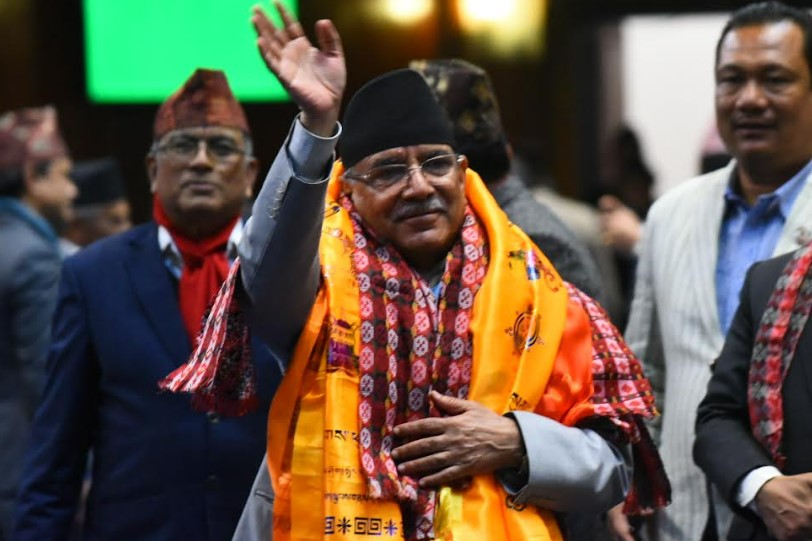 Prime Minister Pushpa Kamal Dahal Prachanda has won the vote of confidence in the lower house of Parliament, with an overwhelming majority.
He secured votes of 268 out of 270 members of the House of Representatives present during Tuesday's voting.
Only two members – Prem Suwal of Nepal Workers' and Peasants' Party and Chitra Bahadur KC of Rastriya Janamorcha Nepal - refused to back him.
The unprecedented voting result in the CPN (Maoist Centre) chair's favour became possible after the largest party, Nepali Congress, decided to vote for him.
MPs who voted for him represent ten parties. They are: Nepali Congress, CPN-UML, CPN Maoist Centre, CPN (Unified Socialist), Rastriya Prajatantra Party, Rastriya Swatantra Party, Janata Samajwadi Party, Loktantrik Samajwadi Party, Janamat Party, Nagarik Unmukti Party.
Three independent MPs - Amresh Kumar Singh, Prabhu Shah and Yogendra Mandal - also backed the former rebel leader.
Prachanda began his third term as prime minister on December 25 following a dramatic development which saw him switch sides at the last minute – betraying Sher Bahadur Deuba - and join CPN-UML-led coalition. Prior to that, Maoist Centre was part of the Nepali Congress-led electoral coalition.
Speaking in the House of Representatives before the confidence vote, Prachanda said he felt overwhelmed by the support of all leading political forces. "With such unprecedented support, I feel justice has been done to me," he said.
"This is historic. I'm proud of this and feel more responsible. But the road ahead is filled with challenges. Now I will need to face the challenge of respecting this House - and respect all the ideologies and thoughts of all the parties represented here."
Also Read: Prachanda's twin challenges