Crime
Challenges Galore
Deputy PM Lamichhane's moves draw mixed reactions
Critics question his motive to join the Prachanda-led government against the backdrop of 'No Not Again' campaign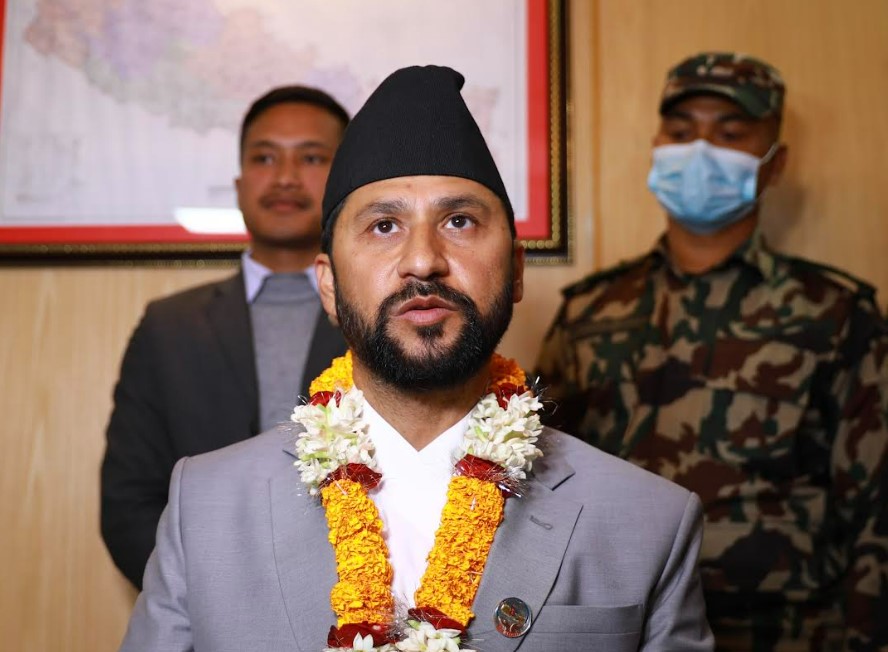 Newly appointed Deputy Prime Minister and Home Minister Rabi Lamichhane's move to reform workplace rules has drawn mixed reactions.

Since assuming office on Monday, Lamichhane has remained busy meeting heads of different departments under the ministry. On Wednesday, he visited the Department of Passport, and enquired about the speed of service delivery amid complaints of red tape.

The former television show host joined politics only six months ago, opening a political party for independent candidates that emerged as the fourth largest political force in the election held on November 20.

After quitting Galaxy 4K TV where he hosted Sidha-Kura-Janata-Sanga, the 48-year-old has transformed himself into a leading political figure.
Earlier this week, the Rastriya Swatantra Party President's move to join the Prachanda-led government drew criticism from some of his party colleagues. Lamichhane contested the election from Chitwan-3, calling on voters to defeat tried and tested leaders like Prachanda, KP Oli and Sher Bahadur Deuba, to name a few.
His slogan, 'No Not Again' became quite popular too.

Admiring Lamichhane's move to reform workplace rules, RSP MP Manish Jha wrote a Facebook post, sharing the eight steps his party leader floated at the Ministry of Home Affairs.
They are:

1. No spending on flowers, garlands and Khada, an auspicious Buddhist shawl.
2. Removing towel from chair.
3. Civil servants are required to prepare their own decision papers.
4. Civil servants requested work as team members.
5. Team members requested to enjoy their lunch together.
6. Well-wishers requested to visit in groups - and without flowers.
7. Reach the office quicker than colleagues.
8. Home Minister's vehicle to strictly follow traffic rules.

Jha's post is gaining traction among Facebook users, with over 1,600 reactions.

While a majority of users have applauded Lamichhane's move and wished him luck, some have expressed doubts over the TV anchor-turned-politician's capacity to deliver. Others have questioned his motive.
They asked why he joined the club of the tried and tested leaders, contradicting his earlier pledge to remain in the opposition and act as a watchdog.

Commenting on Jha's post, Kunal Shah wrote: "If Rabi Lamichhane had been a TV show host this day, his punchline would have been: 'Dear Prime Minister, why do you need so many deputy prime ministers in such a small country... to play the card game of marriage?'"

He continued: "'Also, why were you in such a hurry to appoint someone whose citizenship is being investigated as Home Minister?'"

Lamichhane is under the scanner at Supreme Court for not reacquiring Nepali citizenship after renouncing US citizenship. The court is due to hear a petition challenging his legitimacy as Member of Parliament without a valid Nepali citizenship, on January 6.
Another Facebook user, Rabindra Maharjan, criticised Manish Jha's eight points. "The list of eight points are related to sycophancy. Now people need results, yes results. No useless talks."

Shiva Shankar Nepali criticised Jha and Lamichhane, saying: "This is all drama and is aimed at cheap publicity. If he [Lamichhane] fails to arrest the murderer of Nirmala Panta, he must quit within a month."
Soon after assuming office, Lamichhane instructed Home Secretary to update the file of Nirmala Panta, indicating that Nepal Police would work to resolve the mystery surrounding her 2018 rape and murder. The resident of Bhimdattanagar-2, Kanchanpur, remains missing since 11am, July 26, 2018.
After investigation, the police concluded she was raped and murdered. A 41-year-old suspect was arrested and subsequently paraded before the media - but the locals, including the victim's family members, seemed unconvinced that the man with mental health issues committed the crime.
The mystery remains unsolved as yet.
Also Read: Four years after Nirmala Panta's murder, police reveal shocking data on rape