Kollywood
Cinema
Prem Geet 3 'gives kiss of life to Indian theatres' (Watch)
Gurung-Sen's period romantic thriller reaps Box Office windfall in India
The first Indo-Nepali film of recent times, Prem Geet 3 [PG3], released last Friday has brought audiences back to cinema halls in India in hordes as well as revived the cultural bonds between the two south Asian neighbours.
Hyderabad-based and Hollywood award-winning [The Least of These – the Graham Staines story] filmmaker Aneesh Daniel said, "I am pleasantly surprised by the audiences' response to this film. A Nepali film has given the kiss of life to Indian theatres that had turned ghost town during the pandemic."
The Rs40 million Nepali film has pulled cinema fans back into Indian theatres which mega-budget films failed to do," said the director, and added, "Most shows are running to full capacity. House Full boards, regularly seen outside cinema hall foyers in the 1970s and 1980s, have come back."
On www.nepalminute.com's request, Daniel watched PG3 Sunday night in a PVR Cinemas theatre in Nexus Mall, Kukatpally, a suburb in north-west of Hyderabad in Telangana state.
Well received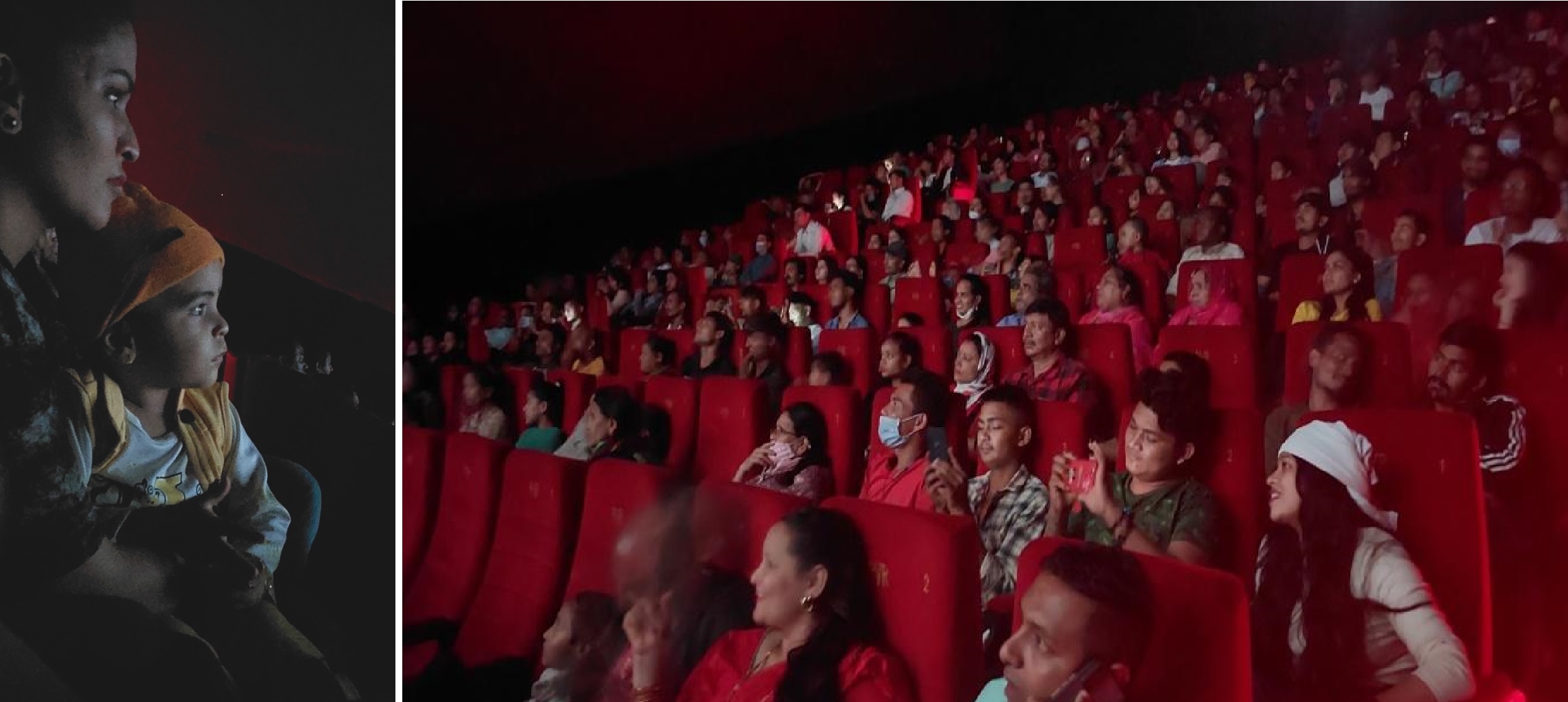 "The theme, content and scenic Himalayan locations of PG3 enthralled the mainly Nepali-speaking Indian audience," said Daniel. "The mood inside the theatre was of excitement and expectation. The whistling and clapping reminded me of audience reactions in the 1980s."
The success of PG3 partly matches Brahmastra, released two weeks earlier on September 9, that first attracted fans in droves back to theatres. Amazon-owned Internet Movie Database [IMDb] gave a high 8.7/10 rating based on 1,915 votes. The Times of India readers rated it 4.9 out of 5. The period love story, starring Pradeep Khadka and Kristina Gurung, has won cinema fans' hearts.
In Nepal, Nepal's former prime minister and CPN Maoist Centre Chairman Pushpa Kamal Dahal Prachanda is among the thousands impressed by PG3. He watched the film at Indradev Hall in his hometown, Chitwan Sunday evening. Bharatpur Metropolitan City Mayor Renu Dahal accompanied Prachanda with a few officials.
Talking to the media after watching the film Prachanda said: "The film depicts many ideas - love, violence, and counter-violence, war, politics, and conspiracy within the palace. I congratulate the directors and scriptwriters for making a unique film. The film highlights Nepal's natural beauty. The actors have portrayed their characters well. The film is full of drama and entertainment."
Box office collections
Around 500 theatres in India and 200 in Nepal currently run PG3. Gross earnings of the film reaffirm its commercial success. Producer revenue collections have crossed Rs54 million in Nepal in three days of screening. In India the film earned Rs9.2 million on the first day and crossed Rs26.5 million on the third day. Worldwide its producer revenue is nearly Rs112 million.
Ayan Mukerji-directed Brahmastra reaped Rs317.5 million in its first week. Worldwide this film's earnings surpassed Rs2.25 billion. PG3 is likely to earn more revenue in the coming days because it has yet to complete its first week.
PG3 uses the successful cinematic theme of good triumphing over evil,said Daniel. "The film is successful because it is a love story which audiences like. The directors have done an excellent job with the casting. I guess they know the audience pulse well. No wonder, young women in the audience fell in love with Prem, the protagonist of this story."
"PG3 promotes Nepal's scenic and unexplored beauty in the film which could inspire foreign film-makers to plan their projects in the Himalayan country," said Daniel. "Nepal's countryside offers fantastic opportunity to Indian film-makers because it could be a cheaper alternative to Switzerland. The beautiful landscapes seen in this film are travel and tour operators' delight because the film unintentionally promotes Nepal tourism."
Gurung and Sen filmed around 55 per cent of the story in scenic Manang and the rest at a purpose-built set in Kirtipur.
Audiences in Nepal have received PG3 well. Nepali Box Office collections reaffirm this. PG3 grossed Rs20.5 million on Friday, the opening day, and Rs25m on Saturday. Ticket counter clerks remain busy as fans continue to flock.
PG3 has received mixed reviews in Nepal compared to the audience response in India. Executive Producer Chakra Bahadur Chand said, "The film has received good reviews in India. Audiences there are happy with the film. Overall, we have noted a good response. Some people have posted bad reviews in Nepal."
PG3 actor Prem Puri said, "The film is getting a good response in India. In Nepal, around 95 per cent have given good reviews. The remaining five per cent are unhappy, maybe because of language. Otherwise, the film is doing well."
Film fan Ashim Paudel gave a rating of 3 out of five after watching the Nepali version. "The film is different. It depicts scenic areas of the Himalayas in Nepal. This is different compared to other films," he said.
The rush of fans to watch PG3 in India has set a new high in Indo-Nepali cultural ties that go back centuries. Film industry in both countries could cash in on the two neighbours' strong traditional ties to propel cinema to greater heights. For this to happen, Nepal's nascent film industry needs governmental support, funds and acting school to nurture Nepali actors, directors, digital editors, and technicians.
Daniel suggested Nepal government could consider opening acting schools on the lines of India's National School of Drama, Delhi and Film and Television Institute, Pune. The Nepal government could offer incentives to Indian and other filmmakers to attract them to Nepal. This will boost tourism and further increase Nepal's good image globally, he said.
With inputs from Babita Neupane in Kathmandu.