Travel & Tourism
Kailash Mansoravar Yatra
China's zero Covid policy prompts Kailash pilgrims to visit north Nepal (Watch)
Once in Lapcha, pilgrims can get the rare glimpse of Kailash - located across the border in Tibet, without actually visiting China
China's zero Covid policy may have barred all non-essential travellers and tourists, but that hasn't quite deterred Indian and European tourists from visiting its border in the Himalaya from where they can get a rare glimpse of Mount Kailash, which is located in the Tibetan Autonomous Region.
Because China remains closed for foreign pilgrims, hundreds of Indian pilgrims have started arriving in north-western Himalayan district of Humla in Karnali province, from whose northern border Mount Kailash can be seen in a distance of about 35 kilometres, according to tourism entrepreneurs.
Travel operators say nearly 1,500 tourists, up from 150 last year, have booked for Kailash Darshan trip from Humla this season. Among those arriving from India also include Sadguru Jaggi Vasudev based in Isha Yoga Centre in Coimbatore, Tamilnadu.
Tenzin Norbu, managing director of Sunny Travel Services, told NepalMinute that around 70 Indian pilgrims have been arriving daily in Humla's Simkot airport from Nepalgunj in southern Nepal.
But the journey through some of Nepal's toughest terrain is not easy. After overnight camps in Simkot, Namkha and Lek Dhinga, the pilgrims need to take a short helicopter ride to Takchi. From there, they need to take another jeep ride up to Lapcha La pass in the Limi valley bordering Tibet.
Once in Lapcha La pass, pilgrims can get the rare glimpse of Mount Kailash – located across the border in Tibet, without actually visiting China. "From here one can get the view of Lake Mansarovar and Mount Kailash. The lake is about eight kilometres from the pass; whereas Kailash is 35 kilometres away from the area," said Tenzin Norbu.
Various Indians and Europeans are visiting the site, he said, adding: "very few Nepalis have booked for the trip."
Humla's travel operators say pilgrims are very much keen to visit Kailash Mansarovar despite travel restrictions triggered by the coronavirus pandemic. "All travels came to a complete halt after the pandemic, but now people have started to fly in here and are ready to travel and trek further to the remote area to realise their dream of getting a Darshan [glimpse] of Kailash," Tenzin Norbu said.
Glory of Kailash Mansarovar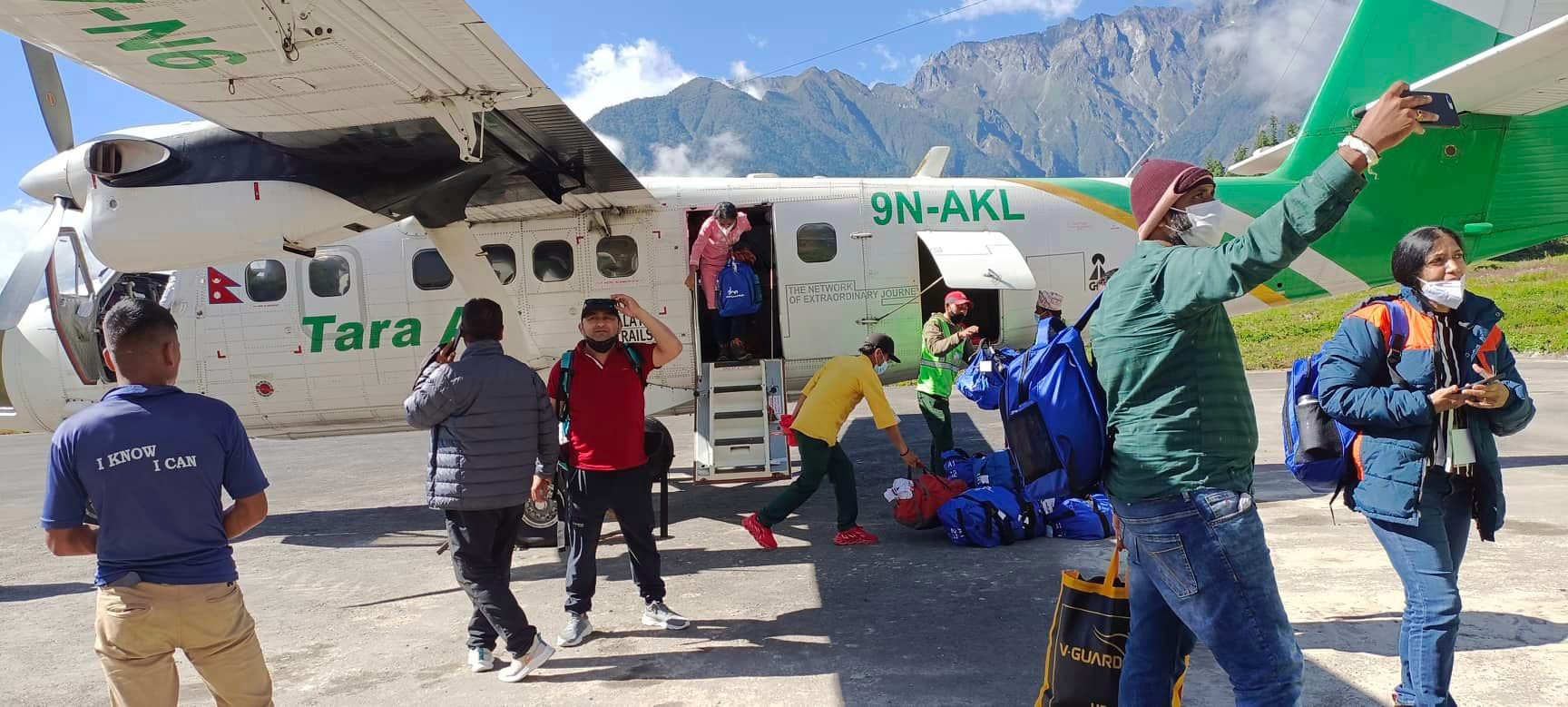 Popular for its natural beauty, the Kailash Mansarovar area is one of Tibet's most popular destinations, attracting tourists and pilgrims from around the world. A major pilgrimage destination for Hindus, Buddhists, Jains and Bons, the tour in the region offers an opportunity to enjoy the serene beauty of the mountain.
The melting glaciers flowing down into a huge lake – Mansarovar - in the foreground, it's a dream for many people to visit the place of natural and cultural significance at least once in a lifetime.
However, China closed its borders citing the coronavirus infection in 2020. China is still following a zero Covid policy. Despite the reduction in Covid cases around the world, China has not yet opened its border.
The Mansarovar lake is the source of most sacred rivers in South Asia, including the Indus, the Sutlej, the Brahmaputra, and the Karnali or Sarayu.
Hindus believe the area is the home of gods and goddesses, including Shiva and Parvati.
The Limi base camp, located in northern Humla, sits at 3,900 metre elevation, while the Kailash view point at Lapcha La pass is situated at 5,200 metres.
Nepal's road network has yet to connect Humla. That's why travellers are forced to fly via Kathmandu or Nepalgunj. Weather permitting, it takes more than a week for a traveller to reach
Lapcha La pass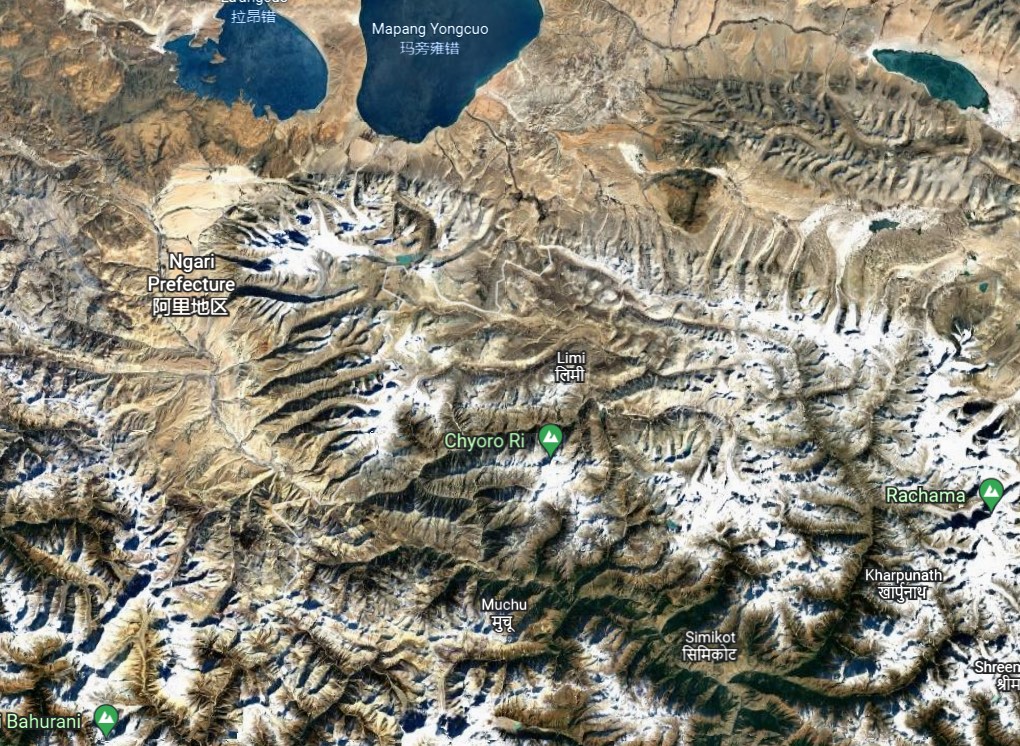 There are no hotel services available in the area. Camping is necessary and that is provided by the tour company.
The best season to travel to north Humla is Spring or Autumn. "The weather conditions are normal and visibility remains better this time of the year," said Norbu.
Getting there
One can take a 50-minute flight from Kathmandu to Nepalgunj and another 55-minute flight from Nepalgunj to Simikot. Most flights are operated in the morning.
Once in Simkot, helicopter services too are available. A ride from Simkot to Takche costs NRs 192,000.
Tentative itinerary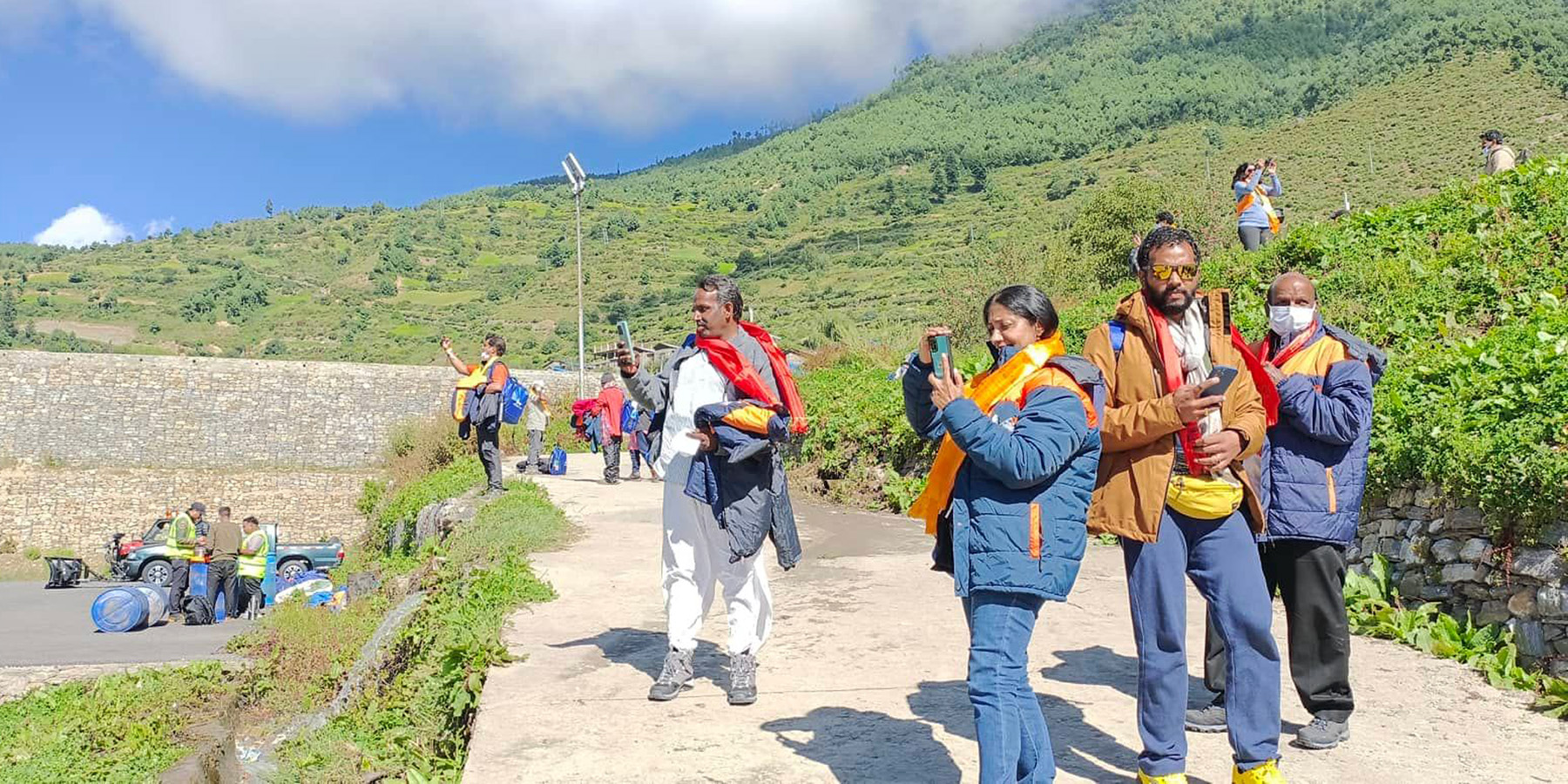 The tour companies give you a jeep service and offer you a tentative itinerary like this:

Day 1: Jeep ride from Simikot to Kermi - 4 to 5 hours
Day 2: Kermi to Takche - 9 to 10 hours
Day 3: Takche to Lapcha La pass – one hour (back to Takche the same day)
Day 4: Takche to Simikot – 10-11 hours
Day 5: Simikot to Nepalgunj
The tour companies take only four people in a jeep for comfortable travelling.
If you are walking from Simikot to the pass then it's a five day trek.
The cost of a jeep ride from Simikot to the pass costs NRs 128,000, while trekking packages start from NRs 192,000.