Travel & Tourism
Luxury Resort
The Terraces opens its arms for high-end luxury-seekers
The Lankuri Bhanjyag hill facility offers many luxuries, grand views and a venue for MICE tourism and weddings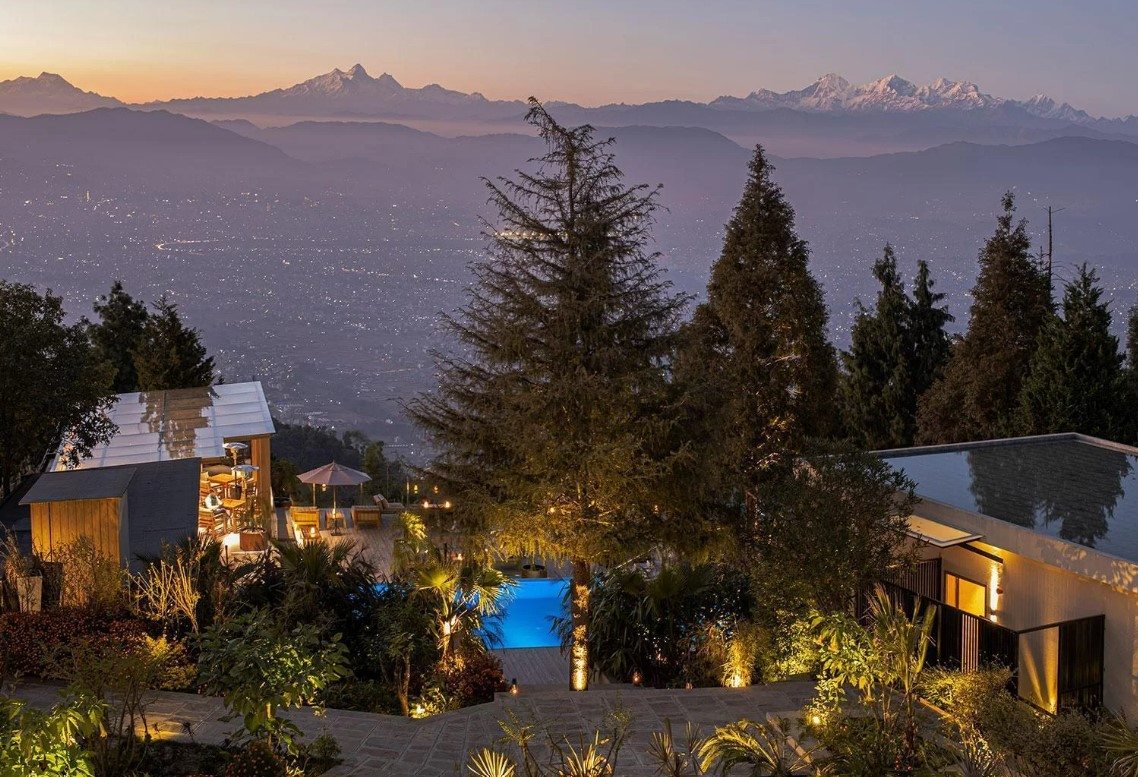 As tourism prepares to return to pre-Covid levels, Nepal's luxury resorts have started opening their doors to welcome local and international travellers.
With the spring trekking and mountaineering season is full swing, one of Nepal's newest luxury resorts, The Terraces, is trying to attract high-end adventure-seekers to its hillside facility at Lankuri Bhanjyang, 16 kilometres or 45 minutes away from the Tribhuvan International Airport.
One reason it's doing so is this: The Terraces Resort also boasts a private helipad at an elevation of 2,000 metres in its backyards.
"If our guests wish to fly to, say, Mount Everest region for trekking or climbing, they can easily do so from our helipad," says Tenzing David Sherpa, the managing director of The Terraces. "That way, they can avoid all the hassles of traveling overland to Manthali in Ramechhap from Kathmandu and then catching a flight to Lukla [the gateway to Everest region]."
That's not all. The Rs1 billion facility, a joint venture between Astrek group and Agni group, also prides itself on luxurious rooms with private terraces and Jacuzzi, a spacious conference hall, restaurants, gym and spa.
The Terraces also has an infinity pool and a sky bar offering a bird's eye view of Kathmandu valley and numerous snow-capped Himalayan peaks.
"On a clear day, you can see panoramic views of the Himalayas from Dhaulagiri, the Annapurnas, Manaslu and Ganesh Himal peaks in the west, to Langtang, Sishapangma and Phurbi Chyachu in the north, and Gaurishankar, Numbur and peaks in the Everest region," adds Tenzing David.
The resort is surrounded by a 100-acre private forest, home to hundreds of endemic plant, animal and bird species. The area is famous for its hiking and biking trails leading to several Tamang villages and tourist attractions like Ranikot, Risal Danda, Kot Danda, Ghyampe Danda and Rayale along the Gwarko-Panauti road.
Promoters describe it as a place for "seclusion and exclusivity", and the facilities include: 46 rooms with private terraces; gym, spa and wellness centre; outdoor mediation and Yoga-shala; conference hall, two boardrooms; recreation rooms; lush sprawling gardens; Koi fish pond and an outdoor Jacuzzi.
The facility also likes to portray itself as a wedding destination and an ideal venue for MICE tourism. MICE stands for meetings, incentives, conferences and exhibitions. In June 2022, a private wedding organised here was attended by the who's who of country, foreign diplomats and Indian Congress leader Rahul Gandhi.
Rich heritage
The location where The Terraces sits was first spotted in the late 1980s by Ang Tshering Sherpa, one of Nepal's leading tourism entrepreneurs. "I first saw it from Phulchoki hilltop, south of here," Ang Tshering, also the chairman, said.
"Then I came here and asked local people if they wanted to sell their land. Then I bought several pieces of land and, later, we started a small tented camp."
Years later, in 2014, the transformation began as the developers started working on an entirely new design, with small bungalows scattered over the terraces and buildings resembling the shape of Dzong, a type of Buddhist monastery in Mustang in western Nepal.
And in 2022, The Terraces was officially opened, says Ang Tshering.
"With an organic herb and produce garden on the property flanked by indigenous forests, The Terraces is a green oasis," its website reads. "We believe that communing with nature is at the heart of maintaining wellness. We also believe in doing things as sustainably as possible, to protect the environment which we depend on."