Nepal Weather
Weather Update
Wet weather likely until Saturday: Met Division
Weather will likely remain partially to generally cloudy across the country for the next three days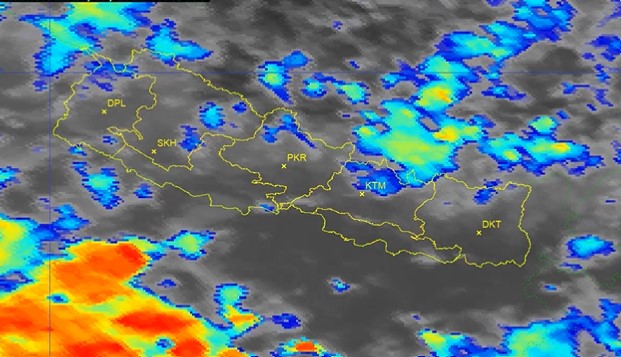 Weather will remain partially to generally cloudy across the country for the next three days, beginning today, the Met Division say, adding that it will continue to remain wet over the weekend too.
According to the Meteorological Forecasting Division, the axis of the monsoon trough is located in a normal position on the western side whereas the axis is slightly north of the normal position in the eastern part.
The Met Division has said that cloudy weather will continue with light to medium rainfall along with thunder and lightning in many parts of Nepal.
Chances of heavy rainfall are possible in Province 1, Madhesh, Bagmati, Gandaki, and Lumbini provinces.
Moderate rainfall is also expected in many parts of the country as per the Met Division.
Heavy rainfall is expected during night time for the next three days. Sudurpaschim province will also witness heavy rainfall with lightning.
A similar forecast is made for Friday and Saturday as well.
Authorities have alerted communities and officials to step prepare and respond to water-induced disasters such as soil erosion, landslide, and debris flow, which have caused many casualties so far.