Culture
Myagdi to Ayodhya Shilayatra
Ayodhya-bound Kali Gandaki boulders set to cross the border
Two boulders collected from the Kali Gandaki in Myagdi district are expected to reach Ayodhya, India, on February 1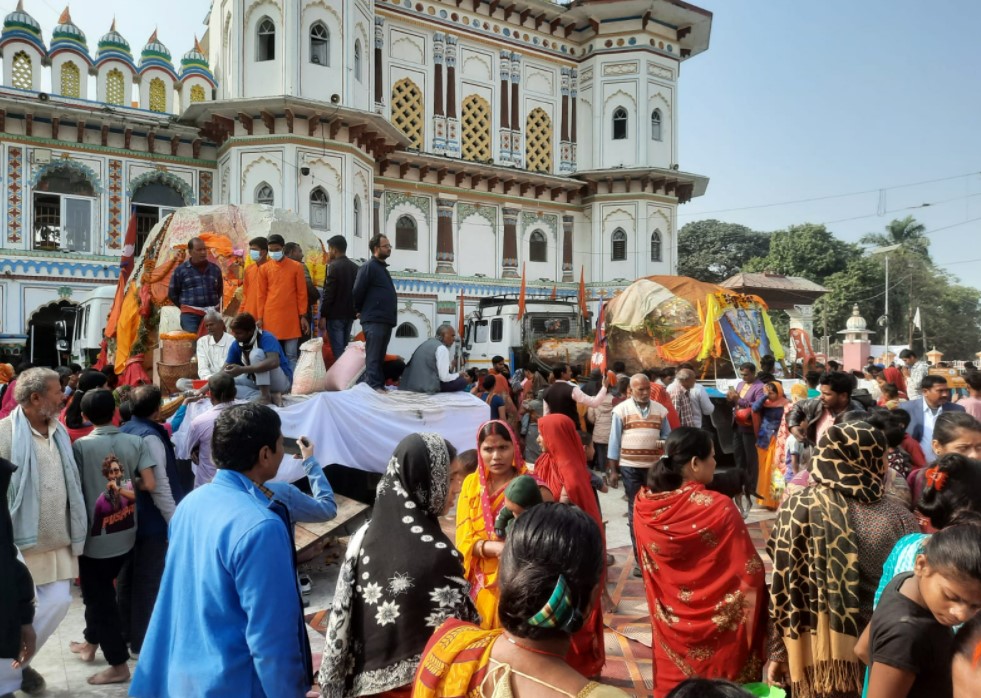 Two huge boulders from the sacred Kali Gandai river in Nepal are all set to cross Nepal-India border and enter India Monday, en route to Ayodhya, the birth place of Hindu god Ram.
Hindus consider rocks from the Kali Gandaki river, which started flowing south after the formation of the Himalayas 65 million years ago, as "very sacred". And the boulders would be used to sculpt a life-size statue of Ram Lala, or Ram as a child.
"We are hoping to transport the boulders to Ayodhya by February 1 and complete the Shila Yatra," Dr Kul Raj Chalise, an expert on the Kali Gandaki river, who is leading the journey, told NepalMinute.com, from Janakpurdham.
"We believe that the boulders are as old as the Himalayas - formed around 65 million years ago," he said. Equally important, boulders and stones from the Kali Gandaki are considered "very holy and free from evil spirits and energies", he added.
Why Kali Gandaki?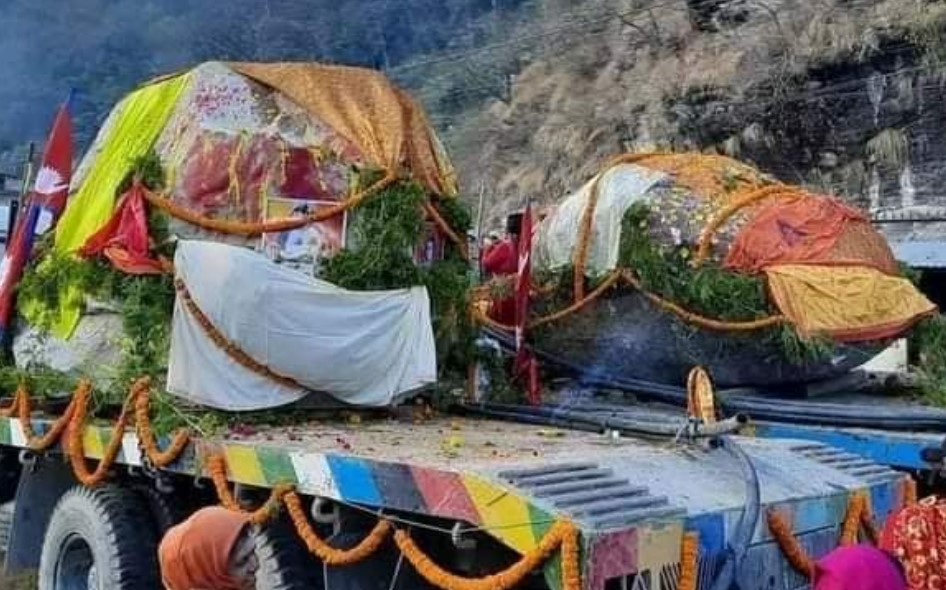 It all started after Hindu sages and priests from Ayodhya, India, approached Nepal looking for "holy Kali Gandaki boulders" on which to carve a statue of Lord Ram.
The Kali Gandaki river is famous for its ammonite fossils that Hindus worship as Shaligram, an incarnation of Lord Bishnu. Lord Ram too being an incarnation of Bishnu, Ayodhya priests wanted a big Shaligram stone for Ram Lala statue.
Soon officials of the Gandaki Province government assigned geologists to identify appropriate boulders.
After months of observation and research of dozens of river rocks, they finally picked the two boulders – a quartzite weighing 26 tons and a calcite weighing 16 tons – from Galeshwor temple area in Myagdi district, according to Chalise.
The boulders are not Shaligram but as old as the river, he said.
The eight-month-long exercise reached its final stage after local officials, experts and politicians, including former deputy prime minister Bimalendra Nidhi, and a representative from Vishwa Hindu Parishad, India, teamed up to transport the boulders to India.
The final journey started on January 26. As the trucks carrying the boulders passed by, devout Hindus offered worships along the way.
Shilayatra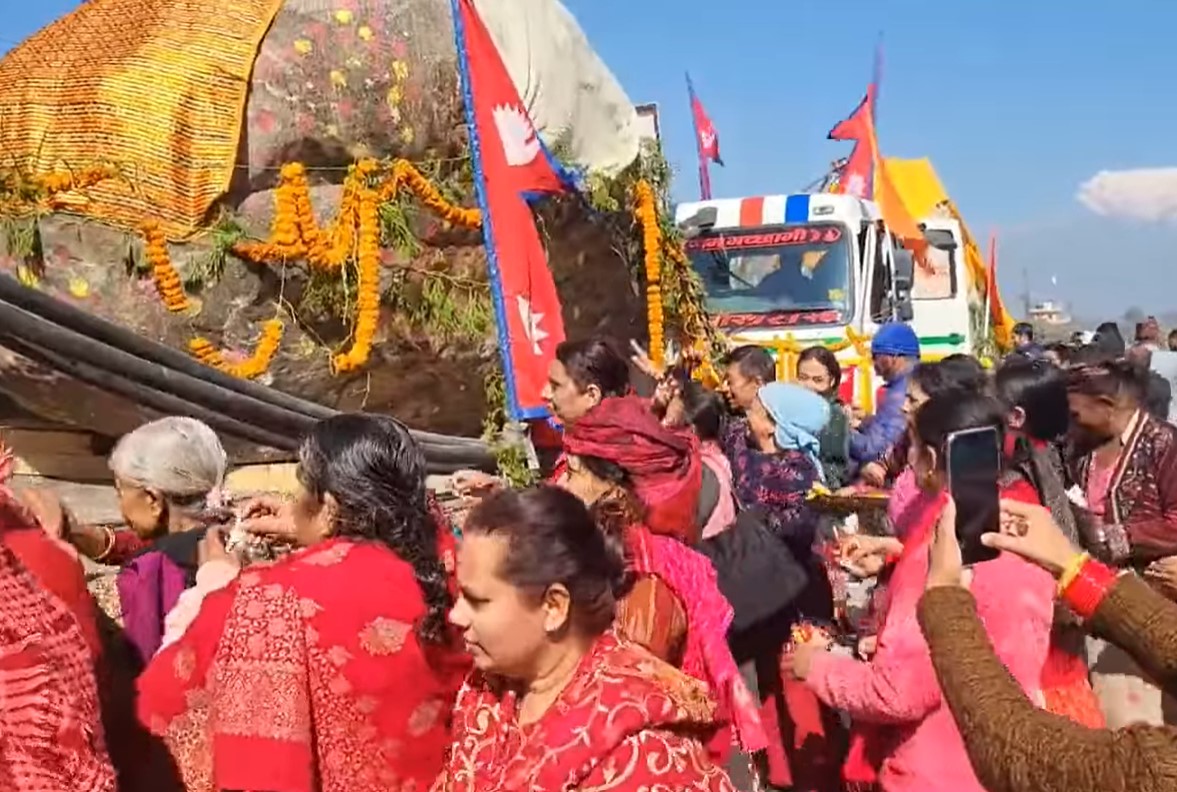 En route to India, the boulders reached Janakpurdhan, the birthplace of Goddess Sita, consort of Lord Ram, at the weekend. There, a special Puja ceremony was organised to worship the boulders.
They are due to reach India's Muzaffarpur area on January 30, Gorakhpur on January 31, and the final destination, Ayodhya, on February 1, according to Bimalendra Nidhi.
He told NepalMinute.com: "This Shila Yatra from Janakpur to Ayodhya, will go a long way in strengthening and renewing age-old Nepal-India relations. This will also help renew ties between Janakpur and Ayodhya, besides boosting religious and cultural ties and tourism."
Dr Kul Raj Chalise said the Gandaki Province officials "felt honoured to offer the boulders as a gift to India", adding: "It's been a long mission since June 2022, when we started work."
Asked why two boulders are being transported for one statue, he said: "The second boulder is being sent as a back-up just in case the first boulder breaks apart while sculpting."
Once in Ayodhya, the boulders will have to go through an elaborate religious ritual.
Chalise said: "They will follow a nine-months-long Anusthan as we need to stay at mother's womb. They will start sculpting the statue from February 2023. But the opening of the Ram-Lala temple is scheduled for January 15, 2024."
Also Read: Little Nepal in the heart of Varanasi