Travel & Tourism
The Arrival Travelator
Usha Rajak thanks followers for supporting her cause
Officials swing into action, days after Rajak highlights the troubles caused by steep travelator at the arrival terminal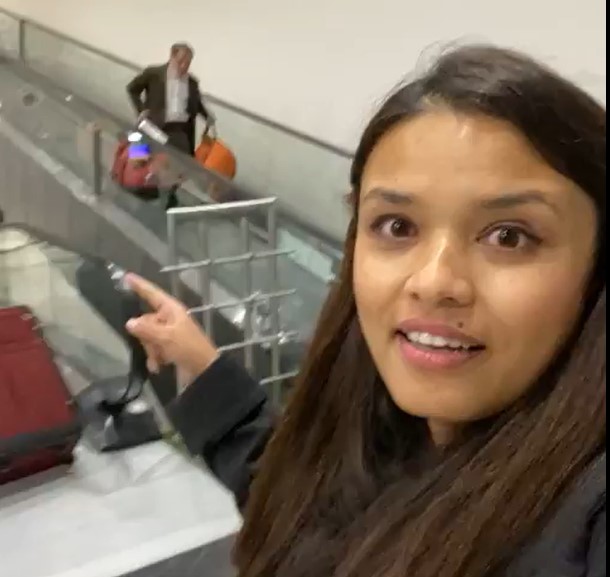 Actor Usha Rajak has thanked all her social media followers for spreading her concern over the state of the travelator - or the moving path - at the arrival terminal of Tribhuvan International Airport.
After her January 17 social media video - showing how she felt unsafe walking along the steep moving path with her luggage trolley - went viral, officials indicated that they've swung into action to fix things up.
After social media users expressed sympathy with her, General Manager at TIA, Prem Nath Thakur, acknowledged with Setopati.com that the design of the moving path down the arrival terminal was not perfect.
He suggested travellers use lifts instead of the moving path to avoid injuries.
On January 21, newly-appointed Tourism Minister Sudan Kiranti instructed officials to fix everything at the airport, including the troublesome travelator. After things started improving at the airport, the actor took to social media again to thank everyone who supported her.
Here's how it all started. On January 17, the actor, along with her daughter, landed in Kathmandu from a foreign trip.
But as things spiralled out of control along the travelator installed on a steep downhill path, she wrote on Facebook that "we were nearly trampled to death when many trolleys gathered on top of each other when coming down."
She added: "There were old people and children who got trapped on this elevator in the arrival section of TIA. My leg nearly broke, Luna was suffocating under many trolleys and people. All other passengers went home calmly after this. The guard blamed me for taking this walkway. Who built this dangerously inclined walkway?"
She also went Live on Facebook to draw everyone's attention to the problem.