Politics
State Assembly
Bagmati Province govt gets full shape
Province CM administers oath of office and secrecy to newly appointed ministers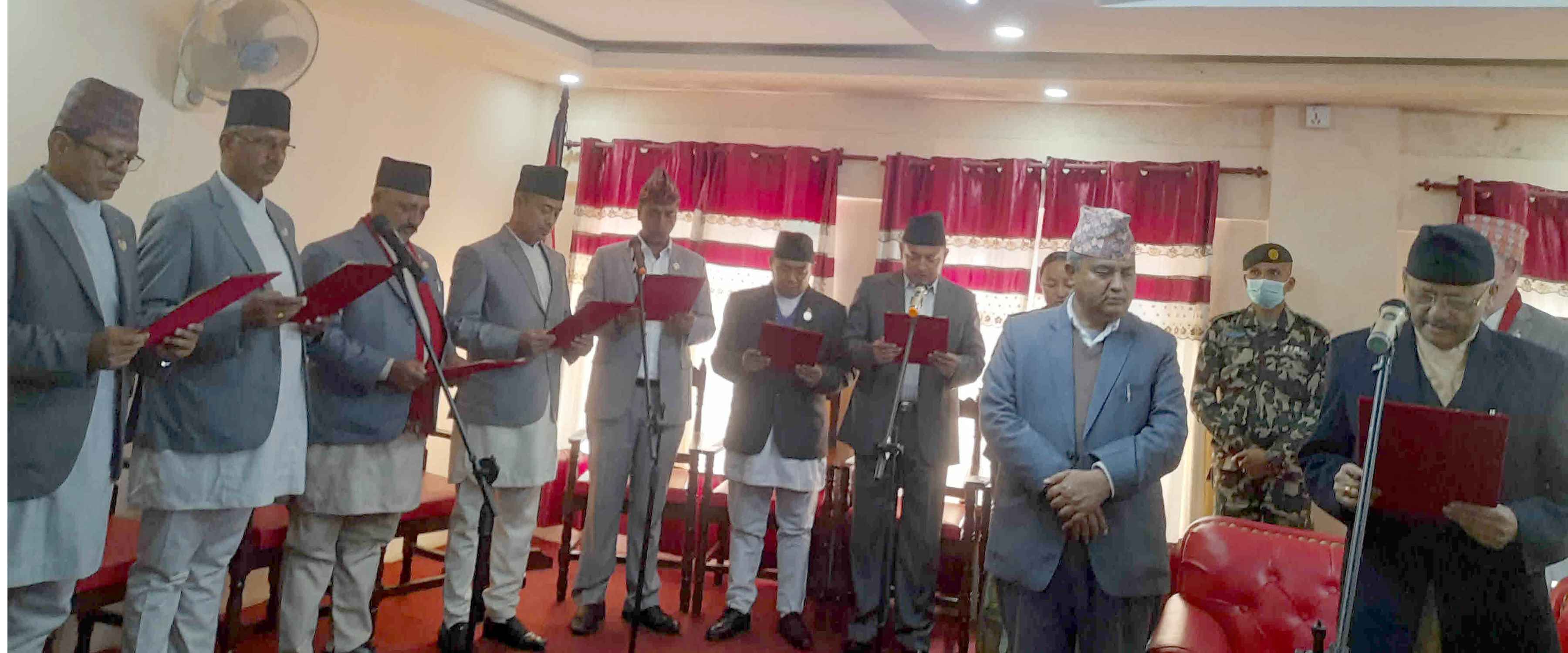 Bagmati Chief Minister Shalikram Jammakattel has given the full shape to his Cabinet following a power-sharing deal among the parties of the ruling coalition in the Provincial Assembly.
As per the power-sharing deal between governing parties, the CPN-UML and the CPN (Maoist Centre) have each named four ministers in the state assembly, while the Rastriya Prajatantra Party (RPP) has named three.
Earlier, Bagmati Province decided to reduce the number of ministries to 11 from the existing 14. A five-member task force under Provincial Chief Secretary Mukunda Prasad Niraula had presented a report to the Chief Minister with the suggestion to reduce the size of the state Cabinet.
CM Jammakattel administered the oath of office and secrecy to the newly appointed ministers at a function held in Hetuada on Wednesday.
Accordingly, Ekalal Shrestha from Makwanpur has been assigned the portfolio of Labour, Employment and Transport; Rameshwar Shrestha from Lalitpur Health and Keshav Prasad Pokharel from Kathmandu Agriculture and Livestock Development from the UML.
UML Parliamentary Party leader Jagannath Thapalia has already assumed responsibility at the Ministry of Economic Affairs and Planning.
Similarly, Maoist Centre's Ganga Narayan Shrestha from Sindhuli has been appointed Minister for Internal Affairs; Yuvraj Dulal from Sindhupalchok Physical Infrastructure Development and Kumari Moktan from Makwanpur Social Development.
Dambar Bahadur Tamang will be the Minister for Industry, Tourism and Cooperatives and Raju Bista (Minister for Forests and Environment) from the RPP. Uddhav Thapa, the RPP Parliamentary Party leader, has assumed responsibility as Minister for Drinking Water, Energy and Irrigation.