Politics
NEWS ANALYSIS
Long line of DPMs – a new normal in Nepal
Is deputy prime ministership a ticket to prime ministership?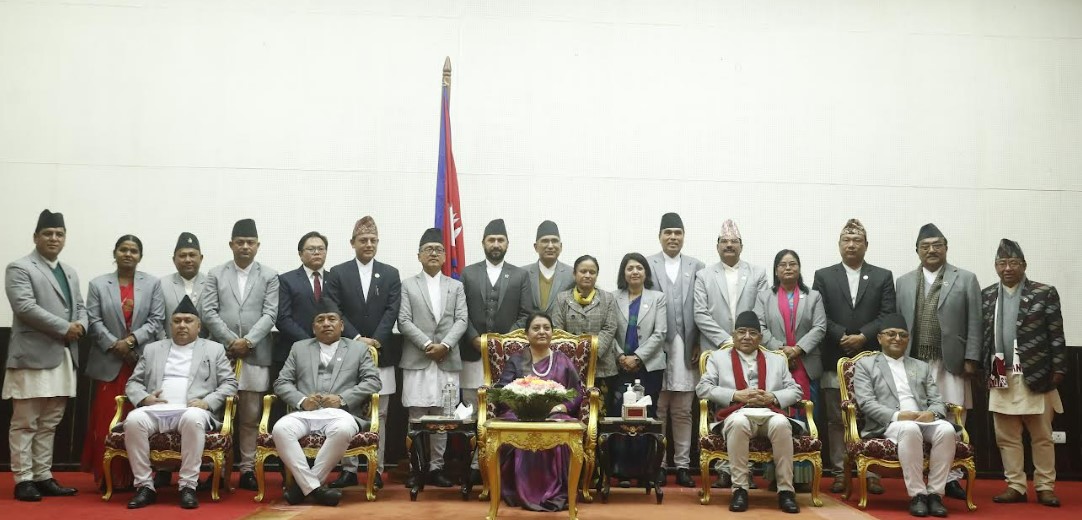 Prime Minister Pushpa Kamal Dahal "Prachanda" has inducted four deputy prime ministers in his 23-member Cabinet. He is only next to CPN-UML Leader KP Sharma Oli – the chief architect of the grand alliance that made Prachanda the Prime Minister – who in 2017 presided over a Cabinet composed of as many as six deputy prime ministers.
The number of DPM in the Prachanda government will most probably increase to five soon enough. For that the Prime Minister should be able to coax Janata Samajwadi Party Chair Upendra Yadav in. Yadav is reportedly disenchanted because he was denied commerce and supplies ministry that he fancied.
The ministry went to CPN-UML debutant Damodar Bhandari.
For now, the Prime Minister retains forest and sports ministries with himself indicating that two ministers are on their way in. Given the political horse-trading Prachanda will take a bit of time to give "full shape" to his 25-member Cabinet.
UML leader Bishnu Prasad Paudel, with de-facto responsibility as the Finance Minister leads the pack of DPMs for the second time. So does Narayan Kaji Shrestha, the transport and physical infrastructure minister. Shrestha served as deputy prime minister-cum-foreign minister back in 2011 when Baburam Bhattarai was the prime minister.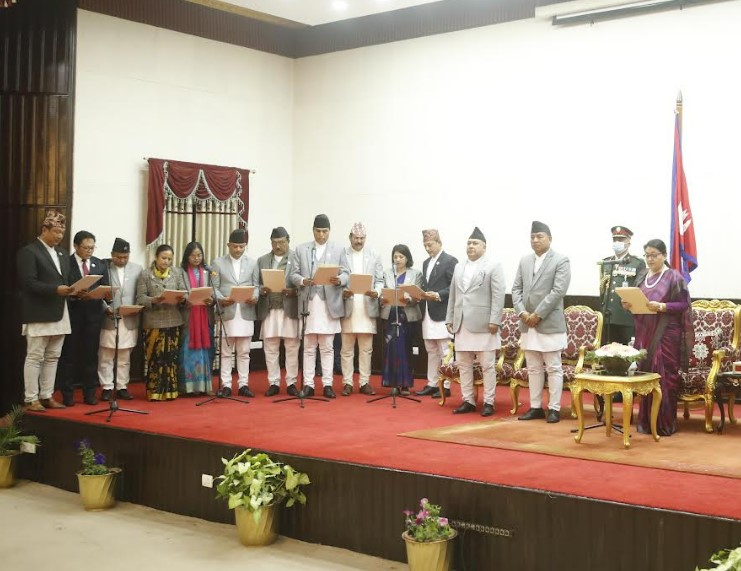 What it means
The Deputy Prime Minister puts the minister concerned right at the top of hierarchy. Take for example two debutants – both as Member of Parliament and minister – Rastriya Swatantra Party President Home Minister Rabi Lamichhane and Rastriya Prajatantra Party President Rajendra Lingden. Both are atop the government hierarchy occupying fourth and fifth place, respectively, after the prime minister.
The position of deputy prime minister at best only helps ambitious and protocol-obsessed Nepali politicians in two ways. The prime minister of the day can use it to keep his – yes, he because a Nepali prime minister is invariably a male – Cabinet intact; and it helps even debutant ministers to go up the ministerial ladder.
A deputy prime minister is not much of a direct financial burden to the state coffer as the DPM is only entitled to a few four digit sums and a handful of additional security personnel.
Post-1990 DPMs
Madhav Kumar Nepal goes down the political history of Nepal as the country's first deputy prime minister in CPN-UML-led "minority government" headed by Man Mohan Adhikari. Nepal was his party's General Secretary then and, as the Foreign Minister, he was believed to be the de-facto prime minister.
Nepali Congress leader Shailaja Acharya, who served as agriculture minister (1991-1993) and water resources minister (1998) was the first female Congress leader to become deputy prime minister.
Another Congress top brass who became the Deputy Prime Minister was Ram Chandra Paudel (2006), who is likely to contest for the high office of President in the next couple of weeks.
UML Chair Oli, who got the powerful home ministry in Adhikari's Cabinet (1994-1995), himself became the deputy prime minister and foreign minister (April 2006-March2007) in the Cabinet led by Congress President and a key architect of the peace process, Girija Prasad Koirala.
In 2021, Oli inducted three deputy prime ministers. Paudel led the pack at that time also.
A host of powerful leaders of Congress and UML have gone on to become the deputy prime ministers in the past dozen years or so.
Key among them are: UML's now-estranged leader Bam Dev Gautam, House Speaker Krishna Bahadur Mahara (Maoist), Sujata Koirala (NC); Prakash Man Singh (NC); Bhim Bahadur Rawal (UML); Ishwar Pokharel (UML); Rajendra Mahato (Janata Samajwadi Party); Bimalendra Nidhi (NC); Kamal Thapa (then, RPP) and Bija Kumar Gachhadar (Nepal Loktantrik Party); Chitra Bahadur KC (Samyukta Janamorcha); Top Bahadur Rayamajhi (Maoist) and CP Mainali (CPN-Marxist Leninist).
DPM ticket to PM?
While the obvious line of succession is that a deputy prime minister steps up to become prime minister, this hardly appears to be the case in Nepali politics. Only two of Nepal's several deputy prime ministers have gone on to become the prime minister: Madhav Kumar Nepal and KP Sharma Oli.
And, both served as DPMs only once. This could probably be a reality check for Finance Minister Bishnu Paudel and Physical and Transport Minister Narayan Kaji, who happen to handle the portfolio more than once. How the chair of DPM will play out years down the road for the debutant-duo Lamichhane and Lingden is just anyone's guess.