Travel & Tourism
BACK ON THE TRAIL
Annapurna Circuit records nearly 16k footfall in 2022
ACAP says the number of visitors is climbing steadily from its lowest ebb of 1,976 during pandemic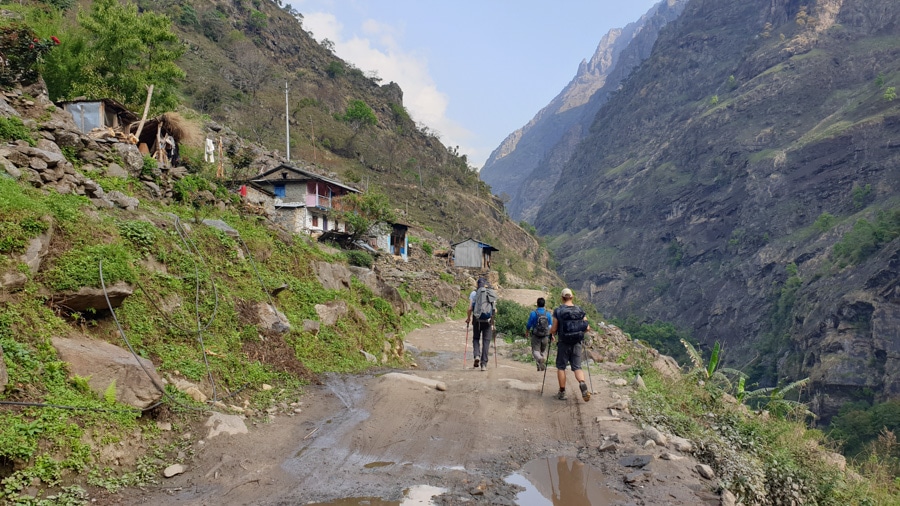 The number of foreign trekkers on the Annapurna Circuit is climbing back steadily from the Covid-19 ebb, with 15,900 visitors walking the trail in 2022.
According to the Annapurna Conservation Area Project (ACAP) Tourist Check Point in Dharapani, 5,536 of the total visitors were women, and France with 2,012 accounted for the highest number of visitors in 2022.
Chettra Bahadur Gurung, a tourism assistant at the check point, said only 2,273 trekkers visited the region in 2021.
The entrance to the Annapurna Circuit is in Besisahar Municipality-7, Lamjung. Connecting five districts—Lamjung, Manang, Kaski, Mustang, and Myagdi—it is one of the most popular trekking routes in the country.
The number of tourists along the trail increased considerably compared to the two previous years, which were plagued by the Covid pandemic.
"Even though the coronavirus has been a problem for a long time, tourists have started coming as the infection risk has slowed down," Gurung said. "That number could have been doubled in 2022 had the government promoted the region well."
The popularity of the trail skyrocketed in 2017, and it peaked in 2019 before the first wave of COVID infection swept the globe. The check point recorded 21,068 tourists in 2017, 29,484 in 2018, 36,647 in 2019, and 1,976 in 2020.
With tourists pouring in from neighbouring China and India as well as Japan, Australia, Europe, and the US, there were as many as 150 foreign trekkers a day at one point, the centre noted. However, that number has dropped to less than ten because of the increasing cold.
The Himalayas, among other breathtaking natural beauty, the Mustang pass that leads to Pokhara, and the culture of the inhabitants in Manang are major tourist attractions.
Many come to Manang as it is the gateway to some of the tallest mountains. The shops and restaurants along this route depend on the high volume of tourists and are understandably concerned about their future when the number of tourists goes down.
With RSS inputs