Politics
Prithvi Jayanti
Nepal's leaders and people pay homage to late king Prithvi Narayan (Photo Gallery)
Twelve years after monarchy's abolition, Prachanda administration revives the tradition of observing Prithvi Jayanti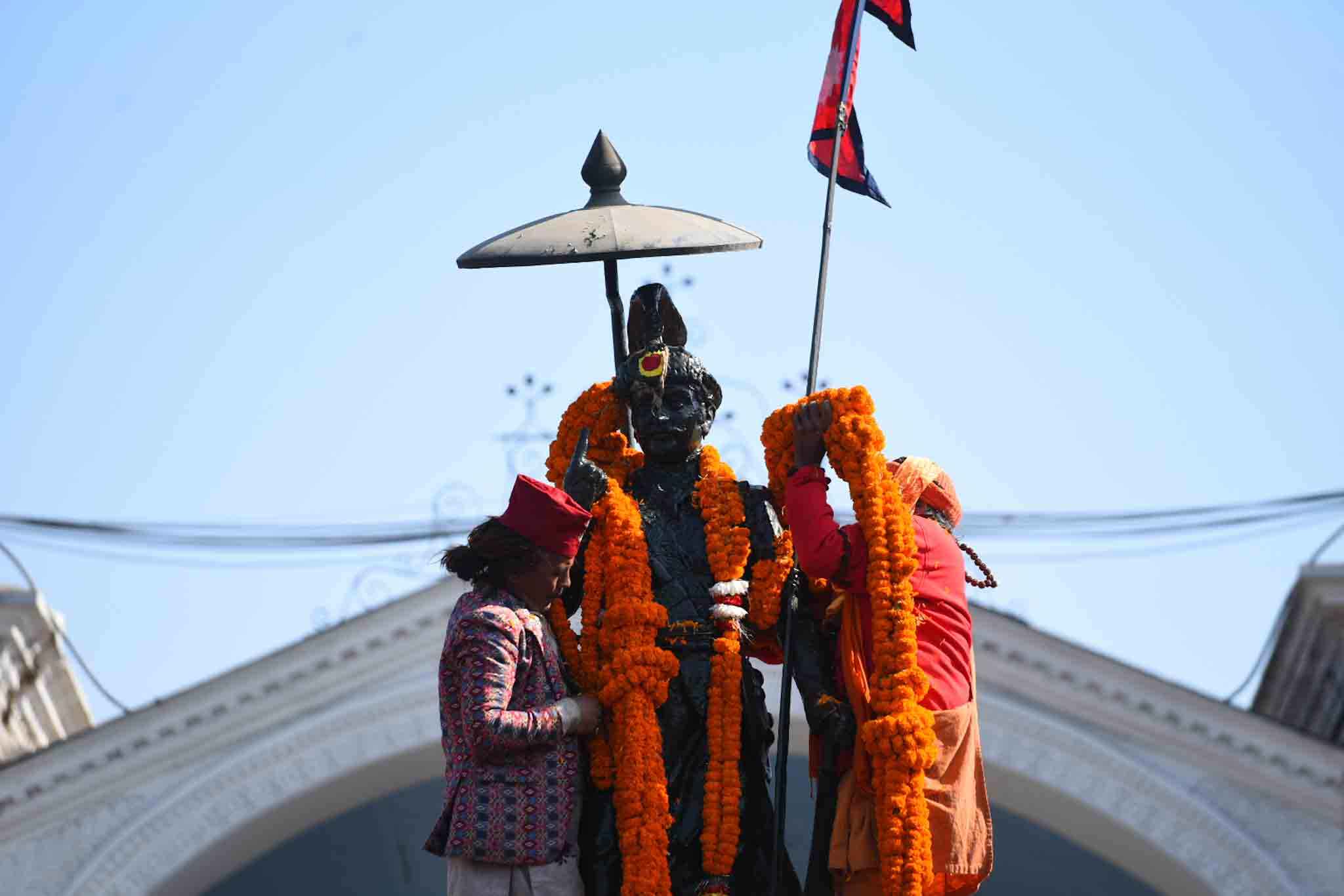 Thousands of people descended in the heart of Kathmandu to pay tributes to the founder of modern Nepal, late king Prithvi Narayan Shah, marking his 301st birth anniversary.
A life-size statue of the former monarch stands tall on the Bhadrakali-Singha Durbar street, in front of the seat of the government of Nepal.
Years after launching a military campaign to unify small hill principalities, the monarch of Gorkha (1723-1775) founded modern Nepal in 1768, heralding the birth of the first nation state in South Asia. Then, Nepal remained sandwiched between the Mughal Empire in the south and Tibet to the north.
His campaign continued even after his death and it transformed into a military push to expand 'Gorkha Empire' across the Himalayan foothills from the Teesta river in the east to the Ravi river in the west. It all stopped after the signing of Sugauli Treaty between British and Nepali rulers in 1816.
The tradition to observe his birth anniversary as National Unity Day had been stopped after Nepal became a republic in 2008. But it has been resumed yet again after the ten-party coalition government led by Pushpa Kamal Dahal Prachanda honoured a demand to do so by one of its coalition partners, the pro-monarchy Rastriya Prajatantra Party.
Earlier in the day, President Bidhya Devi Bhandari offered garlands to the statue of the late monarch. In the afternoon, the RPP organised a tea reception to celebrate the day, inviting top officials and political leaders.
Meanwhile, Prithvi Narayan Shah's hometown in western Nepal, Gorkha, organised the Gorkha Festival coinciding with Prithvi Jayanti. Gorkha being the new electoral constituency of Prime Minister Prachanda, he flew to the town in a Nepali Army helicopter to inaugurate the festival. He was accompanied by his daughter and party colleague and Gorkha native, Narayan Kaji Shrestha.
Marking National Unity Day, prominent leaders and former King Gyanendra have issued public statements. Most of them have been admiring the visionary leadership and Divyopadesh, or pragmatic teachings, of the late monarch of Gorkha.
Separately, the Nepali Army organised its special annual five-day trek from Gorkha to Kathmandu via Dhading and Nuwakot to celebrate the birth anniversary of its founding father. Soldiers of the five battalions that the late king established for his military campaign took part in the epic trek.
See photos: