Crime
Nirmala Kurmi's Story
All you need to know about Nirmala Kurmi's disappearance
Many Nepalis know about Nirmala Panta, but few know about Nirmala Kurmi. Activists blame an influential leader for masterminding Kurmi's murder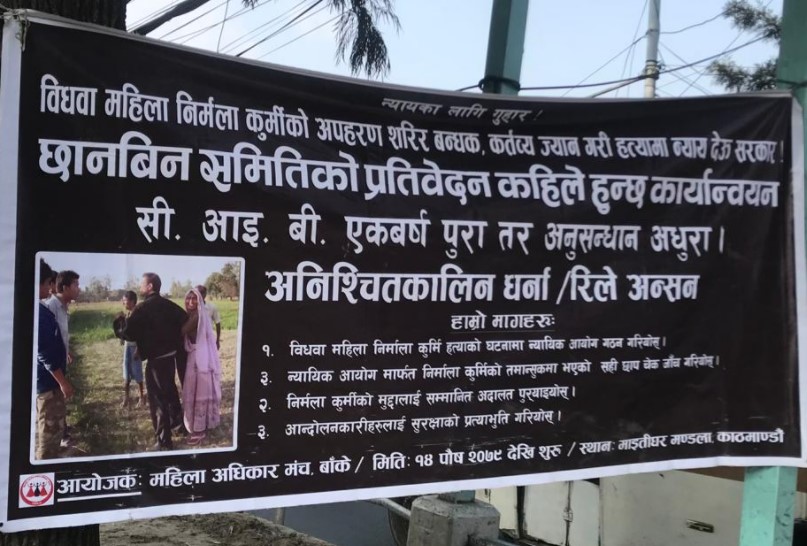 Days after he instructed officials to launch a fresh probe into the murder of Nirmala Panta, Deputy Prime Minister and Home Minister Rabi Lamichhane has directed Nepal Police to investigate another case.
It involves the mystery surrounding the "abduction and murder" of Nirmala Kurmi. The Paraspur-17, Nepalgunj resident was last seen in 2012.
She was 52-year-old at the time.
The broadcaster-turned-politician has also urged women rights activists to end their relay hunger strike. They have been demonstrating at Maitighar in Kathmandu, demanding formation of a judicial commission to probe into her disappearance.
Also they demanded that the commission investigate circumstances leading to Nirmala Kurmi's disappearance; investigate land-ownership documents and signatures; and ensure safety of women activists fighting for justice to Kurmi.
Activist Ruby Khan, along with 13 other women's rights activists, have been staging an indefinite sit-in protest and relay hunger strike at Maitighar since December 29.
Who is Nirmala Kurmi?
Nirmala Kurmi was a single woman living in the bustling city in western Tarai. She was married to Mahalu Kurmi. Her husband died in 2005. After the death of the husband, her two sons aged 18 and 14 died amid mysterious circumstances in a span of ten days in November 2009.
Her family owned 125 kathhas of land. Activists suspect she could have been murdered by miscreants who wanted to grab her land.
Sakina Teli, one of the protestors, said: "Nirmala had filed a complaint at the Muslim Community Development and Awareness Center, Banke on February 1, 2010, saying that Nepali congress leader Badshah Kurmi, a former lawmaker, had confiscated Nirmala's land registration documents."
She had also lodged a complaint at Women Rights Forum Banke around the same time, alleging that Badshah tortured her and confiscated her land registration certificates. Badshah was the chairperson of the then Paraspur Village Development Committee, where Nirmala Kurmi lived.
Badshah Kurmi has been denying any wrongdoing.
On February 2010 activists in Nepalgunj protested against Badshah Kurmi. After much pressure the documents were later returned to Nirmala. But it was too late. It was revealed that her lands had already been sold and transferred to others.
Later it was said that she married an Indian national, identified as Arjun Kurmi, of Jagannathpur, located 15km south of Rupadiya border point. After her marriage she was back in Nepal at least once.
Years later, officials informed that she died at her new home in India. Her husband, Arjun, reportedly claimed that she died of some ailment. Exact reason is not known.
Sakina Teli, the activist said: "The marriage is all fake. This was all done to grab her land."
"We have been searching for her whereabouts. But a police officer in Banke said that she died. It is said that she died on March 27, 2020."
Activists say stories surrounding her disappearance and death are mysterious. "Everything from the death of her sons to her disappearance and death remains very mysterious and suspicious. We want this mystery to be investigated," Sakina Teli added.
The activists later lodged another complaint against Badshah Kurmi accusing him of abducting her and masterminding her murder.
Why the protest?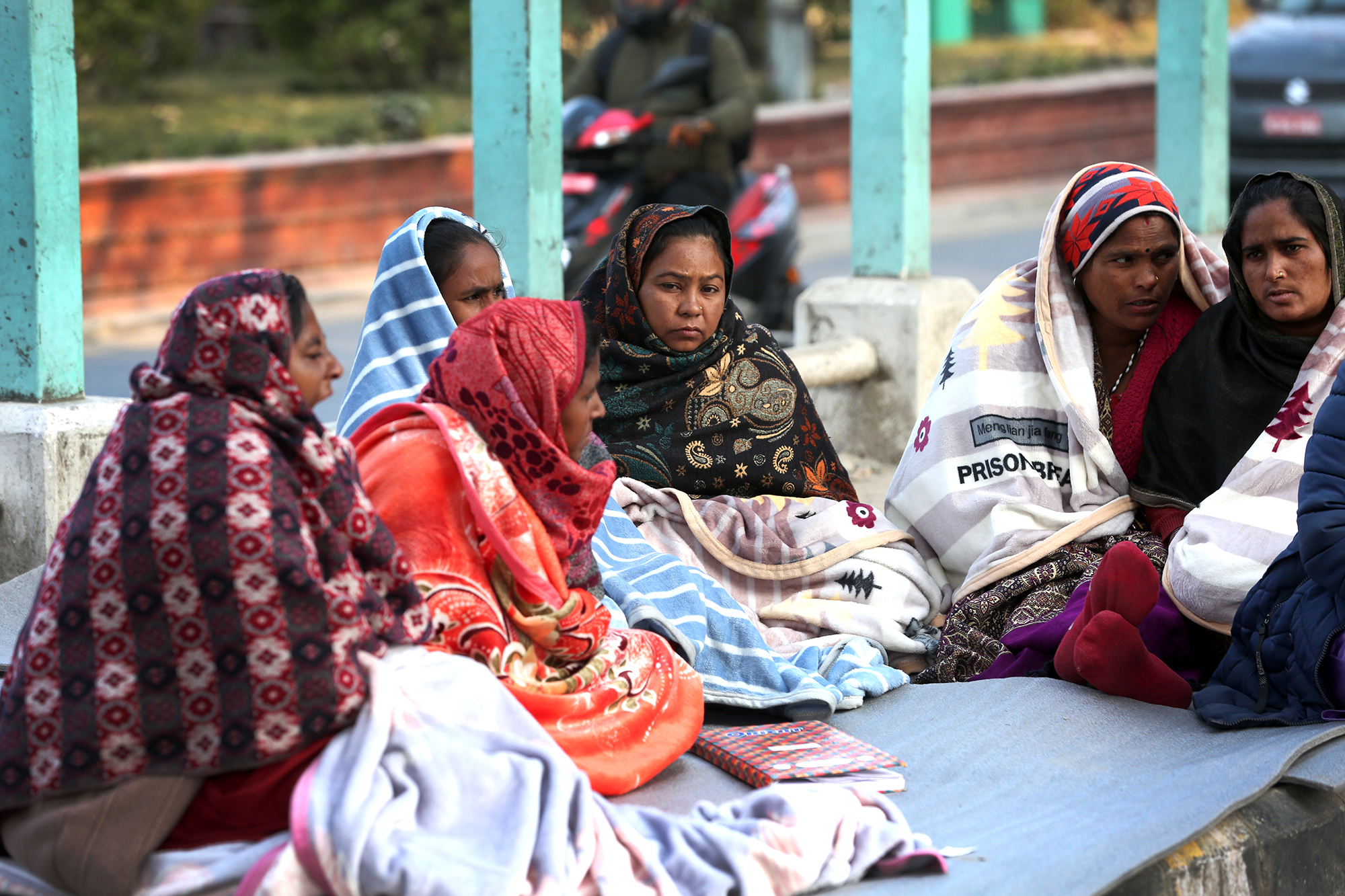 Last October, the rights activists Ruby Khan and others walked 520km from Nepalgunj to Kathmandu seeking justice for Nirmala Kurmi and another victim of violence, Nankunni Dhobi, 38. Nankunni Dhobi, a resident of the same village, Banke, was found dead at her home on July 20, 2021.
After their 12-day protest the government formed an inquiry committee led by Joint Secretary of the Ministry of Home Affairs, Hiralal Regmi. The committee submitted a report to Home Minister Bal Krishna Khand on October 31, 2021.
Later, police arrested seven suspects in connection with the disappearance of Nirmala Kurmi. They were released after interrogation. However, activists say the authorities have not arrested the main culprit Badshah Kurmi – who has been pleading innocence.
He was a neighbour of both Nirmala and Nankunni.
The government had signed an agreement with the activists stating that it would have the Central Investigation Bureau to investigate Nirmala Kurmi's case. But that didn't happen.
Justice delayed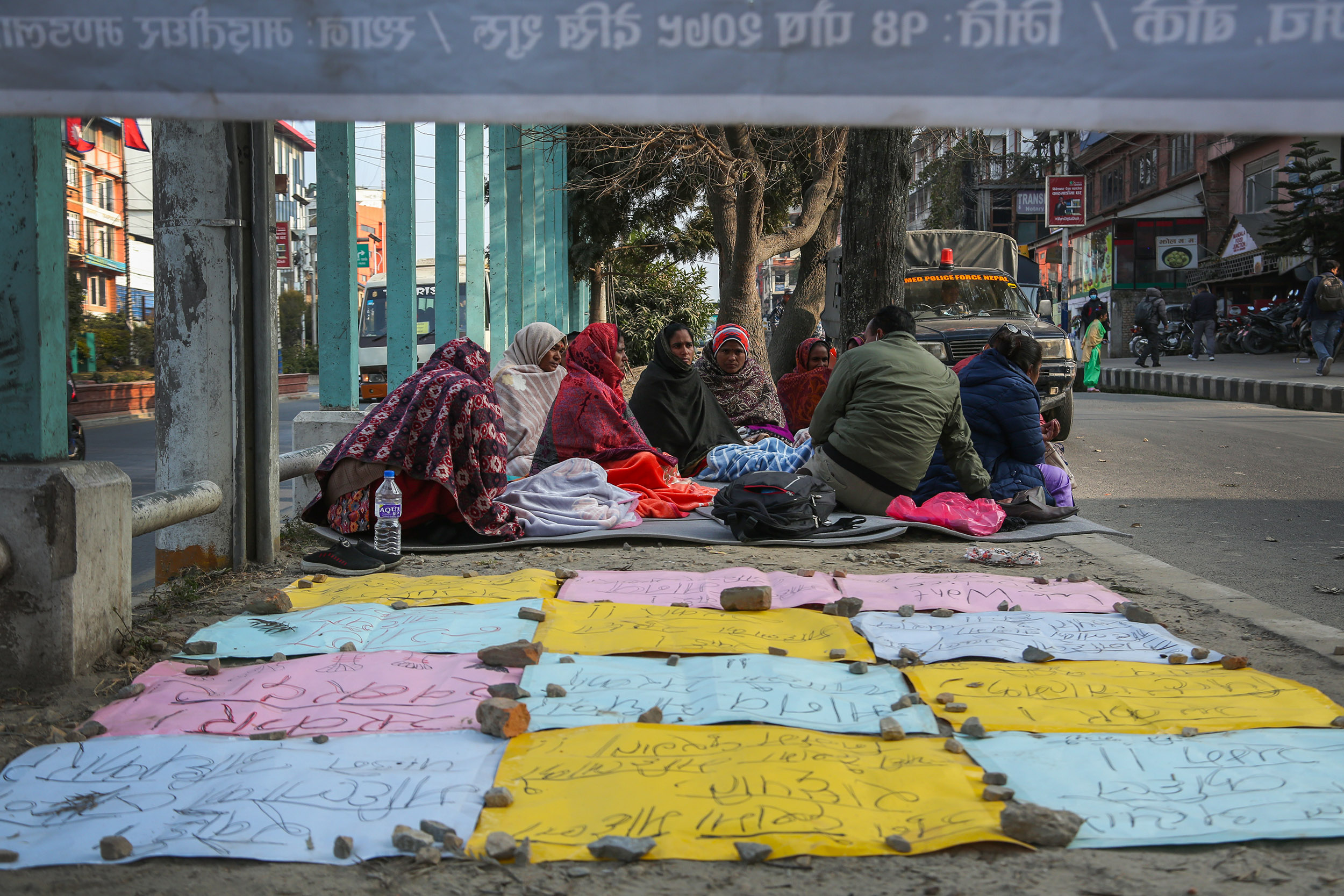 The activists allege that the previous government led by Nepali Congress protected Badshah Kurmi, who is one of the party's leaders. "It was all because he is in power. The police did not arrest him because he was contesting the elections," Sakina Teli said.
A former Constituent Assembly member, Badshah wears a new hat now as a member of Lumbini Provincial Assembly.
Teli added: "The delay in justice delivery has sowed fears in the minds of single women. People in power are not helping. We have been demanding that the main culprit be arrested, investigated and put behind the bars. Let there be justice to Nirmala. If she gets justice, Nepalis will get a good message: that justice has not died in Nepal."