Politics
State Assembly
Madhesh Province to pick speaker on January 16
The state assembly meeting also nominates the presiding member in the absence of Speaker and Deputy Speaker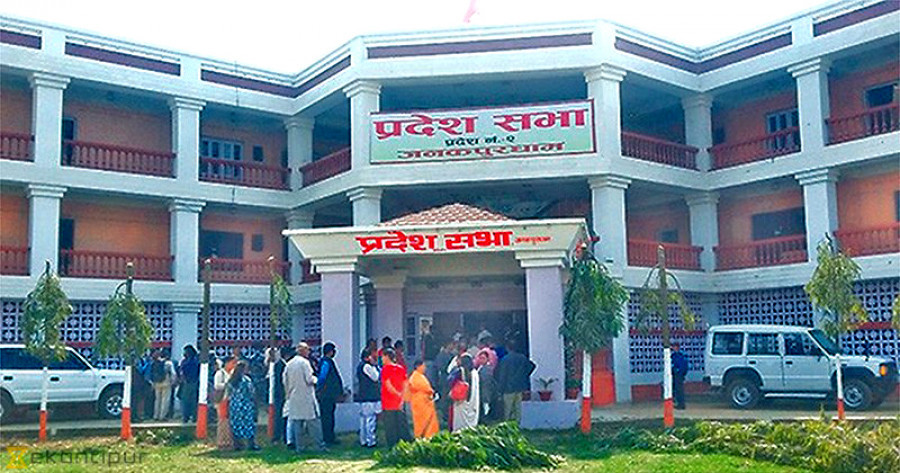 The election of the Speaker of the Madhes Provincial Assembly has been scheduled for January 16.
At the inaugural meeting of the newly elected Provincial Assembly on Monday, seniormost member Govinda Bahadur Neupane announced the election for the Speaker will take place on January 16.
Provincial Assembly Secretary Ranjit Kumar Yadav said that in addition to endorsing the Provincial Assembly Operating Regulations, 2075, the meeting also nominated the member who will preside in the absence of the Speaker and Deputy Speaker as per rule 11 of the regulations.
The nominated members are MPs Rekha Thakur, Bachha Raut Ahir, Chandan Kumar Singh, Jitendra Prasad Sonar, Fakira Mahato and Ratneshwar Goit.
Chief Minister Lal Babu Raut, former speaker Saroj Kumar Yadav and 14 members of the provincial assembly from various parties addressed the meeting on Monday.
The majority of parliamentarians who spoke in the assembly agreed that they should put party interests aside and work together to address the needs of Madhesh Province and solve existing problems while preserving nationalism, democracy, and the Constitution.
The next meeting of the provincial assembly will be held on January 16.
- RSS