Politics
State assembly
Parties begin discussions to form new government in Gandaki
Five parties - Nepali Congress, CPN (UML), CPN (Maoist Centre), Rastriya Prajatanta Party and CPN (Unified Socialist) - are represented in the provincial assembly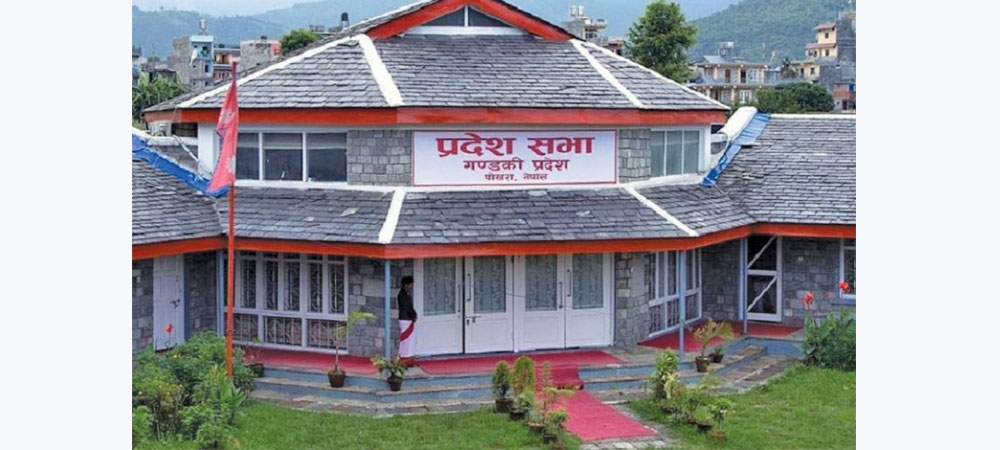 The political parties represented in the Gandaki provincial assembly have started internal preparations to form the new government in the province.
The discussion about the next power equation in the government started after the Election Commission submitted the report with the results of the election held on November 20 to the Chief of Gandaki Province, Prithviman Gurung, on Sunday.
Five parties - Nepali Congress, CPN (UML), CPN (Maoist Centre), Rastriya Prajatanta Party and CPN (Unified Socialist) - are represented in the provincial assembly through November 20 elections.
In the 60-member provincial assembly, 36 members have been elected through the FPTP system, while 24 people have been selected through the election's proportional representation (PR) system.
Gandaki Province has 27 representatives from Nepali Congress, 22 from UML, eight from Maoist Center, two from Rashtriya Prajatantra Party and one from the Unified Socialist Party. Even though CPN (Unified Socialist) did not win any seat in the election, Rajiv Gurung (Deepak Manange), an independent candidate elected from Manang, joined the party after the election.
A total of 31 members are required to form a majority government but since no single party has a majority number, equation between the parties will be important. Article 168 of the Constitution provides for forming the Provincial Council of Ministers. Section 1 of the said article stipulates that the leader of the parliamentary party with the majority in the provincial assembly will be appointed as the chief minister.
Furthermore, Article 168 of the Constitution states that in the absence of a clear majority of any party, a member of the Provincial Assembly who can obtain a majority with the support of two or more parties represented in the Provincial Assembly will be elected the Chief Minister. Hence, the political parties are now engaged in the exercise of government formation following this article.
Meanwhile, the parties are also preparing to select their respective parliamentary party leader. It is believed that the Nepali Congress and CPN-Maoist Center, which formed an alliance in the election, will jointly form the next government. The Nepali Congress has 27 members, Maoist Centre has eight and Unified Socialist has one, to make it 36 members, which will be a clear majority.
Coalition of left parties is another option for forming the new government including CPN-UML and Maoist-Centre. The UML with 22 members, Maoist with eight and Unified Socialist with one member can garner 31 members. The support of RPP will also be necessary for a convenient majority.
Meanwhile, the option of an equation between the Congress and the UML is also in discussion for a stable government.
- RSS