Culture
CHHATH CELEBRATIONS
Chhath turns Terai markets into a hive of activity 
The festival is celebrated with much fervour in the districts of the central Terai in Nepal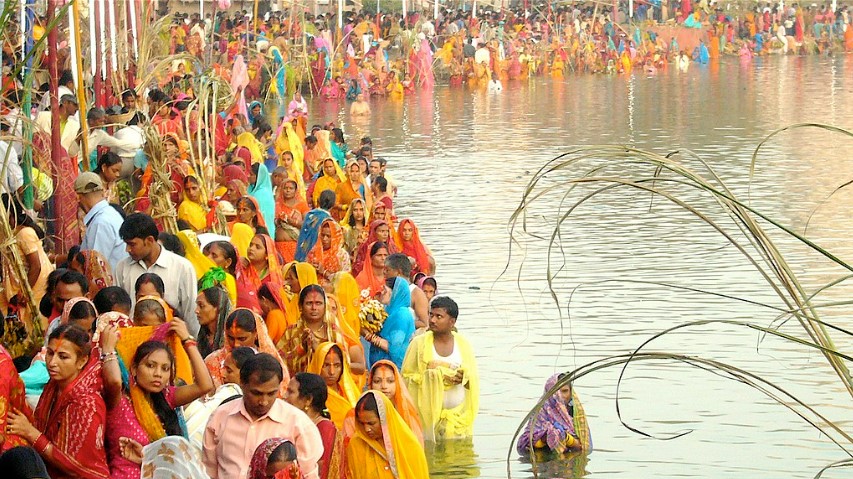 The onset of the Chhath festival has seen the hustle and bustle in the markets as devotees are gearing up to celebrate the festival with much pomp.
The four-day festival started formally on the fourth day of the lunar month of Kartik. This year, Chhath Puja falls on Sunday, October 30 when devotees worship Sun God by paying their offerings to the setting sun in the evening and observe Usha Arghya by worshipping the rising sun in the early morning on Monday. On each day, people who observe the Chhathi follow rigorous customs.
Chhath shoppers are seen buying puja materials for the occasion. The offerings to Goddess Chhathi include apples, bananas, oranges, coconuts filled with water, sugarcane stalks with leaves, green beans, watercress, turmeric, radish, ginger plants, and other fruits and green vegetables.
Chhath Puja is dedicated to Lord Surya or Sun God - the God of energy and the life force. Women observe a rigorous fast during the Chhath and pray to Lord Surya and Goddess Chhathi for their families and children's well-being, prosperity, and progress. They also offer Argha to Lord Surya and Goddess Chhathi.
The festival is celebrated with much fervour in the districts of the central Terai. The city of Birgunj, well-known for hosting one of the largest Chhath celebrations in the country, is being decked up for the festival.
With the cleaning and repairing of Chhath ghats completed, the decoration and other facilities are being done for the devotees. The local FM stations are playing religious songs, and the market is full of Chhath materials.
Devotees are also seen buying bamboo baskets to keep offerings, earthen lamps, bamboo or brass vessels, etc., for the festival.
Clothing stores are crowded with shoppers looking for new clothes, especially saris for the person fasting, as well as other members of the house to wear during the worship.
Devotees start the preparations for Chhath a day after Tihar or Deepawali by beginning to eat only Satvik food (without onion or garlic), preparing meals with utmost hygiene, and eating only after taking a bath.
Sanju Devi of Birgunj said that during the festival, which reflects the power and importance of the sun and water, one should eat pure food and fast for three days without taking food and water.
Only the rising sun is worshiped throughout the year in Hinduism, but both the rising and setting suns are worshiped during this festival. "This is the most special aspect of the festival," said culture expert Umashankar Dwivedi, adding that any man or woman can observe the Chhath fast.
Women fast during this festival for the happiness of their families. Umabati Thapa of Kumhal tole in Birgunj said that she observed the fast because of the belief that Goddess Chhathi would fulfill her wishes.
With RSS inputs