Kollywood
Five movies to watch this Tihar
They range from Nepali dramas to Hollywood thriller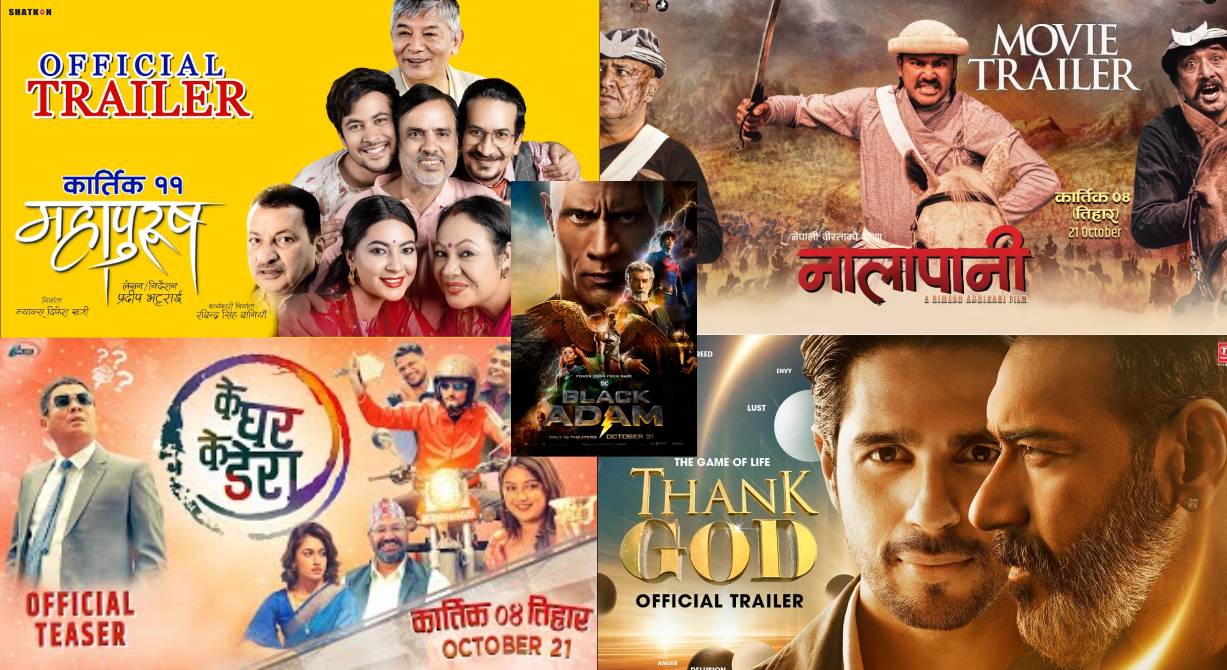 Festivities are mostly about getting together with loved ones and creating new memories. As the Tihar festival has started with Dhanteras or Dhanavatari Jayanti on Saturday, people now have all kinds of excuses to catch up with near and dear ones.
One of the activities that most urban Nepalis indulge in is binge movie-watching.
Here are five movies being release this Tihar:
1. Mahapurush
"Baau ko bihe dekhlas ni" is a term that people use while swearing. But, what if it becomes true? Mahapurush tells the story of a single father with two sons. The father is "smitten in love" and the movie revolves around the struggle of the "mature love" of our father's generation. The movie – starring the famous Maha duo, Madan Krishna and Hari Bansha, alongside Gauri Malla - will release on October 28. Pradip Bhatarai has directed this social/drama-genre movie.
2. Nalapani

Directed by Ramesh Adhikari, 'Nalapani' portrays the Nalapani war, which was the Anglo-Nepal war that took place for two years between 1814-16. It is a historical drama that was released on October 21. The movie stars Deshbhakta Khanal and Santosh Panta among other artistes.
3. Black Adam

This Hollywood movie starrs Dwayne Johnson, who is the "superhuman" of the movie. Like any other DC movie, Black Adam too revolved around the fight between good and evil. After showing the magical appearance, a crown of Egyptian power arises, then the race to achieve the crown and power begins. They can either use those power to save the world or destroy it.
The film released on October 21, and is full of sci-fi action and adventure. Jaume Collet-Serra has directed the movie
4. Ke Ghar Ke Dera

K Ghar K Dera released on October 21 and starrs Dayahang Rai, Surakshya Panta, Bipin Karki, and Keki Adhikari.
The plot of this Nepali movie tells the struggle and stories of those who own houses in Kathmandu and those who do not have any in a comic way. This comedy-genre movie is another interesting in theatres with your closed ones.
5. Thank God
Thank God is a Bollywood movie that will release on October 25. The movie starrs Ajay Devgan, Siddharth Malhotra, and Rakulpreet Singh. Directed by Indra Kumar, the movie revolves around a man (Siddharth Malhotra) who gets into an accident and then reaches the court of Chitragupt, played by Ajay Devgan. Then, the calculation of all the good and bad karma goes on. This comedy genre movie is another fun watch this Tihar.