Culture
OBITUARY
Revered historian Satya Mohan Joshi passes away at 103
Tributes pour in from across political and social spectrum for the 'Man of the Century'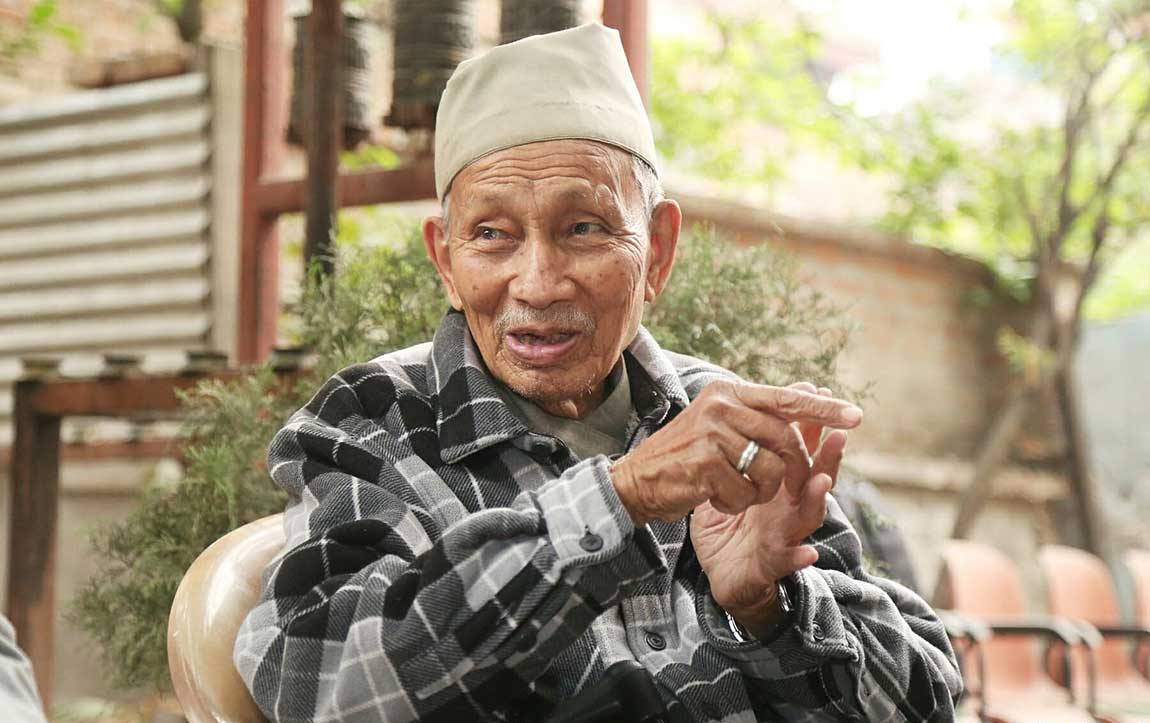 Nepal's most respected cultural historian and scholar, Satya Mohan Joshi, passed away on Sunday morning after prolonged illness. He was 103.
A family source confirmed his passing.
And soon, social media handles were overwhelmed with condolence messages.
Narendra Raj Prasai, a close friend of the Joshi family, led the tributes to the 'Man of the Century'.
"We are saddened by the demise of Satya Mohan. Our heartfelt condolences to Satya Mohan," Prasai, writer and member secretary of Nai Prakashan, wrote on his Facebook wall.
President Bidya Devi Bhandari tweeted: "The country has lost a tireless creator and guardian. His meaningful life is a great source of inspiration for all of us. Heartfelt condolences to immortal Satya Mohan."
Madan Puraskar Guthi tweeted: "Heartfelt respect to Centenary Satya Mohan Joshi (1977.01.30-2079.06.30) who was awarded the Madan Award for Samvat 2013, 2017 and 2028. Let unity flourish in diverse areas of archaeology, culture, language, literature, music, art, etc."
Joshi had been undergoing treatment at KIST Medical College and Teaching Hospital for multiple ailments since September 23. He had also tested positive for dengue.
He was suffering from prostate, urinary infection, and pulmonary and heart-related ailments. He was diagnosed with pneumonia on October 9. As his health deteriorated, he was shifted to the hospital's intensive care unit.
Born in Patan on May 12, 1920, Joshi received his early education at Durbar High School, and later at Trichandra College. He went on to become the first-ever director at the Archaeological and Cultural Department in 1959. He is credited with establishing Nepal's first theatre for arts, Rastriya Nachghar, the Archeological Garden near his home in Patan, and museums in Bhaktapur and Lumbini.
The 1960 coup by then-king Mahendra forced him to flee the country to the Chinese capital Beijing, where he worked as a Nepali teacher at Peking Broadcasting Institute. During his time in Beijing, Joshi researched on Araniko, the Malla-era Nepali artist who was invited to China to build several pagoda-style monasteries and stupas.
Until that time, little was known about Araniko. But, thanks to Joshi's years of meticulous effort – bringing facts surrounding Araniko to the notice of modern-day Nepal and China – we now know about the key figure in the arts of Nepal and Yuan dynasty of China.
In his long career as a scholar and culture expert, Joshi authored more than 60 publications, mainly on the culture of Nepal. They include Hamro Lok Sanskriti (Madan Puraskar in 1956); Nepali Rastriya Mudra (Madan Puraskar of (1960); Karnali Lok Sanskriti (a research collection); Charumati, Sunkeshari, Majipha Lakhe, Bagh Bhairab (dramas), among others.
In September 2019, the Nepal Rastra Bank commemorated his 100th birthday, issuing three new coins of Rs 100, Rs 1,000 and Rs 2,500 denominations featuring Joshi's portrait.
In February 2021, the Department of Postal Services released a Rs10 postage stamp commemorating him as the 'Century Person'. And in November of the same year, he became the first Nepali to receive an electronic passport.
Of late, he was working as the chancellor of the Nepal Bhasa Academy, which was established to promote and preserve the Newari language and culture.
In 2022, a book on the life and times of Satya Mohan Joshi received widespread appreciation. The book chronicles his life.
"He is a person who loved the country. He is an intellect. His contributions to the Nepali history and culture will always be remembered. His death is an irreparable loss to the country," Girish Giri, the book's author, sums up Joshi's life.
Joshi is survived by his wife Radhadevi, three sons and three daughters.