Football
international friendly
Nepal beat Bangladesh on the back of Bista hat-trick
Pradip Humagain's first outing as Nepal coach sees them win 3-1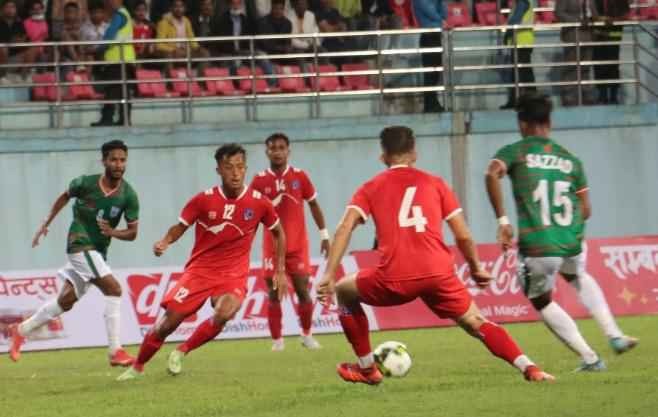 Nepal rode on a superb hat-trick from striker Anjan Bista to beat Bangladesh 3-1 in a friendly at the Dashrath Stadium on Tuesday.
Incidentally, for more than 8,000 home fans, who turned up to watch the match, the result was a small consolation for a loss inflicted on the Nepali women's team by their Bangladeshi counterparts.
The hosts lost the SAFF Women's Championship final by the same margin on September 19.
It was also a good opening for Pradip Humagain at the national team's helm, as Nepal extended their unbeaten streak against Bangladesh to four.
Bista scored all three goals in the opening half to take his international tally to 10 - level with Anil Guring and Bharat Khawas. Hari Khadka and Nirajan Rayamajhi share Nepal's record for the highest international goals with 13.
In the 18th minute, Nepal earned a free-kick, and Bimal Gharti Magar swung it into the Bangladeshi box. And Bista latched on to it and put it away past Bangladesh goalkeeper Anisur Rehman.
Nepal maintained their tempo, playing neat passes. And they breached the Bangladeshi defence in the 27th minute. Rehman, called into action, parried away a 22-yard driver from Tej Tamang. But the ball landed in front of Bista, who made no mistake in putting Nepal 2-0 up.
Bangladesh conceded another free-kick on the edge of the penalty area in the 37th minute. Suman Aryal flew his shot over the Bangladeshi defenders and into the box, and Bista nodded home for a 3-0 lead at half time.
The visitors showed urgency on the restart. In the 55th minute, MD Tutul Hossain Badsha pulled one back to raise Bangladeshi hopes.
The game saw a stalemate in the middle, neither side making headway. Both sides tried to find the target from the aerial route, but their attempts flew over the bars.
In the 80th minute, Humagain made a double change which saw Ashish Chaudhary and Ritik Khadka making their international debut.
Bangladesh pressed hard towards the close of play, but the Nepali defenders kept them at bay to secure their eighth win against their rivals.