Football
international friendly
Nepal entertains Bangladesh in friendly
New head coach Pradip Humagain will likely field debutants Ashish Chaudhary and Ritik Khadka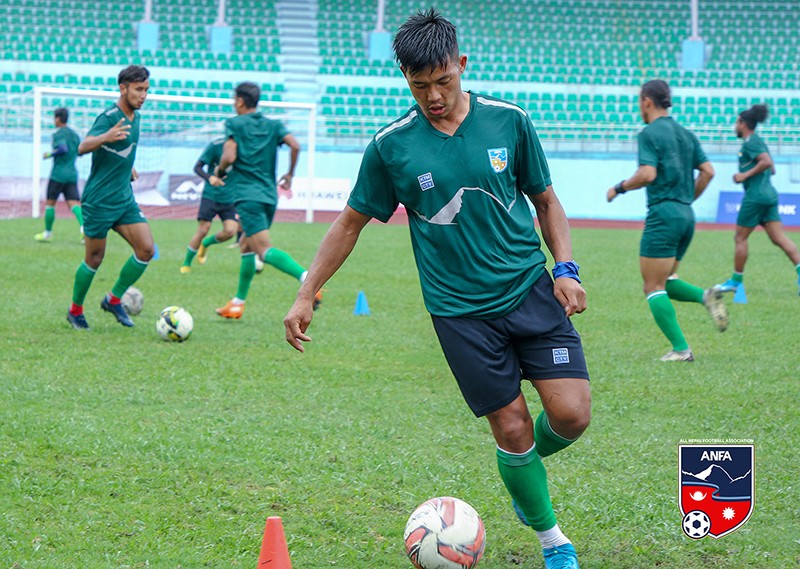 Hosts Nepal will entertain Bangladesh in a friendly match at the Dashrath Stadium on Tuesday. The match kicks off at 5:30pm.
Making a return to the national side after disagreements with previous coach Abdullah Al Mutairi, Bimal Gharti Magar considers the Bangladesh side a formidable opponent. "This is an important game. Bangladesh is a good and tough opponent."
Fans can get the tickets at the stadium on the day of the match as there are no pre-sales available. Ticket prices range from Rs500 up to Rs5,000.
This will be the first match for coach Pradip Humagain in charge of the national team. He announced his final squad last Thursday, giving an international break to Ashish Chaudhary and Ritik Khadka.
Chaudhary plays for the newly-promoted Church Boys Club and Khadka plies his trade with Three Star Club.
Gharti Magar said the inclusion of the debutants would step up the competition. "The new guys are good. They bring in more competition in the team."
Veterans Bharat Khawas and Nawayug Shrestha were dropped from the side, raising a few eyebrows. Shrestha made a veiled attack on the move, with a cryptic message on Facebook saying: "Symptom of disease: In when there's a foreigner, out when there's a national. Name of the disease: Manipulation."
The two sides played out a 1-1 draw in they last met in the 2021 SAFF Championship group stage.
They have faced each other 23 times, with Bangladesh winning 13 against Nepal's seven. Three matches ended in a draw.