Crime
Gothatar murder: Police search on to locate and nab assailants
Police officials say they have launched a detailed investigation into the incident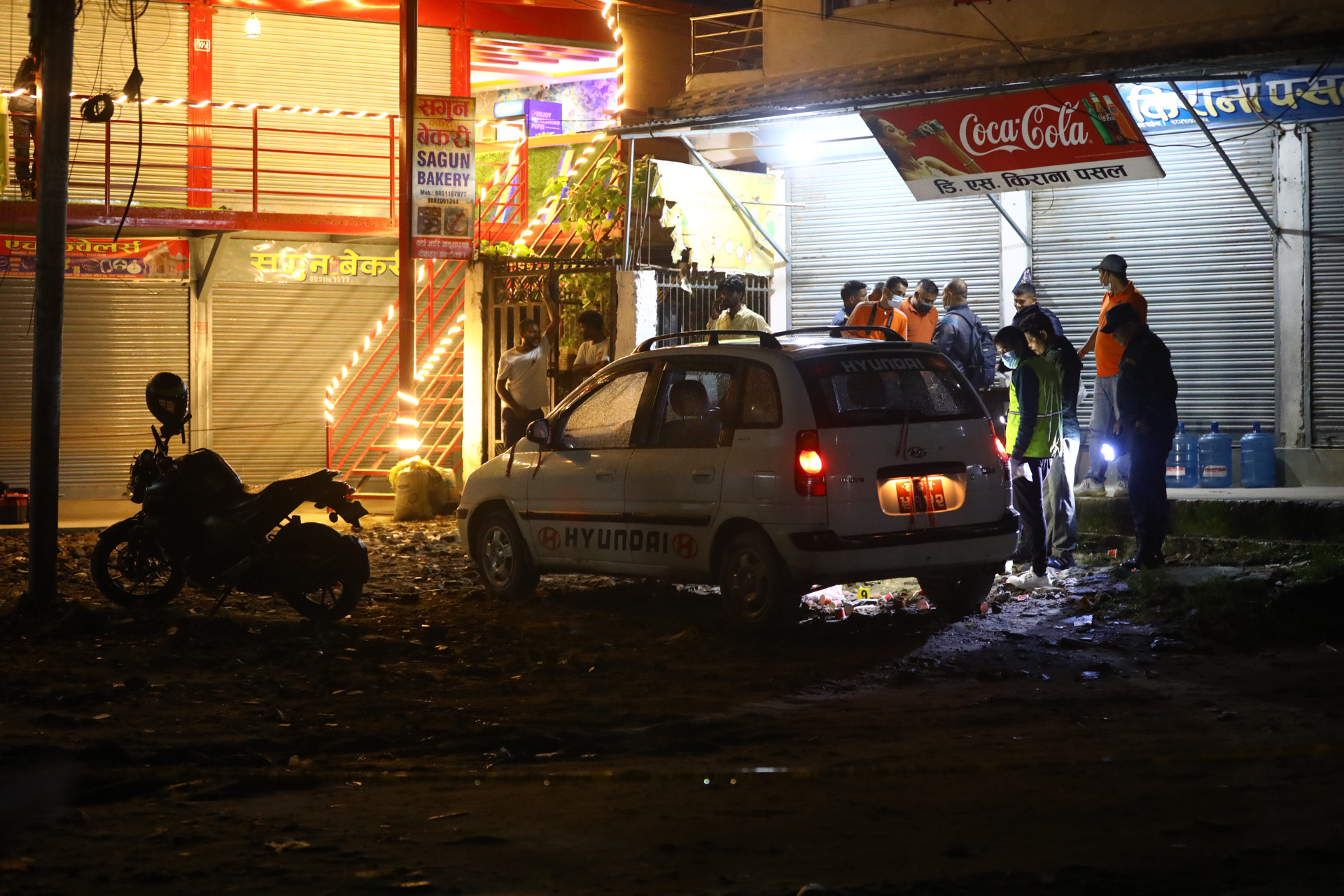 Nepal Police is still clueless about the individual or gang involved in the killing of Mohammad Darji, at Gothatar, Kathmandu on Monday evening. But officials say a search is ongoing to locate and nab the suspects, who followed Darji and shot him.
"Following a preliminary investigation, we learnt that three people were involved in the incident. We haven't made any arrest yet," Assistant Spokesperson for Nepal Police Superintendent Dan Bahadur Karki told NepalMinute.
The police are searching for them and have launched a detailed investigation into the incident, Karki said.
Darji aka Lal Mohammad, 58, a permanent resident of Hariwan Municipality-2 in Sarlahi, was shot dead outside his residence at Gothatar, Kageshwori Manohara-8.
His neighbours said he had gone to buy factory items in Jorpati on Monday afternoon. But as soon as Darji returned home around 6 pm in his car, he was followed by an unidentified person, who chased around his car and shot him multiple times.
In leaked CCTV footage of the incident, Darji was seen getting out of his car and as he was about to enter the house, a man in a red shirt and jeans chased him and fired at him.
CCTV footage of the incident has gone viral on Facebook.
As seen in the CCTV footage, after hearing gunshots, Darji's daughter, who was inside the house, jumped from the first floor of the house and chased the shooter. But the person escaped on a motorcycle.
Darji, who sustained bullet-shot injuries in the head and in the right thigh, was rushed to the nearby Shankarapur Hospital. As the treatment was not possible there, he was referred to the Tribhuvan University Teaching Hospital in Maharajgunj. However, doctors pronounced him dead around 9:30 pm.
Police said they recovered a pistol marked made in the USA, a magazine, four rounds of bullets, and four cartridges from the crime scene.
According to eyewitnesses, those who came on a motorcycle opened fire on him. While two people came on a motorcycle, three people left after shooting Darji.
Who is Darji?
Nepal Police said that Darji, who ran a garment business in Gothatar, was once in jail.
On July 4, 2007, a man named Balram Patuwa was shot dead at Dhobikhola in Anamnagar, Kathmandu. Darji along with others was arrested on a murder charge. He was released five years ago after serving 10 years in prison.
At that time, Darji was involved in a gang dealing in counterfeit Indian currency. The police claim that Darji's killing on Monday was also related to it.
During his criminal activities in the past, he was known by nicknames like Lal Mohammad, Lal Ansari, Lal Thapaji. Darji's name was also linked to gangs involved in counterfeit banknotes, gold smuggling and money laundering.
Darji was said to have been hit with a rod by an unknown group on September 9 at Jambudada. The assailants fled when Darji retaliated. Shortly after the attack, he went to Shankharapur Hospital for treatment.
The next day, Darji lodged a complaint with the Jabmuanda police demanding action against the assailants. But the police did not take the complaint seriously.
Who are the suspects?
Some hitmen from India might have been involved in the murder of Darji, the police said, adding that they are keeping a watch on the people who worked closely with him in the past.
The police have also started an investigation into an alleged connection between Darji and Iltaf Hussain Ansari, who was involved in the gold smuggling and robbery incident two years ago.
A joint team from the Kathmandu Police Circle and the Valley Crime Investigation Office is carrying out the investigation. Nepal Police is also preparing to form a separate committee to look into the matter.
The checkpoints in the valley have been tightened to search for the person who escaped after the shooting.