Football
SAFF WOMEN'S CHAMPIONSHIP
Bangladesh shatter Nepali dream to lift SAFF Women's Championship
Krishna Rani Sarkar scores twice in Bangladesh's 3-1 victory in the final with a performance of high intensity and spirit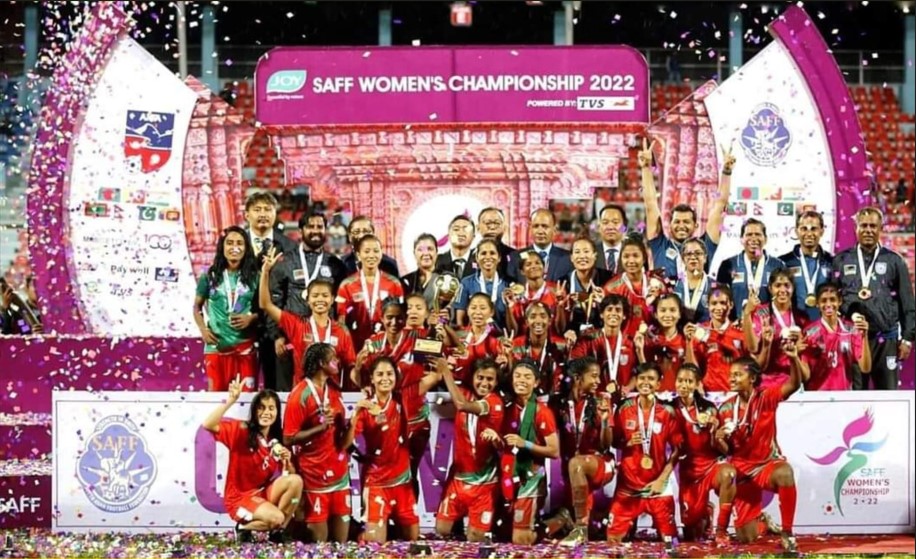 Bangladesh shattered the combined dream of Nepali fans to lift their maiden SAFF Women's Championship crown with a 3-1 victory over Nepal on Monday.
Responding to the appeal from Team Nepal, more than 15,000 fans turned up at the Dashrath Stadium to throw their weight behind the home side in their push for the elusive title.
But it was Bangladesh who capped off their fantastic tournament, scoring 23 goals while conceding only once to become the only other side beside India to win the tournament.
The match developed into an interesting duel as both teams raided each other's territories early on.
Bangladesh were forced to make an early change, bringing on Shamsunnahar in the 11th minute to replace Jahan Shopna who was unable to shake off an injury she picked in their semi-final against Bhutan on Friday.
It turned out to be coach Golam Rabbani Choton's masterstroke, as Shamsunnahar got to the end of Monica Chakma's cross to give Bangladesh 1-0 in the 13th minute.
Nepal attacked relentlessly, searching for an equaliser but were unable to break the solid defensive line of Bangladesh.
In the 37th minute, Nepal went close to scoring with Anita Basnet directing a free-kick towards the Bangladeshi goal. However, Bangladeshi goalkeeper Rupna Chakma pulled off a fantastic save to clear the danger for a corner.
The home side failed to produce anything out of the resultant flag-kick as the Bangladeshi defenders held firm.
Nepal, who were maintaining a high line, suffered another blow in the 42nd minute as Bangladesh broke their offside trap. And unmarked forward Krishna Rani Sarkar slotted home to take Bangladesh into half time with a two-goal cushion.
Nepali coach Kumar Thapa took a gamble at the start of the second half, bringing on Sabitra Bhandari in place of Anita KC.
The hosts kept pushing for a goal, but Bangladesh defended well to keep Nepali attackers at bay.
Nepal's relentless attack finally paid off in the 70th minute when forward Anita Basnet shot from the edge of the 22-yard box to narrow the deficit 2-1.
Nepal kept their foot on the gas, leaving their defence open. And in the 77th minute, Bangladesh exploited the opportunity as Sarkar netted her second and the team's third.
The home side continued to attack but were frustrated by the disciplined Bangladeshi defenders and 'keeper to seal a historic win.