Market
Yeti Distillery launches '8848 Rye Vodka' with special limited edition
Yeti Distillery Pvt Ltd has launched 8848 Rye Vodka with a special limited-edition release, featuring the artwork of renowned artist, Tsherin Sherpa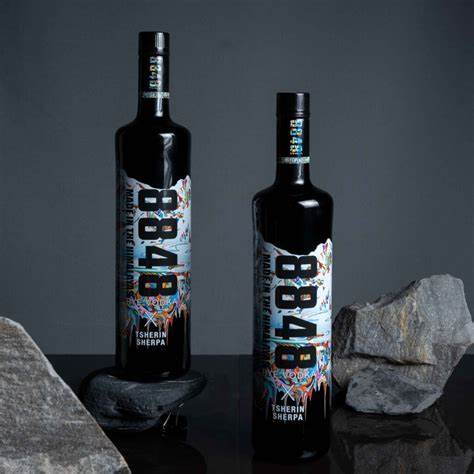 Yeti Distillery Pvt Ltd has launched 8848 Rye Vodka with a special limited-edition release, featuring the artwork of renowned artist, Tsherin Sherpa.
The 8848 Rye Vodka in a new black bottle showcasing Sherpa's artwork is limited to 30,000 bottles. This release also officially marks the launch of 8848 Rye Vodka, a new product from the company.
Addressing the launch event, Chairman of Yeti Distillery, Ravi KC, said he is confident that the new 8848 Rye Vodka will add a new taste to vodka connoisseurs.
Stating that the new product will promote the art culture of Nepal, KC said that the nation will be economically thriving if the industries here focus on brand development.
"If you look at the giant countries like the United States and China, their economic prosperity was only possible after they focused on branding their local products. Hence, Nepal should also brainstorm to drive the economy via branding home-grown products," he said.
Abhishek Shrestha, managing director of Yeti Distillery, said that the company aimed to showcase the artwork of Nepali artists to the world through their new product.
"As we were thinking about the launch of our new product, we yearned to do something different and meaningful. Thus we collaborate with Sherpa to draw attention to the evolving fine arts scene of our country."
On Sherpa's artwork titled 'The Himalayan Spirit' on the cover of the bottle, it was informed that the work is a celebration of diverse cultures within the Himalayan region.
According to the press statement, the new 8848 Rye Vodka is distilled five times in Poland with Polish rye.
"Produced using traditional Polish vodka-making techniques, the blend undergoes a unique distillation process. It is infused with naturally sourced water to impart a dry finish and provides notes of black pepper," added the statement.
The 8848 Rye Vodka X Tsherin Sherpa will be available in selected stores in the valley from September 2, with a retail price of Rs 2350 per bottle.