Market
Farmer's Market
Farmer's Market opens news vistas for SMEs in Nepal – with a bit of French taste
Just visit Yellow House at Sanepa or the Labim Mall on a Saturday morning for fun and buy products directly from producers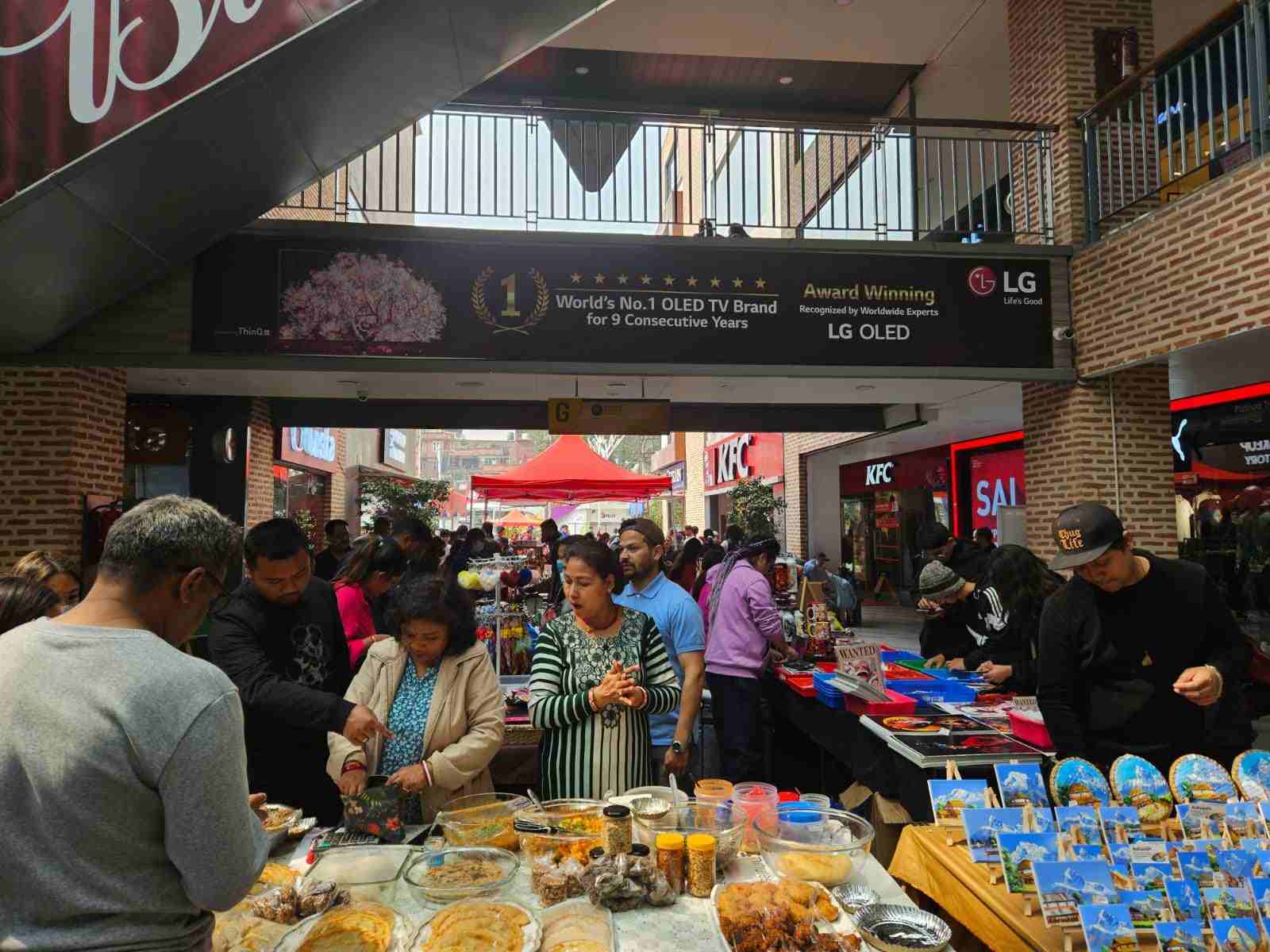 It's not your everyday marketplace.
Every Saturday morning, Anjana Malla fills her car with bamboo toothbrushes, sustainable tote bags, moonj grass bread baskets and loofahs – to name a few. Next, she makes her way to Labim Mall.
On the one table she has been allocated to the loofahs are neatly placed next to each other with colourful coasters taking up one side. Other products that she has on sale find a way between them.

She must be prepared before the doors open at 10 am. This is the only day of the week when her business, Deego Nepal, ventures out from the realm of social media.

"Small businesses like ours we don't have that much of huge investments for a fancier and nicer stores. But this way people can come, touch and feel our products so that they can see the quality," she told NepalMinute.

The Farmer's Market is gaining popularity as a new trend in Kathmandu Valley. Although the first market, located at LeSherpa, has been around for over a decade, post-COVID, an increasing number of people are spending their weekends shopping, eating, and socialising at these markets.

Not only has it provided locals with a new way to spend their Saturdays, but it has also greatly benefited small and medium-sized enterprises (SMEs). These markets have allowed businesses to display their products in an open market without incurring significant fixed costs, such as shop rent. It has also served as a stepping stone for some businesses to make connections and expand their operations.
The advent of the farmer's market in Nepal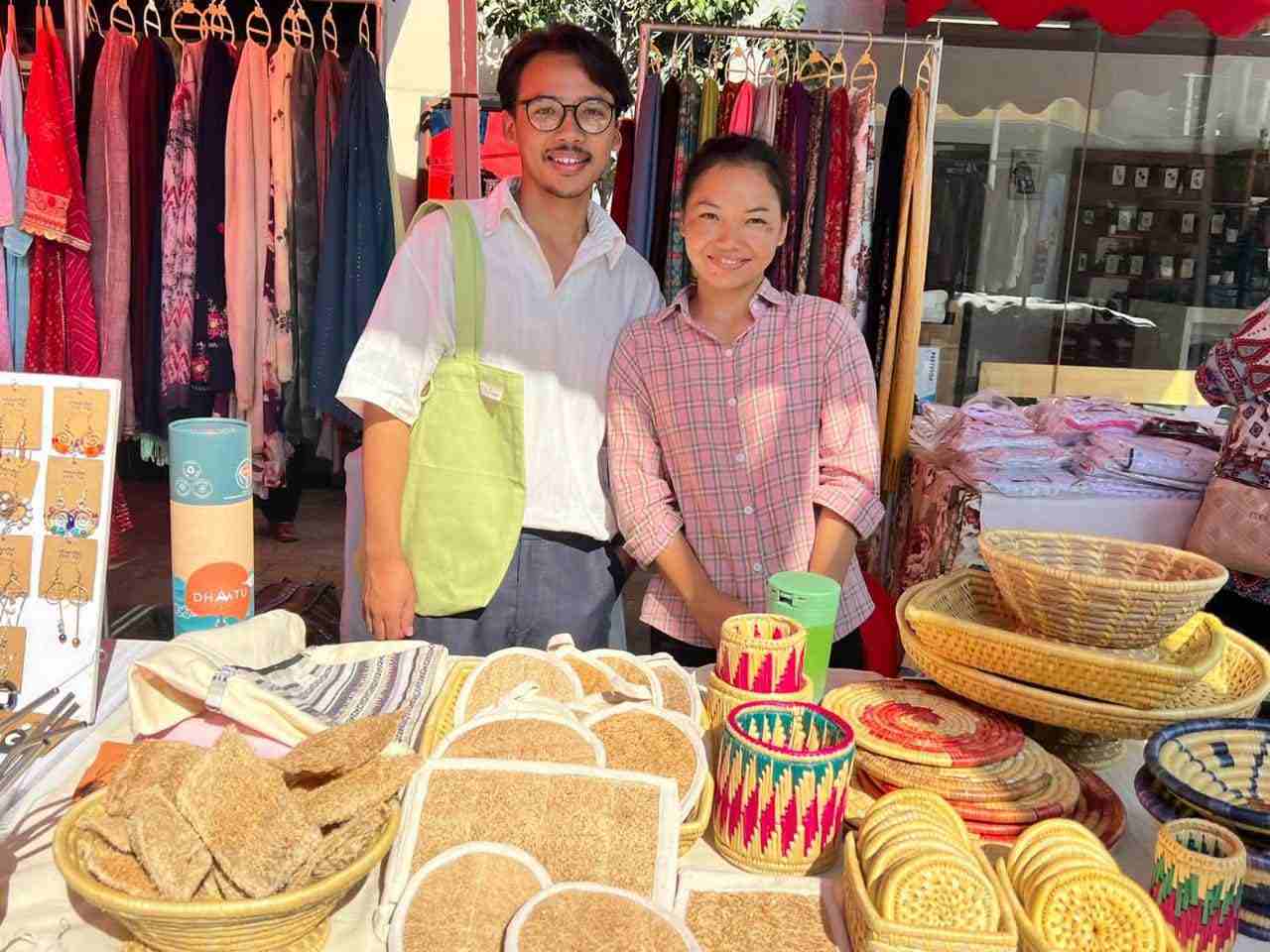 Arriving in Kathmandu about 16 years ago, Francois Driard, a French cheese maker, quickly realised that there were no artisan French-style cheeses available in the country. This realisation led him on an expedition to create Himalayan French cheese.

Initially, he began selling his cheese at a small market with only ten vendors located in the Summit Hotel. But the experience inspired him to establish his very own farmer's market.

Therefore, he and one of his friends approached the management of 1905 suites in Kantipath to start their very own farmer's market every Saturday. "We wanted to put producers, farmers, vendors of food directly in touch with the clients, skipping the middlemen," he told NepalMinute.

He started with five vendors, which were tea, honey, bread, a French restaurant and a meat and vegetable vendor. A few years later, they decided to shift the market to LeSherpa after some disagreements with the management. Until then, his market had grown close to 40 vendors.

"The concept here at LeSherpa is only local food and only producers themselves or farmers. You can't sell somebody else's products," he added. However, the market does not allow for live cooking, as the restaurant reserves the exclusive right to offer hot food service. The market runs every Saturday from 8 am to 1 pm.

While the market was slowly gaining popularity, he decided to also start another market in Lalitpur. Yellow House in Sanepa seemed a good location, and he ran the market on Sundays for almost five years.

In the aftermath of COVID-19, he desired to expand the market in the same region, ultimately resulting in the creation of the Labim Mall farmer's market in January 2021. This market operates every Saturday from 10 am to 4 pm.
"Somehow, I've got two markets that compete with each other on the same day," Driard said. "Both markets are operating at maximum capacity with 100 vendors each."
Footfall and Return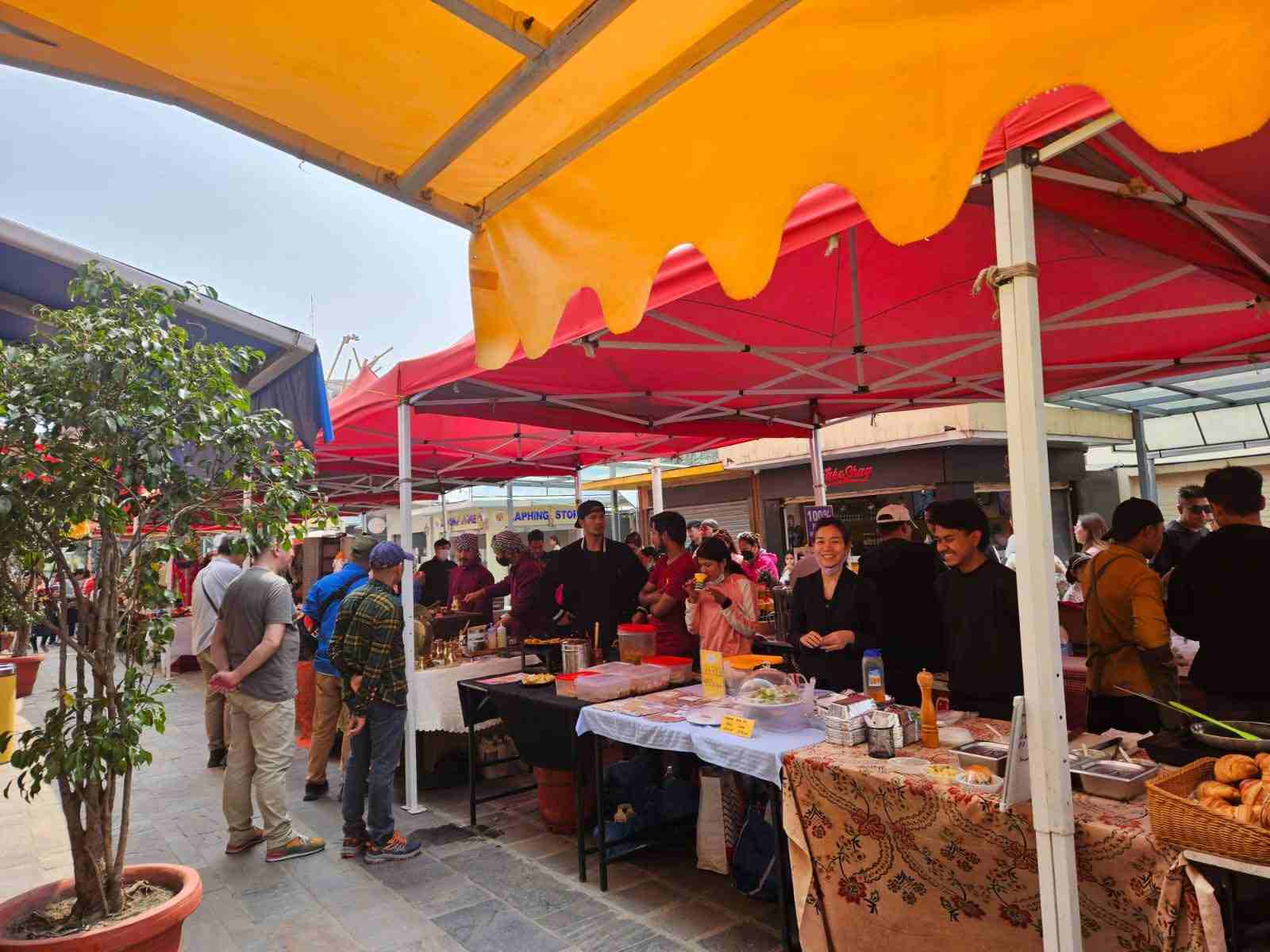 For small businesses, the farmer's market offers a higher return for a smaller investment, according to Malla. "We get higher returns in terms of profit, sales, networking, trust and physical presence," she added.

Malla started Deggo Nepal three years ago, and she has been displaying her products at Labim Mall for almost a year.

Businesses can take a stall at Labim Mall for Rs. 1,000 per table while at Le Sherpa for Rs. 600 to Rs. 800 per table, depending on the locations.

Rashi Sanghai, the owner of Pomodoro Nepal agrees with Malla. She believes that the footfall at the market has been the biggest benefit for her.

"You will have restaurant owners and chefs. You'll even have families, single people, expats and the local Nepali crowd. So, I think it's a wonderful mix of people," the 35-year-old explained that she has made a lot of contacts through the market.

Pomodoro Nepal is an agricultural company that offers various types of organically grown tomatoes, including cherry, Roma, and Italian, among others. These tomatoes are grown on the company's two farms.

The business was established approximately two years ago, and Sanghai has been showcasing its products at the Le Sherpa Farmer's Market for the same duration.
The stepping stone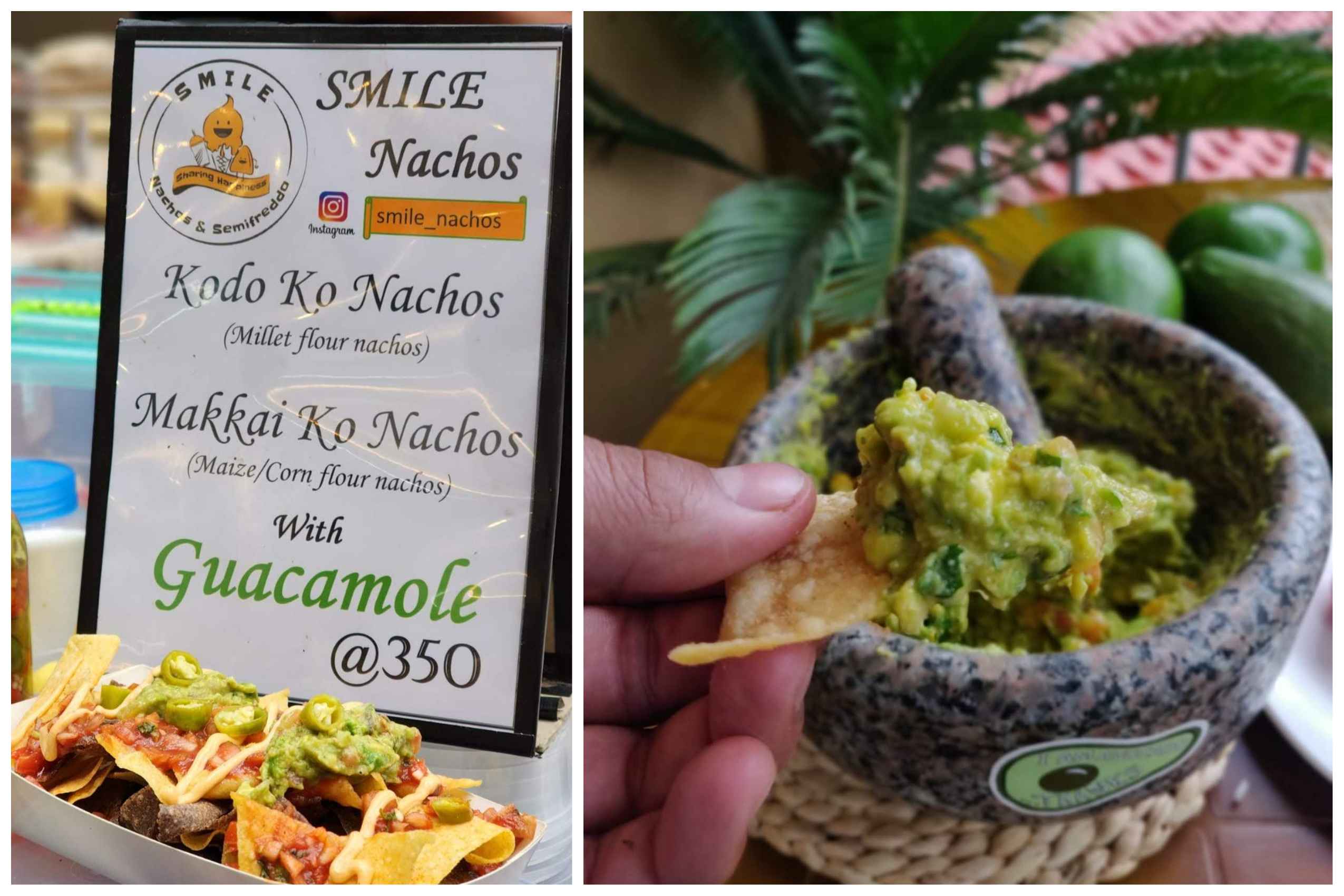 The farmer's market has helped some SMEs add an extra dimension to their businesses. But for one company, it has helped them grow to a new height.

Smile Nachos was established during COVID by chef-duo Gaurav Dangol and Savi Rajbahak. As the name suggests, the company sells corn and Kodo nachos with guacamole and salsa.

During the COVID-19 pandemic, the pair began creating snacks and sweets as part of a donation programme. They rode their bikes through the streets of Lalitpur, providing food to individuals in need. However, their nachos quickly gained popularity, prompting them to establish a company focused on producing them in January 2021.

After April 2021 – better known as the second lockdown in the Nepali lingua franca – they were able to secure a stall at the Labim mall farmer's market.

"Farmer's market provided us with the marketing, and every day different people are coming there. We started giving free samples and tastings also and people started liking it. Once they tried the product, they would buy the whole set," Dangol said. It was tough for them in the beginning though.

In addition, the farmer's market allowed the duo to connect with investors, chefs, and restaurants, which aided to the expansion of their business.

Within six months of participating in the farmer's market, the company established a factory to produce machine-made nachos and employed four workers – all female. The company has also recently launched a small restaurant in the Patan area. They are currently supplying nachos to more than 50 restaurants across Kathmandu, with more expansion plans in the future.
Future of Farmer's Market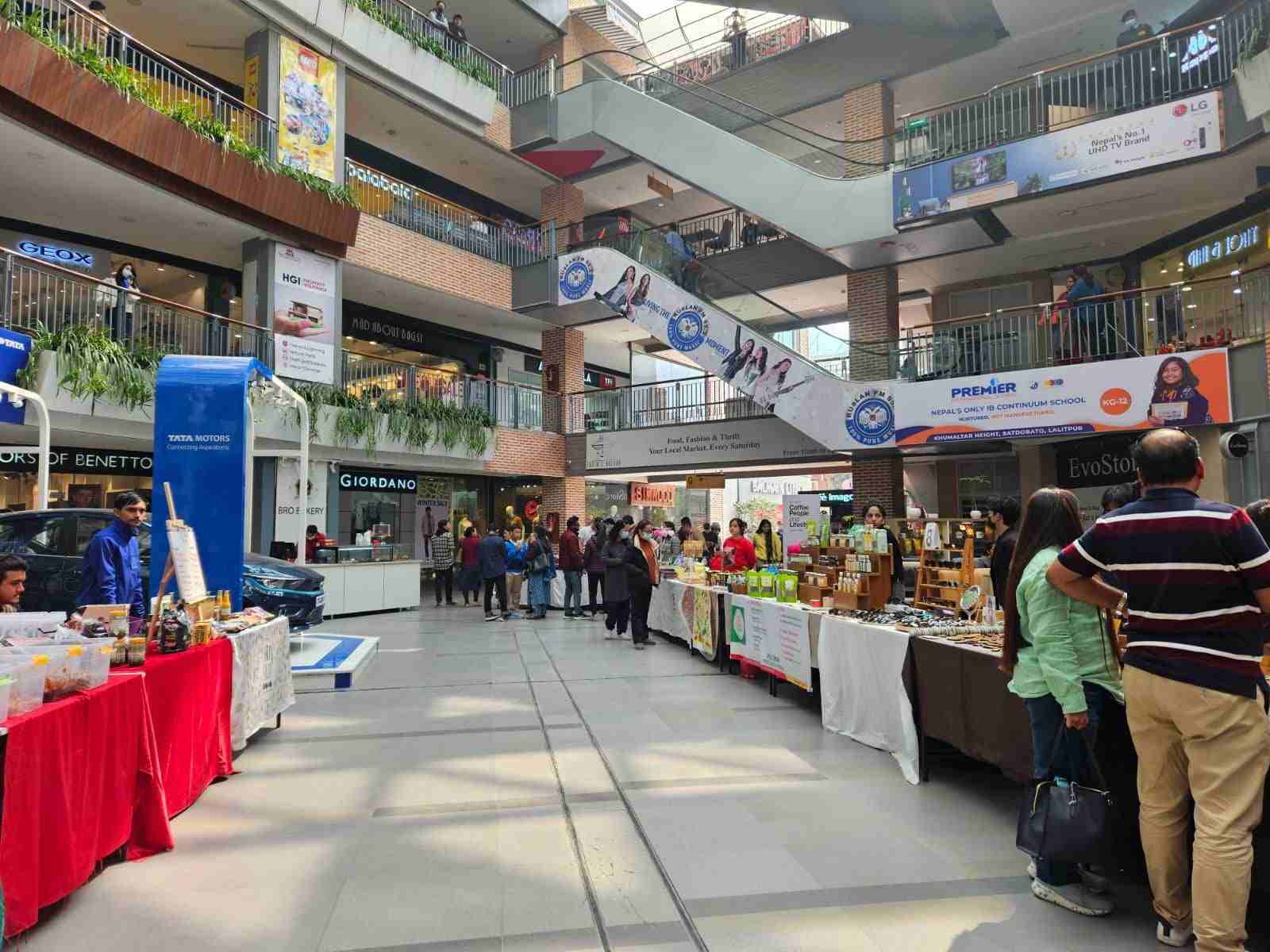 Driard is happy with both markets currently in operation. In the future, he wants to develop a second-hand market. "Either monthly or weekly, but a garage sale concept, where everybody can bring their old things and sell it," he added.
"There are many challenges to be overcome in the run-up to open such a market, though."