Culture
Sundarijal in Shrawan
Sundarijal waterfalls show true colours, much to the delight of pilgrims (Photo Gallery)
The morning after heavy monsoon rains, the Bagmati, Syalmati and Nagmati were flooded - with white waters cascading down the slopes adding to the beauty of Sundarijal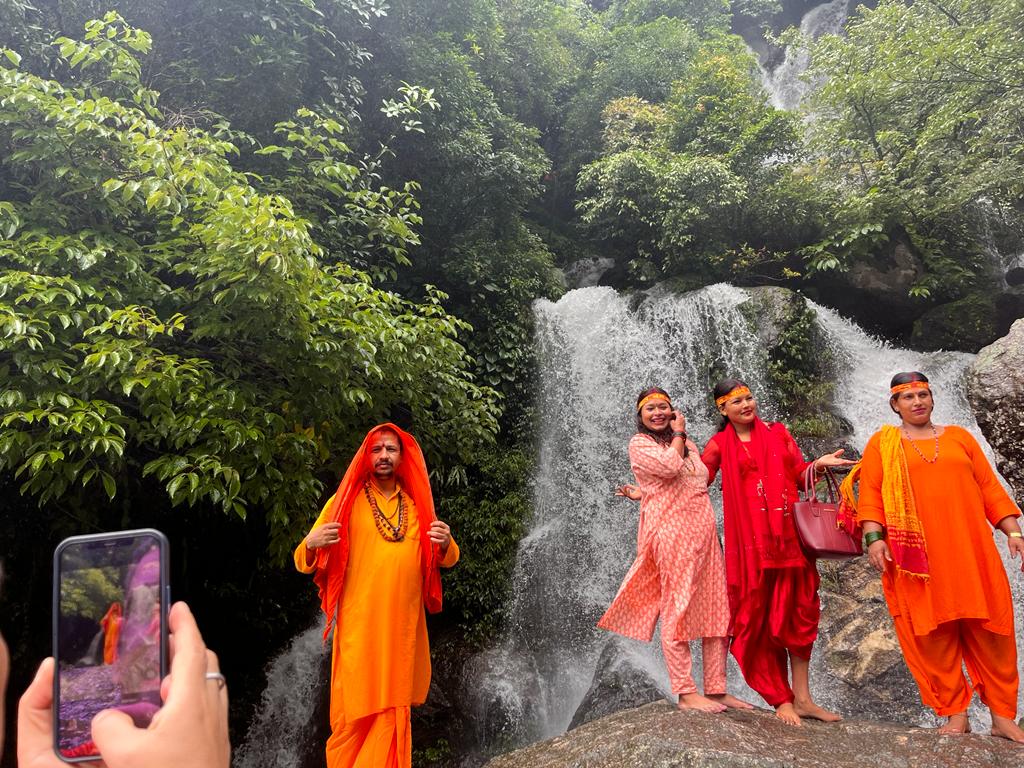 It's the holy month of Shrawan for Hindus, and pilgrims from as far as India have been arriving in Nepal in droves.
Especially on Monday mornings, donning orange-colour dresses, they have been visiting some of Hinduism's holiest shrines in Kathmandu valley, including Pashupatinath, Gokarneshwor, Sundarijal and Bagdwar, the origin of the Bagmati river, one of the tributaries of the Ganga - the holiest river for Hindus.
At Sundarijal, located 17 kilometres northeast of Kathmandu, pilgrims chanted "Bol-Bam" as they climbed up the steps leading to the famous waterfalls of the Bagmati and the Syalmati rivers, the Shiva Linga by the Syalmati - and the temple of goddess Sundarimai on the banks of the Bagmati river.
They included Hindu Sadhus carrying tridents, pilgrims from neighbouring villages and different parts of the country, including the Tarai region - and neighbouring Indian states.
While most worshipped deities scattered around Sundarijal, a few even trekked up the hills for three-to-four hours to get to Bagdwar, located east of the Shivapuri peak (nearly 2,800m), where the first drops of the Bagmati falls from a stone spout.
The morning after heavy monsoon rains, the Bagmati, Syalmati and Nagmati were flooded - with white waters cascading down the slopes adding to the beauty of Sundarijal, which, among other things, is famous for green forests, clear waters and the Tamang villages of Mulkharka and Okhreni.
Sundarijal, an entry point of Shivapuri Nagarjun National Park, also serves as a starting point for trekkers heading to Gosaikunda, Langtang, Melamchi and Helambu.
See photos of pilgrims in Sundarijal Monday, August 1.
(Texts and Photos: Surendra Phuyal)