Corporate News
EMPOWERING WOMEN
Nabil, FWEAN give financial boost to women entrepreneurs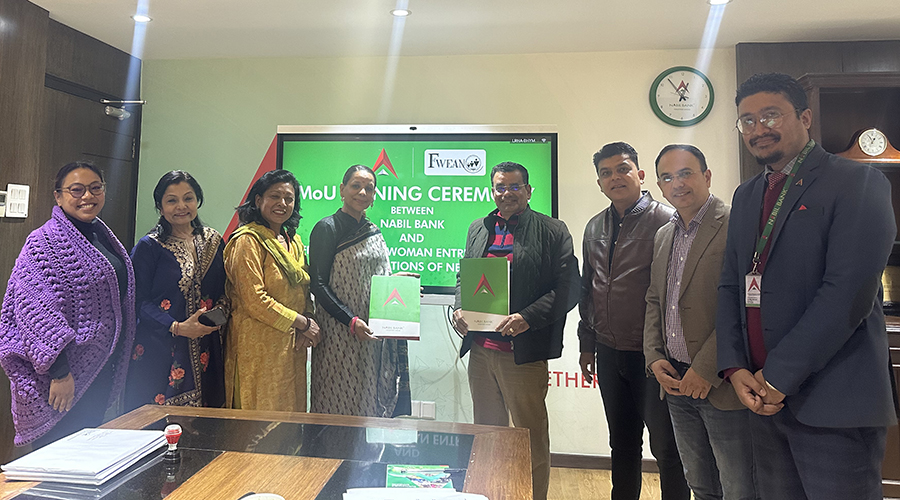 Nabil Bank and the Federation of Woman Entrepreneurs' Associations of Nepal (FWEAN) have joined forces to expand women entrepreneurs' access to capital in an effort to empower and encourage them, as well as promote domestic products.
A memorandum of understanding to that effect was signed on Monday by bank's Chief Executive Gyanendra Prasad Dhungana and FWEAN's President Neeru Rayamajhi Khatri.
According to the terms of the deal, Nabil Bank will provide space in its branches for women entrepreneurs to set up stalls for their products. "Women entrepreneurs under FWEAN will participate in information and training related to the Nabil School of Social Entrepreneurship (NSSE) programme," says the bank statement.
As per the deal, FWEAN will set up stalls once a month at the central office of Nabil Bank in the first phase. These stalls will have products made by Nepali entrepreneurs. "These products will help build a positive attitude among bank employees and customers towards Nepali products," it reads.
The partners have expressed their belief that financial access, entrepreneurship, and training in financial literacy will contribute to the empowerment of women. This partnership will cover Sustainable Development Goals.
On the occasion of Paddy Day (29 June 2021), Nabil Bank launched a "Sustainable Banking Practice" to support the Sustainable Development Goals adopted by the Government of Nepal. The practice, which began in 17 branches of the bank, has since expanded to 100 branches.