Agriculture
Green Industrial Village
Panchkhal prepares DPR for women's industrial village
The municipality has suggested a plan to lease out 98 ropanis of land in Panchkhal-7 for 25 years for the purpose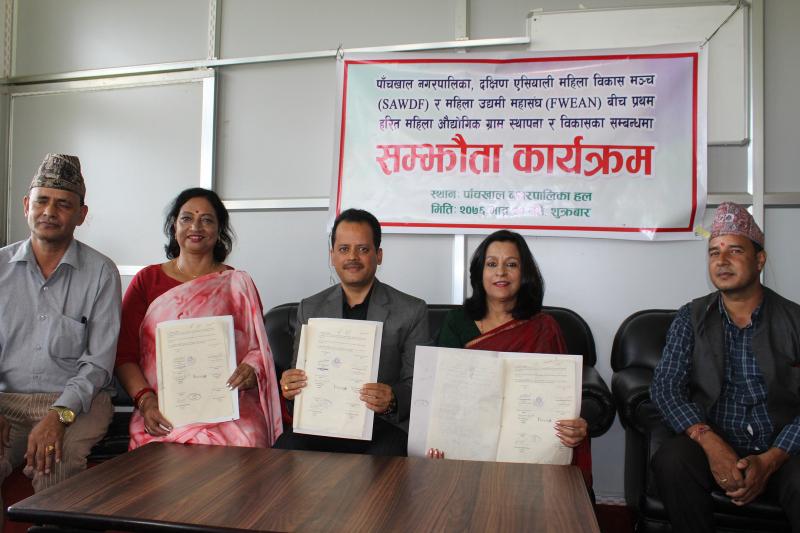 The Panchkhal Municipality in Kavrepalanchowk district has prepared a detailed project report to build a women's industrial village'.
According to Panchkhal Municipality Mayor Mahesh Kharel, the country's first-ever industrial village is to be built in Panchkhal municipality-7 with a focus on women and agriculture.
"Women entrepreneurs have a pivotal role in the economic sector of Nepal," he said.
The local government has established a green industrial village in partnership with the South Asian Women Development Forum.
Deputy Mayor of Panchkhal Suryamaya Danuwar said that the programme's emphasis on locally produced and sourced materials would encourage women to pursue economic independence and self-employment.
The city has suggested a plan to lease out 98 ropanis of land in Panchkhal-7 for 25 years for the purpose.
Mayor Kharel said priority would be accorded to the local people in employment when the industrial village was built. "The construction of the access road is done," he said.
Three years ago, the Panchkhal Municipality, the South Asian Forum for Women Development and the Federation of Women Entrepreneurs Nepal reached a tripartite agreement to establish a green village. A budget of Rs 6 million was allotted for the project at the time.
The government announced plans to build industrial villages in five local governments across five districts in the fiscal year 2076-77 BS. The government had earmarked a budget of Rs9.2 million to set up industrial villages in three local governments of Kavrepalanchowk and one each in Makawanpur, Dolakha and Chitwan.
- RSS