Crime
Helicopter Landing on Football Ground
Six arrested in connection with attack on helicopter pilot
The injured pilot continues to receive medical treatment as police proceed with investigation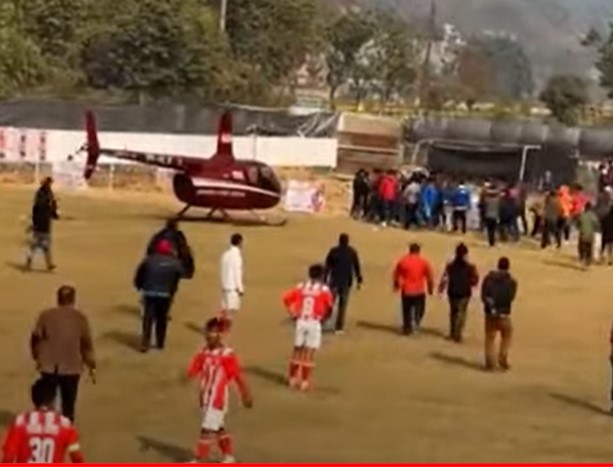 Police in the western district of Syangja have arrested six individuals in connection with last week's attack on a helicopter pilot who landed a chopper on a football ground.
According to Padma Raj Thapa, a security official in Syangja, the police have arrested four passengers who were drunk while on board and two football tournament organisers who were seen attacking the pilot soon after he got off the chopper.
Pilot Ranesh Dangol was injured after the attack - yet he managed to safely fly back to Pokhara. He is recovering in a nursing home in Pokhara.
Dangol has since been suspended by the Civil Aviation Authority of Nepal.
The helicopter operated by Prabhu Air took off from Pokhara for a short flight to Waling, Syangja where a Waling Gold Cup was in progress on Thursday, January 19.
Video footage of the Prabhu Air helicopter landing at a corner of the football pitch has gone viral. As soon as the passengers get off the helicopter, its shows, the pilot and passengers being assaulted by a group of spectators.
Dangol managed to return to Pokhara after police troops on the ground intervened. Subsequently, the injured pilot sought medical attention at a Pokhara nursing home and lodged a complaint with the police.
Chief of Pokhara Regional International Airport, Bikram Raj Gautam, said an investigation had been launched to find out why the chopper landed on the football ground.
The pilot blamed the passengers, identified as four local youths of Waling, for "insisting to land on the ground" instead of a nearby river bank, where the pilot had wanted to land. Helicopters often land on helipads or clear spaces like river banks.
Goalnepal.com, which has shared the video on its Facebook page, was livestreaming the match when the helicopter suddenly showed up and landed on the ground much to the surprise of players and spectators.
The Waling football ground hosted the semi-final of the Waling Gold Cup between Cameroon-based Avnier FC Cameroon and Waling FC Junior.
Soon after the incident, Syangja Chief District Officer (CDO), Gangabahadur Chhetri, reported the matter to the civil aviation authorities in Pokhara, from where the chopper took off. He described the matter as "very serious".
The pilot told locals that the passengers - Binod Gaire, Khim Bahadur Thapa, Sushil Giri, Sushil Thapa of Waling - were drunk during the short flight from Pokhara to Waling.
A police complaint was filed against the four – but they fled the scene soon after the altercation.