Nature
Rhino Poaching
Emergency meeting to discuss ways to curb rhino poaching
It follows the electrocution of two rhinos by poachers near Chitwan National Park on Friday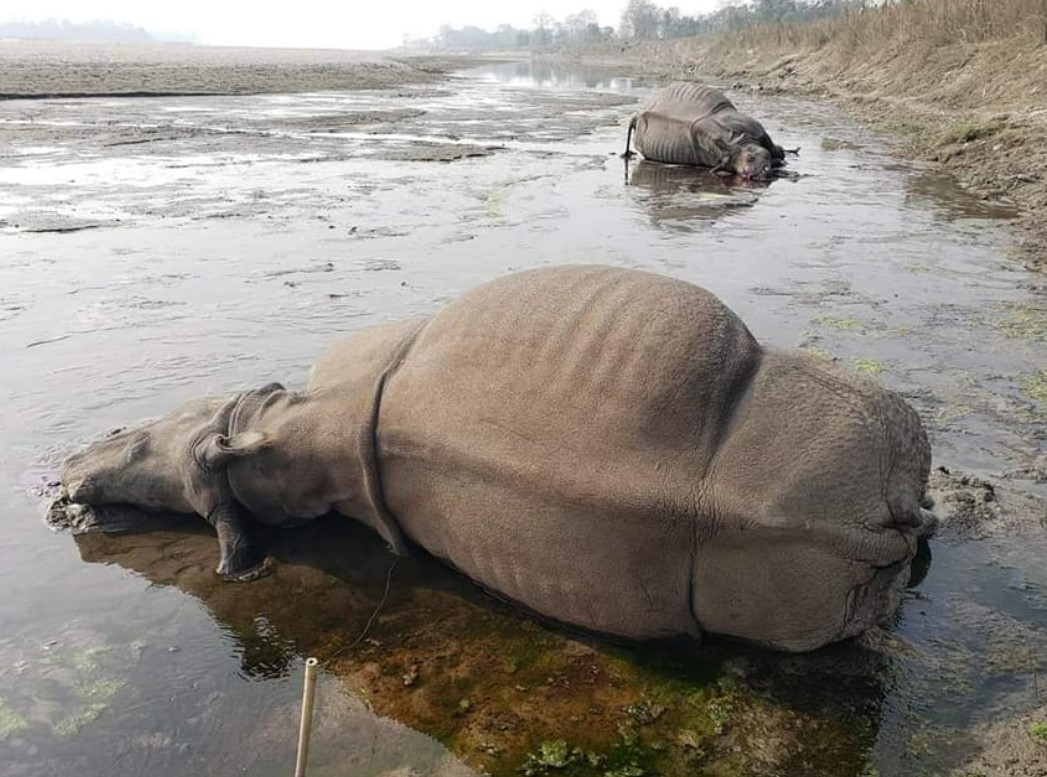 Conservation officials in Nepal are preparing to hold an emergency meeting to discuss ways to combat rising incidents of wildlife crime and poaching in the protected areas.
It follows poaching of two one-horned rhinos near Kawasoti, Nawalparasi, along the banks of the Narayani river, where their bodies were found on Friday morning. Officials say the adult rhino and her calf were electrocuted to death by poachers who made off with a rhino horn. The young rhino didn't have a horn.
The wildlife are poached for horns and other organs which fetch millions of rupees in black market.
Officials at the Department of National Park and Wildlife Conservation said a search operation has been launched to arrest the poachers, who used previously unknown technology to electrocute the rhinos. The incident took place less than 500 metres away from the nearest security outpost, guarded by Nepali Army personnel.
This is the second incident of rhino poaching in Chitwan National Park in central Tarai. The park is home to nearly 700 rhinos, according to a census conducted in 2021. Of the ten rhinos found dead in the park this year, three had been poached.
Ajaya Karki, deputy director general at the Department said that a meeting of the Central Wildlife Crime Control and Coordination Committee comprising wildlife and law enforcement officials will discuss the next course of action to combat wildlife crime and poaching.
Despite tight security measures and stringent legal punishments, incidents of poaching of endangered species of wildlife like rhino, tiger and others have not halted. They are killed for their "precious" organs like the horn.
A rhino horn costs up to $400,000 in the black market. Rhino horns and other wildlife organs are used in making traditional Chinese medicine, including aphrodisiacs. Modern scientific researches, though, have long been questioning the efficacy of such medicines.
"It indicates that poaching syndicate is active again," said Dr Baburam Lamichhane, a conservation biologist at National Trust for Nature Conservation."[The latest incident suggests that the poachers] are using the new method such as electrocution which is alarming."
Nepal's national parks are protected by the Nepali Army. And Nepal Police has been trained to deal with illegal trade in the endangered species of flora and fauna. Occasionally, police personnel have been seizing wildlife parts from their carriers or traders. Yet the ring leaders are rarely arrested.
Nepal's wildlife crime control law is considered to be the strictest in South Asia. The law criminalises poaching or trading of species like tigers, rhinos, leopards, pangolins, or wild elephants, among others. The National Park and Wildlife Conservation Act provides for a jail term of 15 years and a fine of up to Rs1 million for those found guilty.