Environment
Rhino Conservation
Where on earth can you photograph 18 rhinos within two hours
That is statistically similar to seeing nearly 700k Nepali people in two hours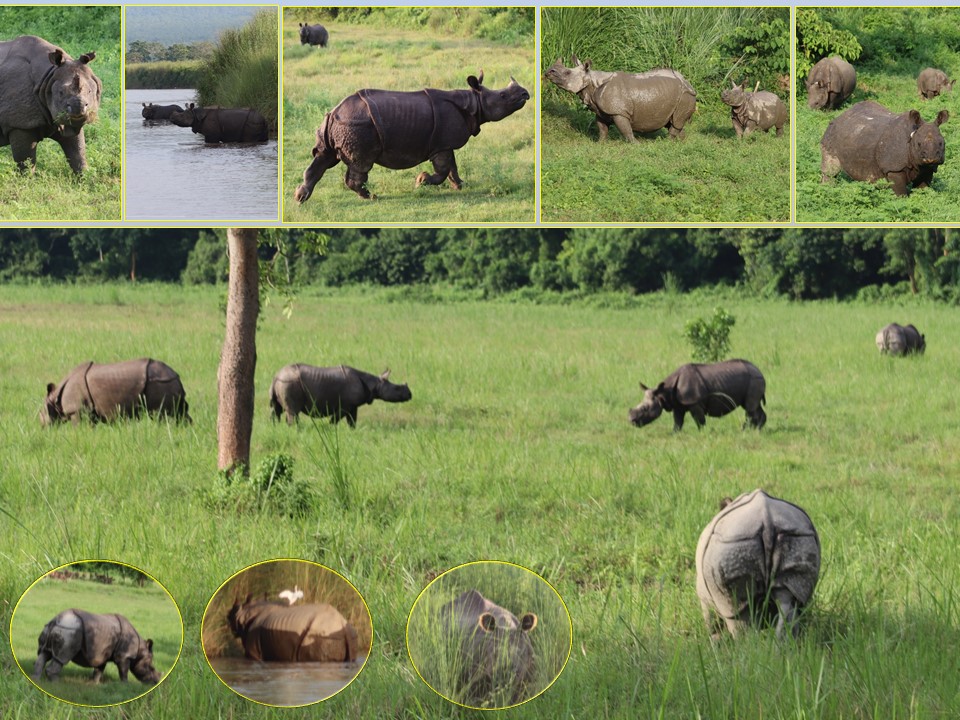 You get a chance to see 18 one-horned rhinos in a two-hour jungle safari in Chitwan National Park. What do you do? Take pictures of the giants and share what you saw as a spectacular treat with everyone on the social media.
Dr Babu Ram Lamichhane, the senior conservation officer as well as officer in charge of the Biodiversity Conservation Centre (BCC) at the National Trust for Nature Conservation (NTNC) had this opportunity on July 28. Well, why July 28? Because let's agree, he went on an elephant safari on that day.
Now, how rare was his sighting of so many giants together? NepalMinute asked Lamichhane about this numerical feat.
"It is actually common to see 18 or so rhinos in two hours on a jeep safari," said Lamichhane. "But this can be rare for people going around on elephants. The rhinos were within three square kilometres."
Does this event deserve some napkin maths to assess its rarity? Let's see what we get.
We have:
Population of Nepal = 29,192,480
Area of Nepal = 147,516 km2
The population of rhinos = 752
Number of rhinos he saw = 18
People / rhinos = 29192480 / 752 = 38820 people per rhino
So, 18 rhinos = 18 x 38820 = 698760 people
Assuming people and rhinos share the same land area that is Nepal.
So, that is statistically similar to seeing nearly 700k Nepali people in two hours. The number of people will fill eight Wembly or 46 Dashrath stadiums.
Because the population of rhinos is concentrated in Chitwan, this math is skewed. Even without a skew, after all, a human sighting one rhino and the same human sighting its equivalent of 39,000 people may not be the same thing. We don't know what it would mean for each rhino to see that many people as its own equivalent!
But why so many rhinos, a solitary lot, were there on the small patch of land on that day is still interesting, right? They do not live in groups nor are usually seen grazing on the same field as in the photograph.
"Although solitary by nature, rhinos in Chitwan have reached about 700 in number – now they are learning to tolerate one another," said Lamichhane. "They are making a compromise."
Rhinos are herbivores and like tender grass.
"That patch of grassland and land nearby were cleared earlier as part of grassland management work carried out by NTNC-BCC facilitated by Chitwan National Park Office in financial support of International Rhino Foundation, and now new grasses were growing," added Lamichhane.
"This grassland management work has created excellent grazing lawns for rhinos which attracted the rhinos."
What about transferring the rhinos to other habitats?
One-horned rhinos prefer to live in the floodplains, grasslands and riverine forests. The increase in their population in Chitwan National Park has put pressure on their habitat management.
Lamichhane said: "There are always chances the rhinos start fighting among themselves, we call this their territorial fight, leading to their injuries or deaths. There can even be human-animal conflicts, which nobody wants."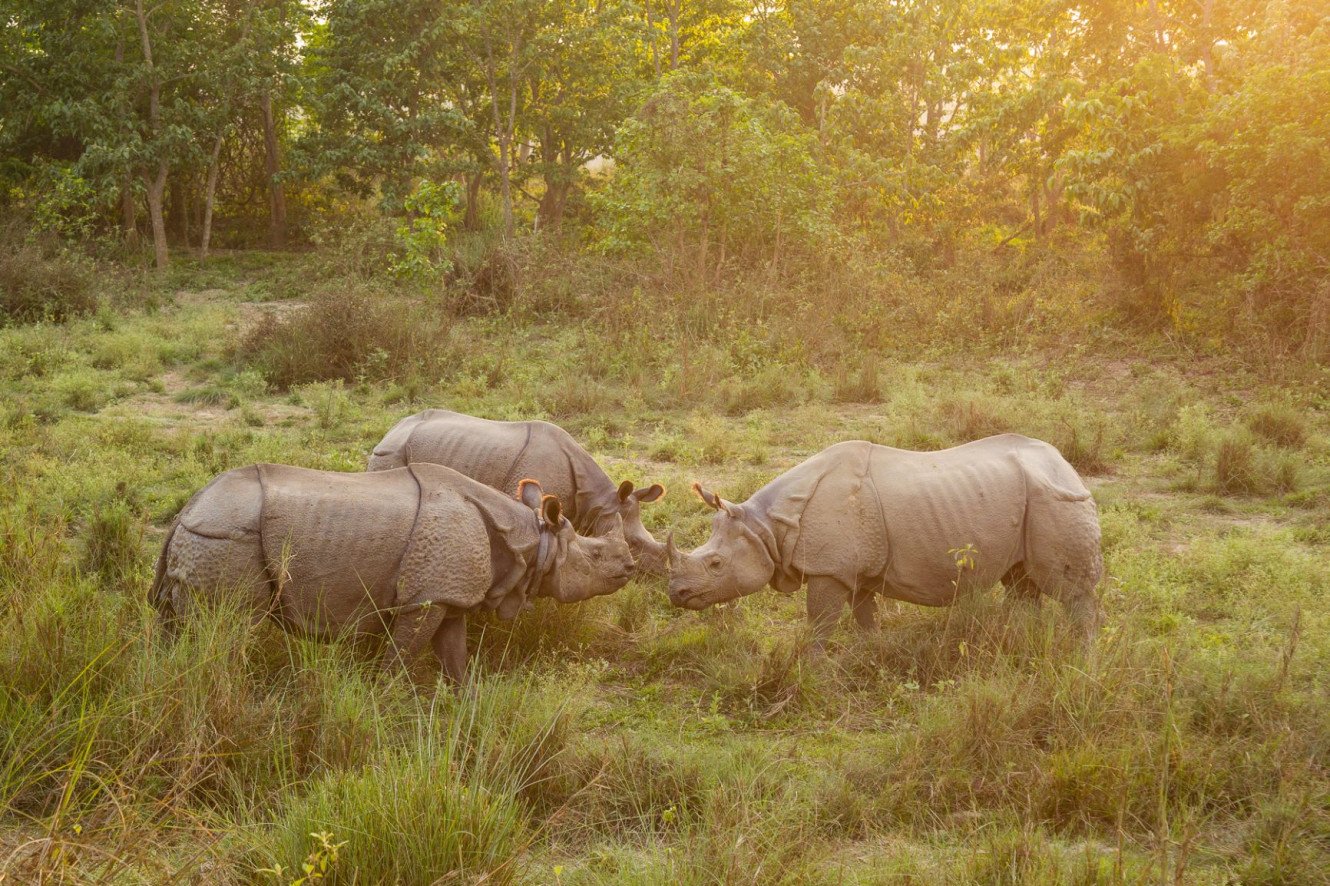 Transferring rhinos to other national parks is possible and have previously been carried out.
Between 1986 and 2017, around 100 rhinos were relocated to Bardiya National Park from Chitwan.
"It has been seen, relocating 10-20 rhinos annually is beneficial in increasing the overall population of rhinos in Nepal," said Lamichhane. "This will also make habitat management easier in Chitwan."
High Mortality
Chitwan National Park, the sweet home for one-horned rhinos since 2016 turned out to be violent in 2020 when a four-year-long streak of zero poaching was broken. Four rhinos were killed that year.
"Statistically more deaths, be they natural or human-induced, are recorded as their population rises," Lamichhane said.
Prior to this, in 2017, huge floods in Rapti and Narayani swept 11 rhinos to India, which were later brought back to Nepal. Many rhinos die every year due to flooding.
"Rhinos live in floodplains, so saving them from a flood is a hard task," said Lamichhane. "Fortunately, no such incident has happened this monsoon."
The higher number of deaths recorded over these past years was not due to a single reason, according to Lamichhane.
"This is a relief because epidemic disease can be ruled out as a reason. It is always tough to make their health assessment, looking at whether there has been any epidemic," he said. "But they have also died due to human-induced reasons like electrocution or falling into the open drains."
Resource management is hard
According to Lamichhane, NTNC carries out habitat management and other tasks each year. But the increasing population of rhinos has added a new set of responsibilities that require more resources.
"We are learning to better optimise the resources in regular management of the park, and we also want to add a few more new tasks to our to-do list like season-based health monitoring of rhinos. A few of them have died due to poor water quality in the rainy season."
He added: "This dry season will test their limits in terms of habitat management (grassland management). We are constantly learning and evolving according to the situation. Yes, it is costly but biodiversity needs to be conserved."
One-horned rhinos (Indian Rhinos) are listed as vulnerable species on the International Union for Conservation of Nature (IUCN) Red List. Their counts had plummeted to near extinction – 200 at the start of the 20th century which after a lot of coordinated conservation efforts now is over 3,700 according to the World Wildlife Fund (WWF).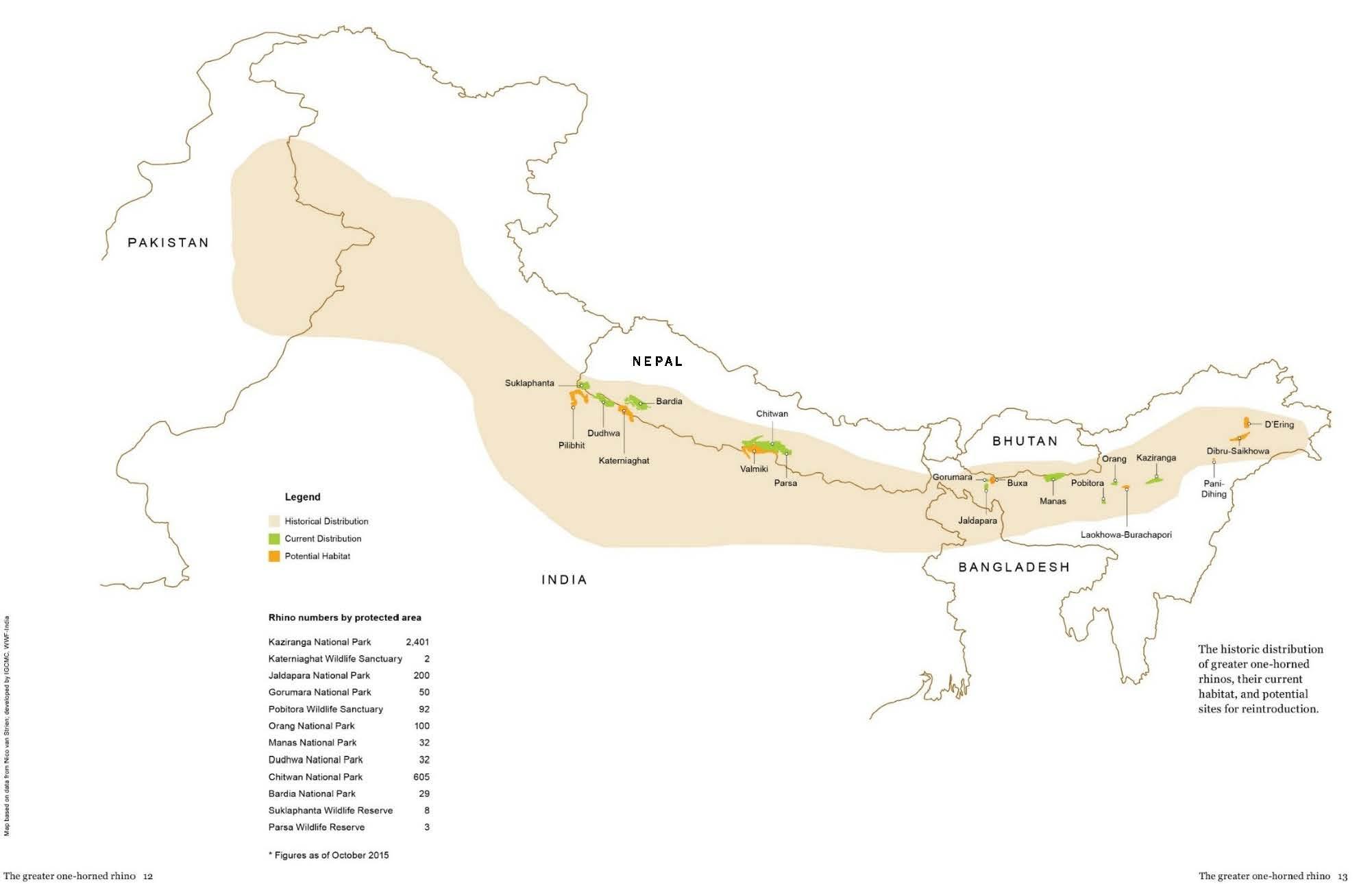 These 'living unicorns' are limited to few national parks and natural reserves in the grasslands and swamps of Nepal, India and Bhutan.
Still today, the threats from poachers and habitat loss remain.