Agriculture
Herbal Industry
Jhapa is becoming a thriving herbal plant centre
The herbal plant is now cultivated in more than 500 bighas of land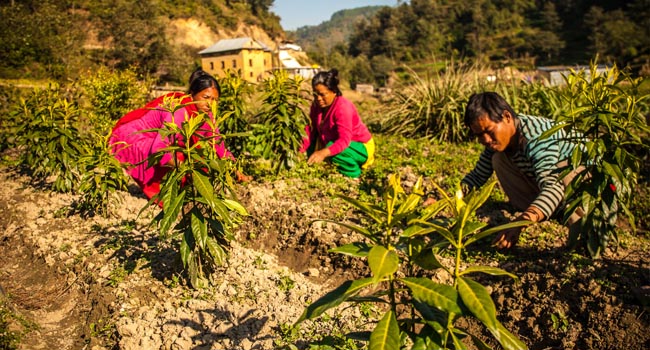 Chandrakala Bhandari
After clearing five bighas of land in Arjundhara, local resident Dambar Chaudhari planted therapeutic herbs. He cultivated patchouli, a plant used in medicine.
After three months of cultivation, he has begun selling patchouli grass.
The green grass is sold for Rs20 per kilo, but the dry grass is sold for Rs100 per kilo. He was pleased with the patchouli plant sales.
With the establishment of Kulayan Natural Herbal Pvt Ltd at Duwagadhi in 2070 BS, farmers and community forests from Mechinagar, Arjunadhara, Bhadrapur, and Buddhashanti planted patchouli and lemongrass on vast swathes of land.
The Kulayan Natural Herbal Enterprise has been running an industry and herbal plantation on a leased 50 bighas land. It has cultivated black turmeric, tejpatta, eucalyptus, lemongrass, patchouli, and citronella to make aromatic oil. The industry extracts aromatic oil by processing herbal plants.
The oil produced by the industry is exported to Europe and the US. Last year, the government also honoured this industry for bringing in foreign currency.
Farmers in Mechinagar's wards 10, 14, 14, and 15 have also cultivated herbal plants, prompted by the manufacture and sale of the product. They have even replaced the rice plantations with this profitable crop.
"Herbal plants yield a lot of money even on a small plot of land," Dambar Chaudhari said. "I've started a plantation on two bighas of land after realising it."
The herbal industry of Duwagadhi buys the herbal plant. He further said as the income was handsome, he expanded the plants to five bighas of land.
Additionally, the Jukekhadi community forest near Arjundhara and the Kamaldhap community forest in Bhadrapur have invested in medicinal plants. The plantation of therapeutic herbs began on 20 bighas of land and has since grown to 500 bighas.
Bharat Basnet, the business owner, said they were looking for more land to add to the plantation. He added that the industry leased 20 bighas of land from the local Bal Subodhini Secondary School for Rs150,000 per year for 40 years and cultivated herbal plants on it.
In the beginning, the industry began growing herbal plants, but now, the farmers are active and encouraged to do herbal plant farming. The industry has guaranteed to buy farmers' products. Even technical support and sapling are provided.
More than 60 farmers and half a dozen community forests have been linked to herbal plants in Jhapa in nine years. The herbal plant is now cultivated in more than 500 bighas of land.
The herbal industry has set a lofty goal of commercialising agarwood production.