Volleyball
National Club Championship
Nepal Police, Help Nepal lift women's and men's titles
NPC women overcome New Diamond's challenge, Help Nepal humble Tribhuvan Army Club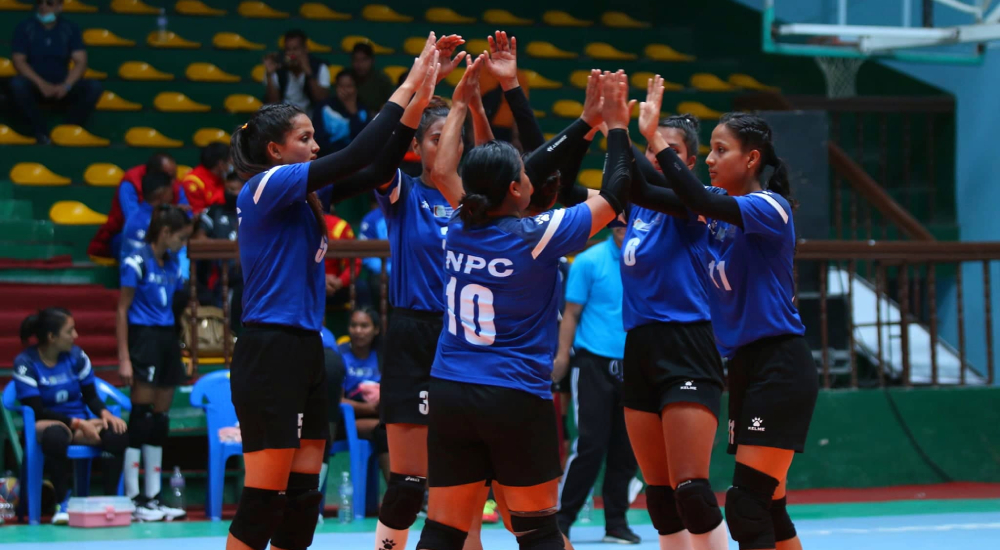 Nepal Police Club have reclaimed women's National Club Volleyball Championship after a gap of 10 years.
Police overcame the challenge of holders New Diamond Youth Sports Club 3-2 in a thrilling final at the Tripureshwor Covered Hall on Sunday.
New Diamond opened the account with a 25-22 win in the first set, but NPC took the next set 25-17.
The see-saw battle continued as New Diamond edged the police outfit 27-25 in the third set. In the fourth set, New Diamond opened up a 10-5 gap, but NPC rallied to win 25-19 and extend the match to the fifth set.
New Diamond again made a promising start to the deciding set only to lose their way. NPC took it at 15-11 to lift the title for the second time after 2013.
Rima Kunwar of New Diamond was adjudged the player of the final.
Along with the trophy, NPC collected the winners' cheque for Rs400,000. New Diamond received Rs200,000, while third-placed APF got Rs100,000.
Later in the day, Help Nepal Sports Club got the better of the defending champions Tribhuvan Army Club in straight sets to win the National Men's Club Volleyball Championship.
Help Nepal, sporting three Pakistani internationals, avenged defeats to the departmental side in the Club Championship, Club League and Tiger Cup finals.
After Help Nepal took the opening set 25-22, the Army started brightly in the second, taking an early lead. However, Help Nepal rallied back to win it 26-24 for a 2-0 lead.
The third set unfolded on a similar note. The Army opened up a runaway but Help Nepal caught up with them at 22-22. The latter then stole crucial points to wrap the set 25-23 and the match.
Help Nepal's Pakistani international Mubassar Raja was declared the player of the match.
They walked away with a winners' cheque of Rs400,000 and the trophy. The Army received Rs200,000 and the third-placed APF collected Rs100,000.