Culture
Sankranti Mela
Maghe Sankranti begins with raising of sacred pole at Devghat
The fair orgnisers in Devghat expect half a million devotees to travel to holy site over two days to pay homage to Sun God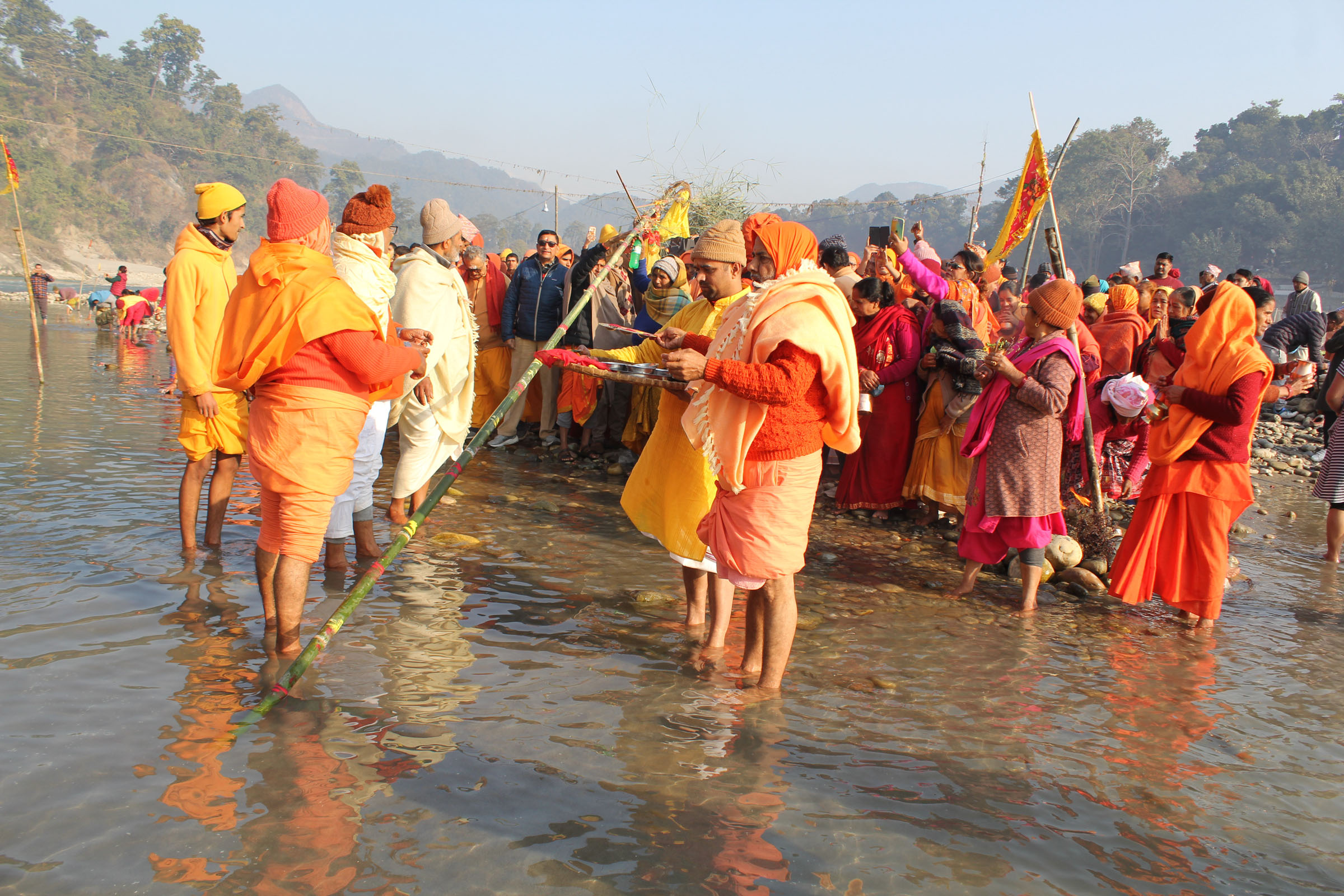 A bamboo 'lingo' was raised on Saturday in the Beni of Devghat, a sacred pilgrimage destination, marking the beginning of the Maghe Sankranti Mela.
The lingo, a sacred pole, was erected in the presence of Anant Shri Bibhushit Atmanand Giri Ji Maharaj, head of Galeshwor Ashram; Swami Gyanananda Ji Maharaj, head of Harihar Ashram; Swami Ramanananda Ji Maharaj, chief of Mahesh Sanyas Ashram, among other spiritual leaders, sages and devotees.
The lingo procession reached Beni after a congregation at Galeshwar Ashram. That heralded the beginning of the Maghe Sankranti Mela at Devghat, the confluence of Chitwan, Tanahun and Nawalparasi.
According to Hindu texts, bathing in a holy site and donating ghee, chaku, sesame seeds, green leaves and yam on this day will bring good fortune, and consuming these things will heal the body of diseases.
The district and the fair administration said preparations had been made a plan for the convenience of pilgrims coming to the annual event underway on the banks of the Gandaki river.
According to Badri Adhikari, the chairman of the Devghat Area Development Committee, devotees have started congregating at the holy site from across the country to celebrate the festival for the first since the Covid-19 pandemic.
The committee estimates half a million devotees to attend the fair this year. Devotees visiting Devghat can enter through Ramnagar and exit via Anptari.
"The mela, which had been stopped for the past three years due to Covid, has started," Adhikari said. "All preparations are complete."
Chief District Officer Asman Tamang said the Narayangadh-Muglin road stretch would remain open throughout Saturday and Sunday for the fair.
The 33km road stretch has been closed to traffic for four hours daily since December 20 to carry out the bridge construction project.