Market
SHARE MARKET
Nepse loses over 41 points on last day of second quarter
After a promising start, equities struggle to keep momentum to close at 2149.41 points as profit-taking offsets optimism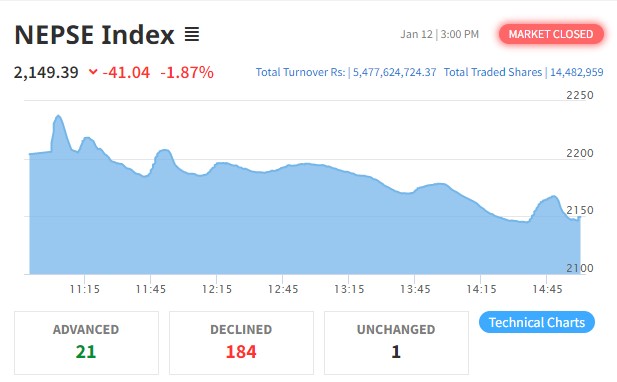 Nepal's benchmark stock index, Nepse, dropped 41.02 points from the previous closing price to 2149.41 on Thursday – the last trading day of the Nepali month of Poush.
After an initial high, Nepse started to decline when equities struggled as profit-taking offset optimism.
Consequently, that also led to a sharp decrease in the transaction amount. From more than Rs7 billion on the previous day's trading, it dropped to Rs5.48 billion with only 14.482 million shares of 252 scripts changing hands.
Similarly, the sensitive index, which measures the share turnover of large companies, decreased by 7.89 points to 411.25. Prices of 12 out of 13 scripts under the subgroup tumbled on the day.
Among the traded companies, the share prices of 21 companies closed the day on a positive note.
A total of 14.48 million shares worth nearly Rs5.5 billion were traded on Thursday. The market capitalisation for the day remained at around Rs.311.6 billion.
Shivam Cement had the highest turnover with Rs222.12 million on the day, followed by Riddhi Power Company with Rs178.3 million, Ngadi Power Company with Rs169.4 million, Api Power Company with Rs144.5 million and Upper Tamakoshi Hydropower Company completed the list of the top five companies with Rs128.5 million.
The share prices of Kumari Dhanvrdhi Yojana, Singati Hydro Energy and Barahi Hydropower hit a positive circuit for the day.
Similarly, NIBL ​​Samriddhi Fund has earned 29.30 per cent and the investors of Central Bhotekosi Hydropower Company rose by 7.61 per cent.