Culture
PRESERVATION EFFORTS
Youths take steps to revive traditional Tharu dance
Municipalities across Dang are planning elaborate celebrations in honour of Maghi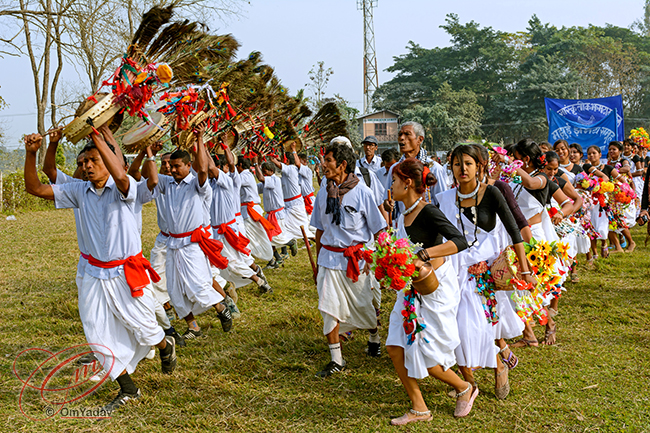 Shyam Chaudhary Tharu, a resident of Tulsipur-12 Rajheni, has been putting on performances of the Tharu dance while dressed in a traditional ensemble consisting of kasaudi, bhoti, and agiya.
Young people, such as Chaudhary, who is 25 years old, are practising a lunge dance in the villages in anticipation of Maghi, the special festival of indigenous Tharu community. Maghi, which starts on January 15 this year, runs for five days.
"We have come up with extra proactive initiatives this year to promote and maintain cu lture and customs of the Tharu community," he said.
Local youth were not particularly enthusiastic about learning and performing Tharu dance, he said. "It was in danger of extinction, so we took action to protect the peculiar Tharu dance."
Likewise, young girls have also formed a group to continue to perform Tharu dance, said Ashmita Chaudhary of the same area.
"Only elderly people used to show different forms of dance in the past," she added. "Now we are also getting active for cultural performance which is the identity marker of the Tharu community".
Ashmita Chaudhary, also from that region, reported that a group of young women had just organised to preserve the Tharu dancing tradition.
Tharu culture, once so vibrant, is in danger of dying out due to a lack of preservation efforts, she lamented. "Back in the day only the elderly would perform various dance styles. We are now actively participating in cultural performance, a defining characteristic of the Tharu people."
This year, they showed renewed interest in preserving the dance. As part of their extensive cultural repertoire, the Tharu people execute a variety of dances, including the jhumra, sakhiya, laththahawa, mungahawa, hurdawa, magahuta, and barka.
Recently, members of the Tharu community's youth have taken to activism in an effort to protect their heritage.
Municipalities across the district are planning celebrations in honour of Maghi.
Chair of Tulsipur Ward-12 Khusiram Chaudhary said that special Maghi events are being organised in most local government units and wards.
Dang is home to a significantly higher number of Tharu people than any other ethnic group. Tulsipur, the most populous city of Dang district, has 127 Tharu communities.
With RSS inputs