Agriculture
Paddy Production
Government predicts 7 per cent rise in paddy production
The higher yield is largely contributed to the growth in production in Lumbini and Sudurpaschim provinces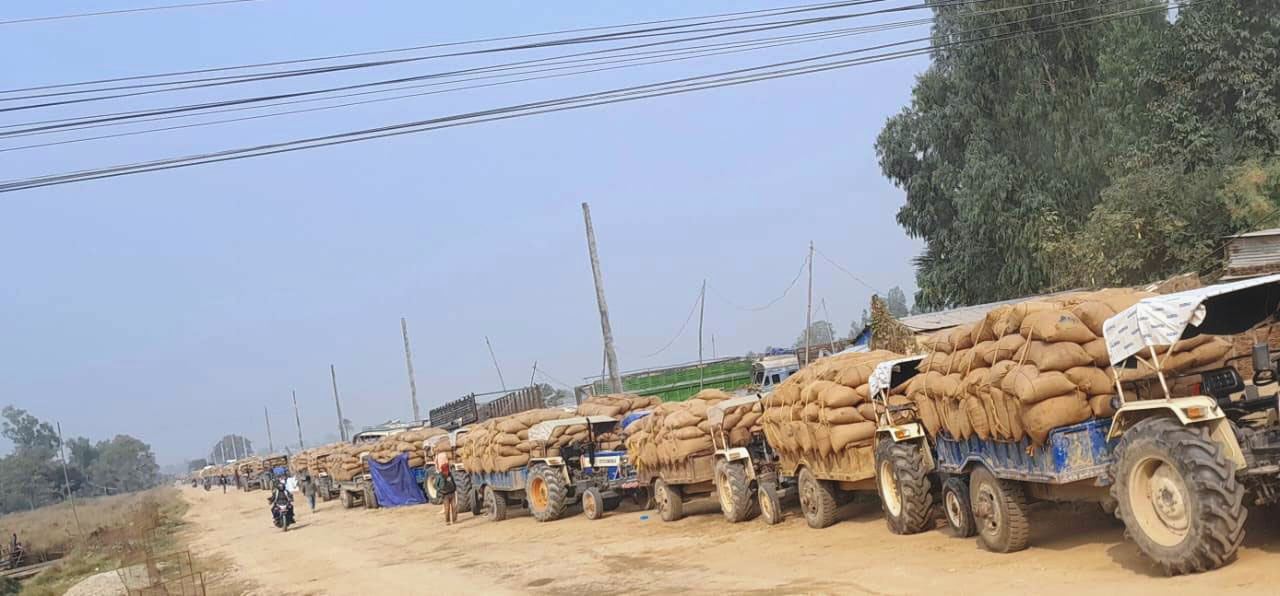 The Ministry of Agriculture and Livestock Development has projected Nepal's paddy production will increase by approximately 7 per cent year on year in the fiscal year 2022/23 despite the decline in the cultivated land area.

Rice is often cultivated in Nepal during the wet and spring seasons. The national production of paddy is anticipated to be 5,486,432 metric tons, according to the ministry, which has considered paddy cultivation in both seasons.

The nation produced 5.13 million metric tons of paddy last year.

The overall cultivated area in Nepal is 1,447,789 hectares, a decrease of 2 per cent compared to the fiscal year 2021/22 when paddy was grown on 1,47,389 hectares. Despite a decline in cultivated acreage, paddy production grew by 10 per cent due to a boost in productivity, according to government data.

Currently, the ministry stated in the announcement that the yield of land is 3.79 metric tons per hectare, compared to 3.47 metric tons per hectare in the previous year.

However, the government reported that this year's output is low compared to the years preceding 2021. In 2020/21, the paddy production stood at 5,621,710 metric tons on 1,473,474 hectares of land. This indicates that land productivity was 3.82 metric tons per hectare.

According to the report, paddy production decreased in 2021/22 due to unseasonal rainfall, destroying paddy crops just before harvest in Lumbini and Sudurpaschim provinces. Despite the shortage of chemical fertilisers, farmers are anticipating a good harvest this year, the government said, due to favourable weather conditions.

The rise in yield was attributed by the Ministry of Agriculture and Livestock Development to the adoption of enhanced hybrid species of paddy and the availability of fertilisers "albeit late in Tarai."

According to the ministry data, the Lumbini and Sudurpaschim provinces contributed significantly to increased production this fiscal. Sudurpaschim Province reported a 33.33 per cent jump in production and Lumbini recorded a 15.2 per cent more.
According to data shared by the ministry, Gandaki and Bagmati provinces, on the other hand, have lower production rates. The population is expected to drop by 3.74 per cent in Gandaki Province and 1.45 per cent in Bagmati Province.
The report says that the amount of paddy, rice, and beaten rice imported each year is decreasing. On the other hand, Nepal is expected to import 480,000 metric tons this year.
Imports were 6.3 per cent lower in FY 2021/22 than in FY 2020/21. They were 38.2 per cent lower in the first five months of FY 2021/22 than in FY 2020/21.
"Nepal's current rice consumption per person is 121 kg per year. This means that Nepal's demand for rice this year will be around 4 million metric tons," the ministry said.
Nepal will make 3.52 million metric tons of rice based on the amount of paddy that is expected to be grown. According to the ministry, this is because 35 per cent of paddy ends up as husk.