Culture
Looted Relics
Two stolen Nepali gods are set to return home from New York
DoA officials say the idols of 'Bhagwati' and 'Shridhar Vishnu' are expected to be repatriated in a week or two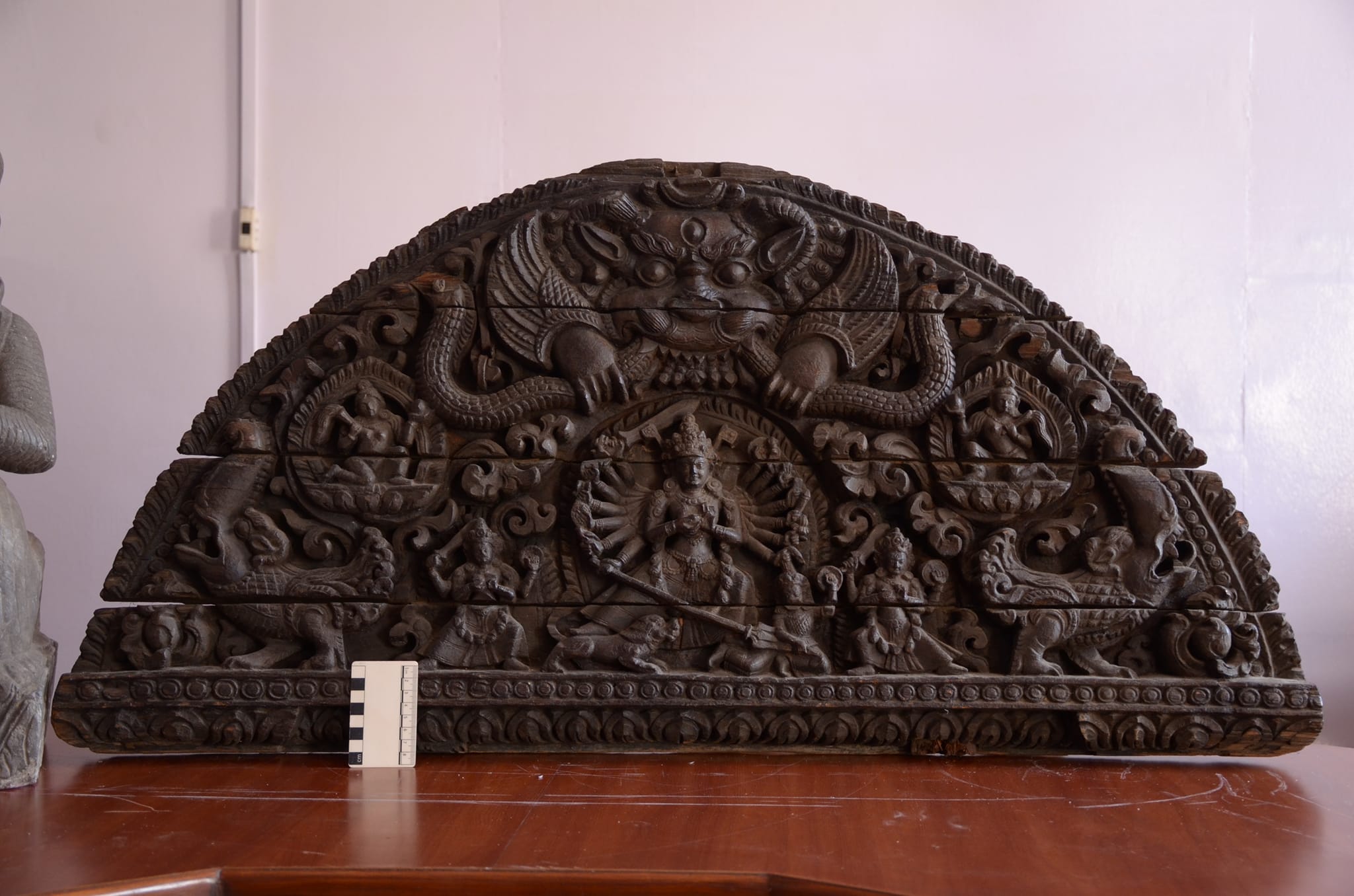 Two significant pieces of Nepal's cultural heritage are returning home from the United States soon. They will get here in a week or two, officials say.
According to officials at the Department of Archaeology, the idol of 'Bhagwati' is already in possession of the Consulate General of Nepal in New York, and the 11th-century statue of 'Shridhar Vishnu' will be sent by the Metropolitan Museum of Art in New York.
Many such relics, most likely smuggled out of Nepal between the 1960s and 80s, are coming home after decades in a foreign land.
Also, officials say that the department is actively gathering proof for 28 to 30 of the stolen artefacts. The DoA is likely to get the items back soon if the officials can prove that they were stolen from their homes in Nepal.
Subhadra Bhattarai Ghimire, the chief archaeological officer at the Department of Archaeology, said: "We have brought back 93 idols and artefacts that were smuggled to foreign soil to date."
Sitting on a chair in the farthest back room on the first floor of the DoA building, Ghimire heads a three-member committee that is helping bring the stolen idols back.
She had details about stolen pieces of heritage on her computer and a copy of the Ancient Monuments Preservation Act, 1956 on her table.
Both artefacts will soon be sent back to Nepal, where they belong, she sounded confident.
Push to repatriate relics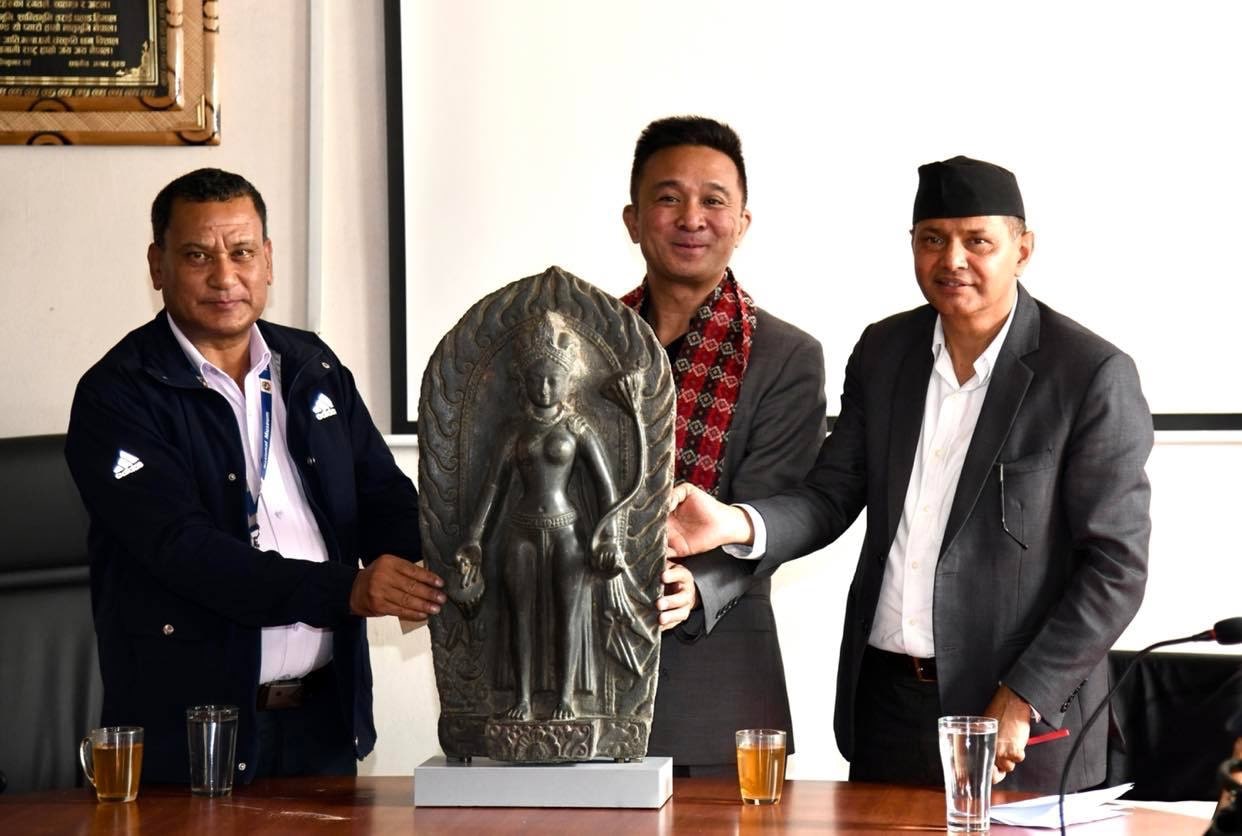 Besides that, once a study and documentation of 28–30 stolen artefacts are complete, the committee will make a report and forward a request to the respective diplomatic missions through the Ministry of Culture, Tourism and Civil Aviation and the Ministry of Foreign Affairs to return those pieces of Nepali heritage.
The "negotiation" process then starts, to prove that the artefacts belong to Nepal since they were smuggled out of the country. But how does the department go about tracking them down in a foreign country?
Well, it is a complex process. According to Ghimire, if an object of cultural significance has been stolen recently and reported to them, they can mobilise the security mechanisms, including the police and Interpol.
However, museums and auction houses are the only places that can help them find the stolen artefacts.
"Nepali statues and idols, often surface at auction houses to find a new buyer. That's when we can identify and collect evidence for the artefacts," she said, adding that the department had successfully brought 54 stolen relics back to Nepal.
Why are gods stolen?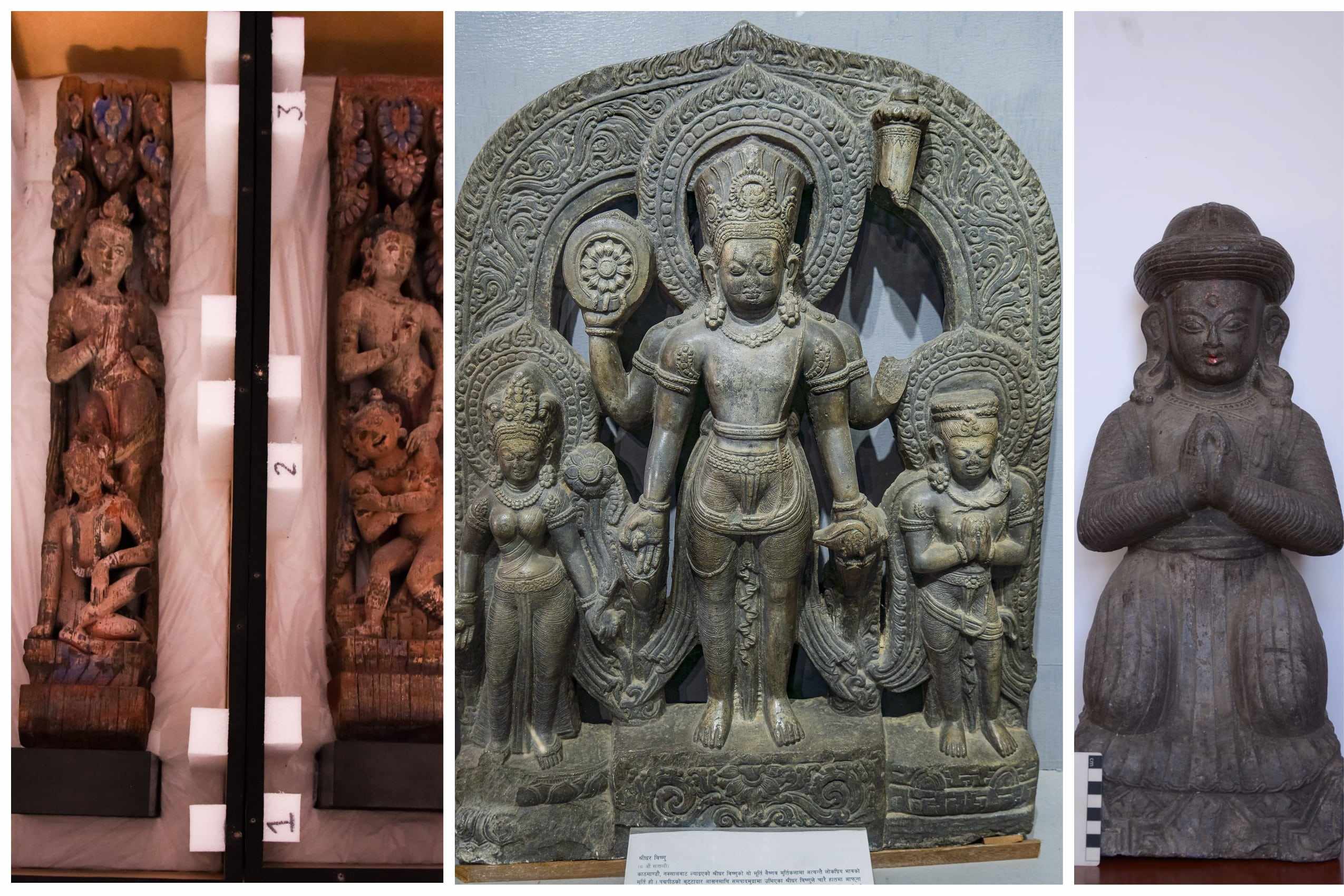 Ancient sculptures and idols are beautiful works of art that collectors value very highly.
Art collectors, according to Ghimire, are willing to pay hundreds of thousands of dollars for such art. This way, the gods of Nepal find their way to the lavish homes of private art collectors.
As they go into the houses of individuals, it becomes harder for government agencies and law enforcement officials to track the stolen artefacts.
Ghimire said that only when they are put on display – either in a museum or at an auction – will they be able to figure out their origin and prove the claims made about the relics.
According to her, Nepal has plenty of such idols and artistic installations at every road junction, and providing security and even keeping tabs on such artefacts is a tough job. "It's virtually impossible to offer adequate security."
As Ghimire puts it, what makes them vulnerable is that they were not meant to be traded, and "people during ancient times did not realise one day they could be stolen".
"If that had been the case, the idols would have been more firmly set in place by the sculptors. Or simply, we could have cultivated a culture of gating the temples," she said.
The department's data shows that idols and other sculptures of great cultural value get stolen during times of political instability. More than 500 ancient art pieces were reported missing from Nepal between 1960 and 1980.
"Much of the theft and smuggling has now decreased, but it has not yet reached zero," she said.
Because of cultural changes and a materialistic society, idols once revered as unadulterated representations of the gods are now traded as goods, lamented Ghimire.
Cultural repercussions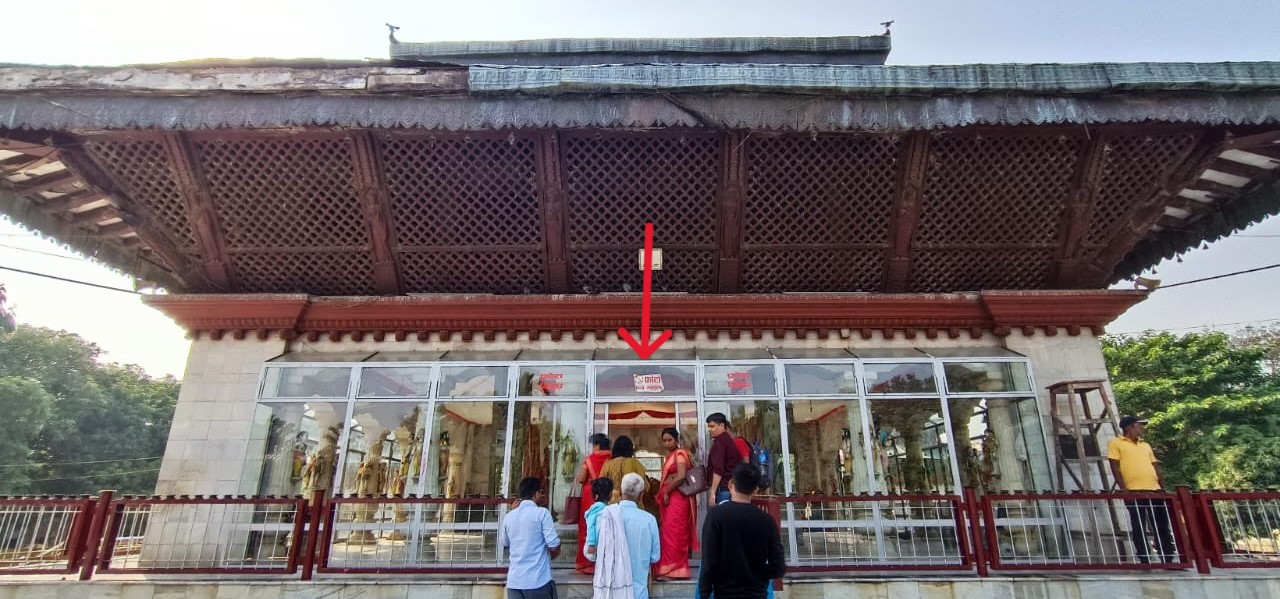 Temples are traditionally open and ought to stay open, but this has led to a security vulnerability.
However, many municipalities and Guthis – institutions that oversee religious public services and social roles – have started locking the temples at night.
Larger-budget, well-known temples have begun equipping their complexes with CCTV cameras. Those measures have undoubtedly contributed to a decrease in smuggling cases, Ghimire observed.
Temples or the government bar people from taking photographs inside temples, she claimed, if it had not been the case, the photos could have been used as evidence to raise claims about the lost idols on foreign soil.
The rule was merely created to protect the originality of the statues, interior, and architecture of the temple. But that could have had unintended consequences in many situations.
The government requested old photographs from the locals in order to reconstruct Kasthamandap, the oldest public building in the valley and the origin of Kathmandu's name, after it was destroyed in the 2015 earthquake, Ghimire explained.
"Yes, that is a community-level thing that could have been helpful. However, cultural beliefs must be respected."
Besides, some temple complexes, such as Taleju Bhawani and Pashupatinath, forbid visitors, including government representatives, from examining the condition of sculptures and taking photos for records.
Ghimire claims that this has made it more difficult to keep the idols and sculptures secure.
Preservation efforts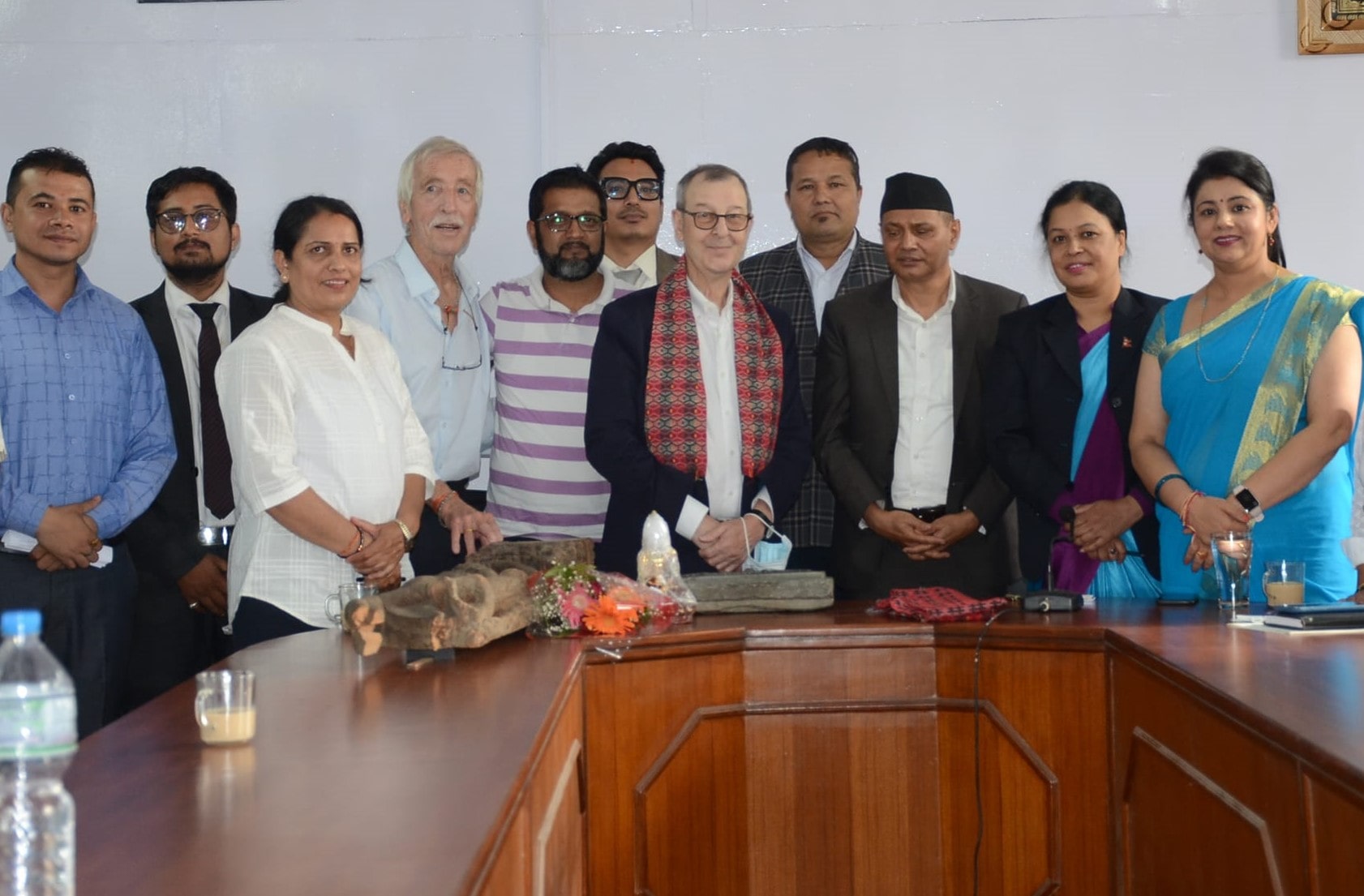 The department has been working hard to safeguard the monuments. Every district's monuments have been added to the department's ever-growing database, according to her. "It's almost complete in 72 districts. Nevertheless, we keep coming across interesting things."
The law mandates that the local government also maintain records of these monuments.
DoA officials believe that public awareness has "dramatically increased," and that locals have begun to preserve temples and monuments in their own community.
"The times have changed, so the DoA can focus on documentation efforts rather than simply protecting and raising awareness," Ghimire said.
However, officials lament that they are lacking in human resources.
"Before federalism, the DoA had about 85 people, but the workforce has since been drastically reduced to around 40, making it really difficult to do all the necessary work," she said. "Now we have even fewer technical hands to work with."