Corporate News
Insurance scheme
Nabil extends insurance facility to customers for fifth year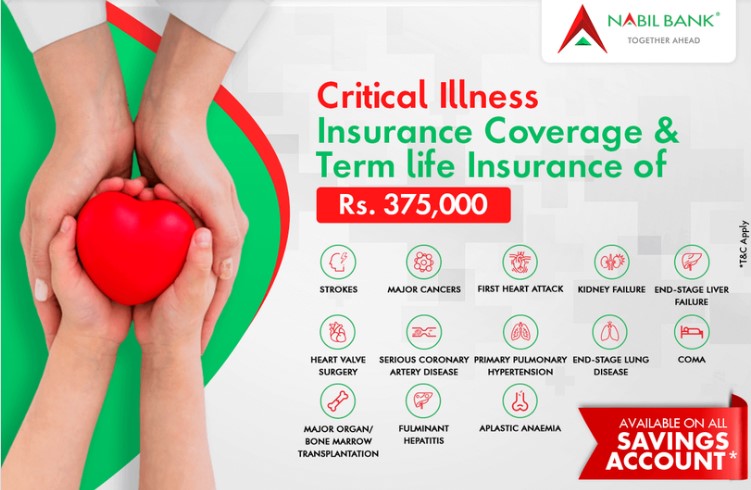 Nabil Bank Limited has extended the fatal disease insurance facility to holders of Nabil savings accounts for the fifth year.
Under this insurance, claims amounting to Rs629.4 million have been paid, the bank said in a statement.
According to the bank, the claims of 338 customers insured under the life insurance and periodical life insurance scheme in every savings account have been paid.
The bank introduced the insurance scheme under which every account holder is insured Rs300,000 for fatal diseases and Rs75,000 for periodic life insurance.
The bank has been providing this facility to its account holders as financial support in case of a terminal illness, Nabil Bank said in a statement. "This scheme has been very effective since its inception, bringing great relief to its customers and will continue in the coming days."
Under the scheme, launched in collaboration with Met Life Insurance, the bank has paid premiums worth Rs1.66 billion in the last four years.
According to Nabil Bank, all types of savings accounts, except term, have a fatal disease and term life insurance.
How to find this facility?
To avail this facility, a minimum of Rs35,000 must be in the savings account and the age group of the account holder should be between 16 and 60 years. Such an amount should be in the savings account of the customer concerned at the time when the doctor certified that s/he had a fatal disease.
Nabil Bank provides insurance facilities for various 13 fatal diseases like kidney failure, cancer, heart attack, liver failure, bone marrow transplantation, heart valve surgery, end-stage long disease, coma, pulmonary hypertension, stroke, permanent hepatitis, aplastic anaemia and serious coronary artery disease.
With the bank bearing the burden of the premium amount, the scheme has played an important role in relieving customers of the mental pressure of financial management and dealing with fatal diseases, the bank said. "Nabil Bank has been providing facilities under this scheme from all its branch offices."