Agriculture
COFFEE FARMING
Rising overseas demand draws more youth towards coffee farming in Gulmi
The district has been exporting five metric tonnes of coffee to Japan and France every year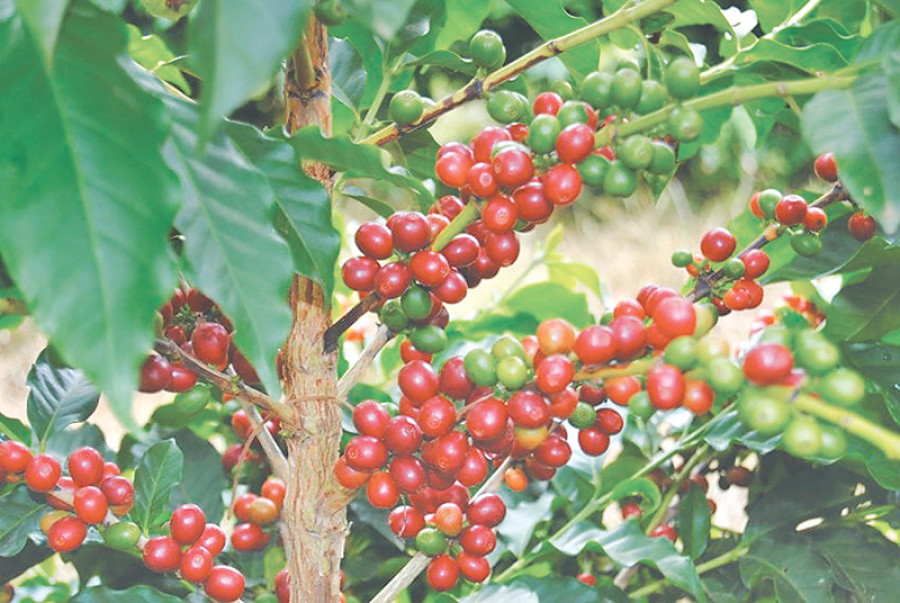 Local farmers in Gulmi have been drawn towards coffee farming due to the growing demand for Nepali coffee in countries such as Japan and France.
Manoj Pandey and Saroj Belbase of Resunga Municipality-8 have been farming for one and a half years, cultivating up to 20,000 coffee plant saplings in around 200 ropanis of land at Pipalarukh in Aanpachaur.
"We began coffee cultivation with the intention of working at home rather than travelling overseas for career prospects," Belbase said.
They have invested Rs5.1 million in the firm so far and earned Rs700,000 last year. Around 35 individuals have found work in agriculture this season. They have also taken over the work of production, packaging and marketing.
Kapila Kharel of Aanpchaur has opened an agriculture and livestock form. Besides banana and chicken farming, she has planted 200 coffee plant saplings.
"Youths have been attracted to coffee farming as it generates good incomes," said Durga Kharel, who sells more than four quintals of coffee every year. Aanpachaur in Gulmi district is considered to be the origin of coffee production.
Coffee production is believed to have spread across Nepal in 1995 after a local resident Hira Giri brought coffee seeds from Burma and sow them. However, commercial coffee farming at Aanpachaur started much later after the government brought coffee seeds from neighbouring India and distributed them, said Durga Kharel, a local of Aanpachaur.
Coffees produced in the district have been exported to foreign countries through the District Coffee Cooperatives Association. The association has been exporting five metric tonnes of coffee to Japan and France every year, said the association Secretary Yubaraj Acharya. It has been earning on average Rs6 million in income every year by processing and exporting coffee brought from farmers, he said. - RSS