Corporate News
Doing Business
Cable car was my father's vision – to make Manakamana Temple accessible: Rajesh Babu Shrestha
Laxman Babu Shrestha wanted to contribute to his birth place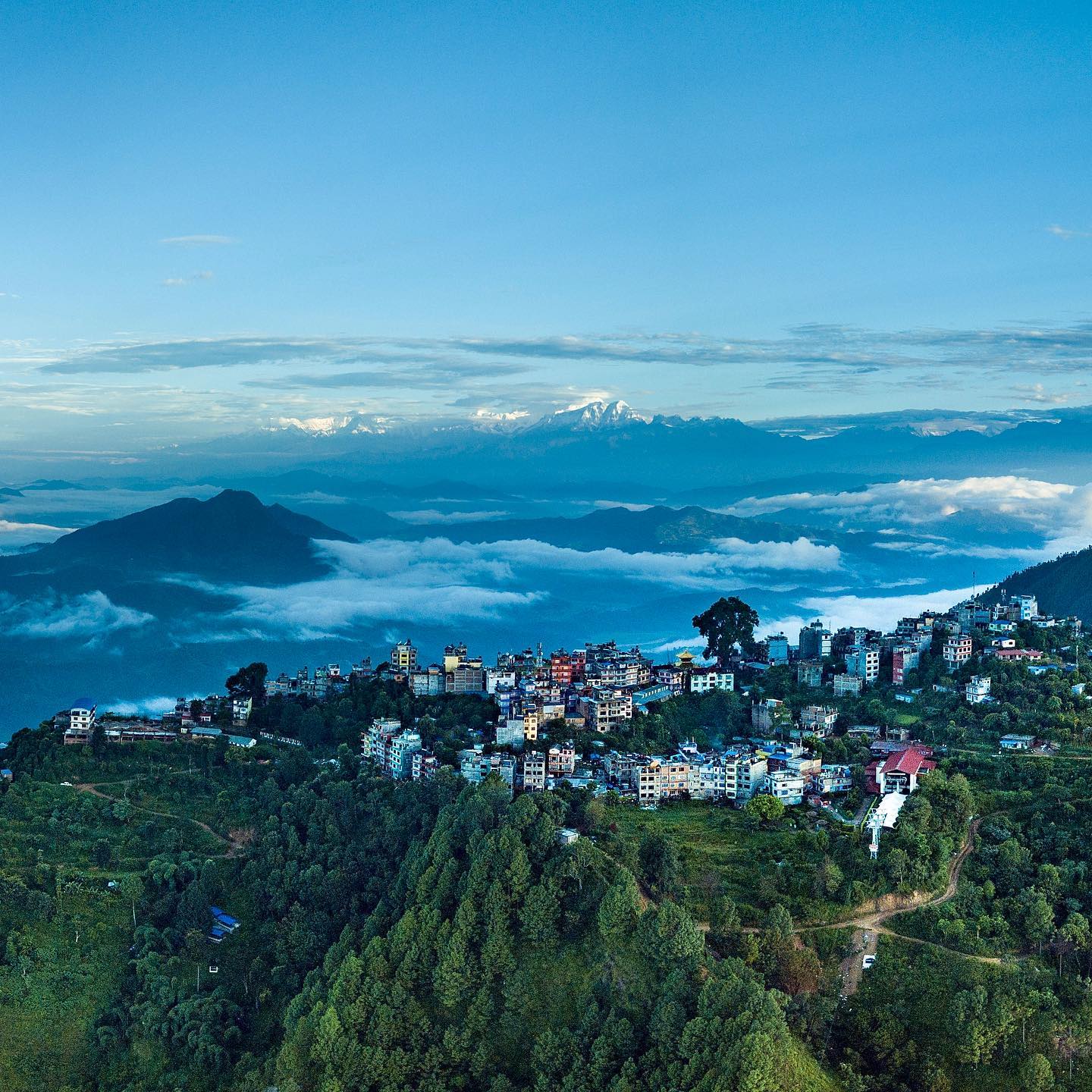 Starting this week, NepalMinute will publish a series of features on Nepal's business community. This series will focus on business owners' struggles, challenges and successes and how they have served the nation for the last 25 years. This article on Manakamana Cable Car company is the first in the series.
Nepal's first cable car company will launch a major tourism project in December as it enters the home run of its jubilee year. Manakamana Darshan Private Limited marked its 24th year of continuous service on November 24 since its start in 1998.
The company has ambitious expansion plans. It will start construction work for a 40-room luxury resort at Manakamana Temple area in December. The tourist resort will have a swimming pool, health club, and restaurant and conference centre for more than 100 people.
Manakamana Cable Car [MCC] Director Rajesh Babu Shrestha says: "Our cable car company starts its 24th year of service on November 24. As a pioneering Nepali tourism company, we are proud to reach this milestone. To celebrate this, we will soon start work on the resort. This resort will attract pilgrims and further propel Nepal's tourism business."
The company has done feasibility study on the prospects of starting another cable car service. Shrestha did not tell details of the second service. "Our journey in tourism business has been a humbling experience," says Shrestha. "Years have gone by quickly. Now we are close to celebrating MCC's silver jubilee in 2023. We have plans to celebrate this milestone. We will plan and announce the details of the event later."
The successful private transport company is the fruition of Shrestha's father's vision. Laxman Babu Shrestha set up the cable car company in 1998, investing NPR 650 million. He named the company after Manakamana Temple atop the mountain in Gorkha district of Nepal. The temple is cable car's destination.
Every year almost a million Hindu pilgrims and tourists from all over the world visit Manakamana Temple, located about 100 km west of kathmandu. More than 500 years old, the temple stands at an altitude of 1,302 metres. Pilgrims visit this temple because old stories say Goddess Bhagwati, an incarnate of 17th century queen of King Ram Shah of Gorkha with divine power, fulfills their wishes.
The cable car transports tourists from the lower level to the mountain top. Pilgrims can enjoy the scenic view of Marshyangdi and Trishuli rivers from the temple top. On a cloudless day, visitors can see some of Nepal's gorgeous mountains surrounding the Manakamana Temple, including Annapurna, Himalchuli and Manaslu peaks.
Founder pursues his vision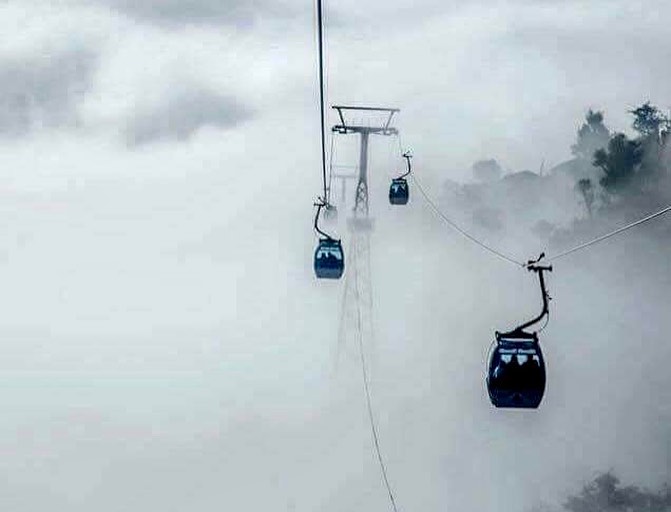 Laxman Babu dreamt of doing something extraordinary for his native district, his birth place -- Gorkha. He had passion and ambition for the land of his birthplace. As young man, he had seen his family, friends, and tourists visit the more than 500 years old Mankamana Temple.
Visitors trekked for around three to four hours to reach the temple. Many tourists found the uphill journey tiring. This problem set Laxman Babu thinking. He mulled over the idea of starting a cable car. It would reduce the travel time of tourists and make their journey comfortable, he thought.
"My father took a great risk back then," says Shrestha. "Business and investments are always risky. Only the brave dare to take risks in business. There are only two results – success or failure. If you succeed, good for you. Failure teaches you to learn from your mistakes. In our case, the risk has paid off."
Laxman Babu financed the cable car project at 70-30 per cent debt-equity ratio through a consortium of banks and financial institutions with Nepal Bank as the lead entity.
"My father selected Austrian company Doppelmayr Group, the world's number one cable car company that has installed more than 15,000 ropeways in 96 countries. Their foray into Nepal was first and the second in South Asia. The first one being in Pakistan. Over the years, we worked hard to achieve success. Good management, teamwork and encouragement from our clients helped us reach this stage."
The cable car company was not the first business move of the Shresthas. "Chitwan Construction & Engineering Company is my father's first business. This company is Class A contractor in Nepal with over 50 years of experience. This company built the cable car set-up based on the technical design and machinery supplied by Doppelmayr.
"Our local staff did the construction and installation under Doppelmayr's supervision," says Shrestha. "At first, it was on-the-job training for our staff. Eventually they paid us back by evolving into professionally capable working and maintenance team."
Pioneers face challenges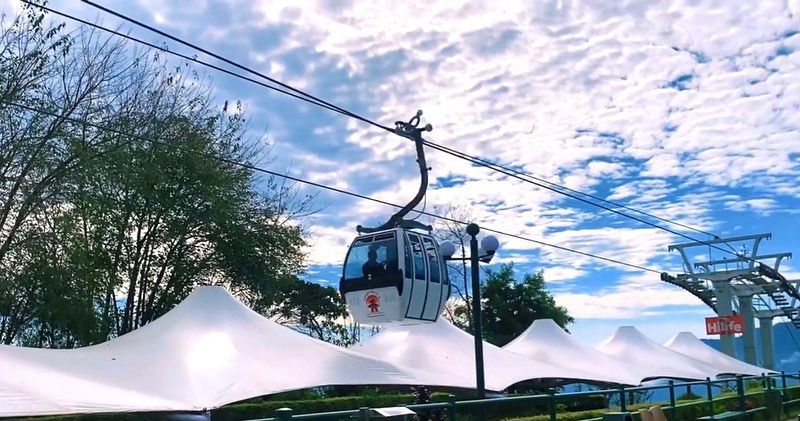 Being the first project of its kind and with no previous experience we faced many challenges, says Shrestha. "We were confident because we had ample experience in the construction business. We used this with guidance from Doppelmayr.
"We built the station building ourselves and with a subcontractor, a Nepali tower construction company experienced in installing HydroPower transmission line in remote mountains." So to say it was entirely built by the Nepali companies under Doppelmayr supervision.
The biggest challenge Shrestha's team faced was transporting heavy material to the mountain top. They had no road access. They had tonnes of metal pylons, girders, and other construction equipment to move to the mountain top. Nepali workers carried raw materials like cement, sand, steel, plywood, and aggregates packed in sacks on mules.
"We used more than 200 mules to transport construction materials to the top," says Shrestha. "Tower erection was another challenge. We used Russian MI-17 helicopters flown by Russian pilots who are best in these difficult tasks. We assembled towers at the base station and airlifted them to the top. Our crews installed them on foundation anchors ready at the site. Barring four, we airlifted all towers and installed them in mere five days. We dropped parts of the remaining towers that were too heavy to airlift at the site and manual installation."
Shrestha says this was the most interesting and challenging part of the entire project. "Thanks to the pilots and our crew, we started our commercial construction in 10 months since the time we started our project. We focused on starting the cable car service in the first phase. Other remaining works, like restaurant buildings, gradually progressed."
Cable car spurs tourism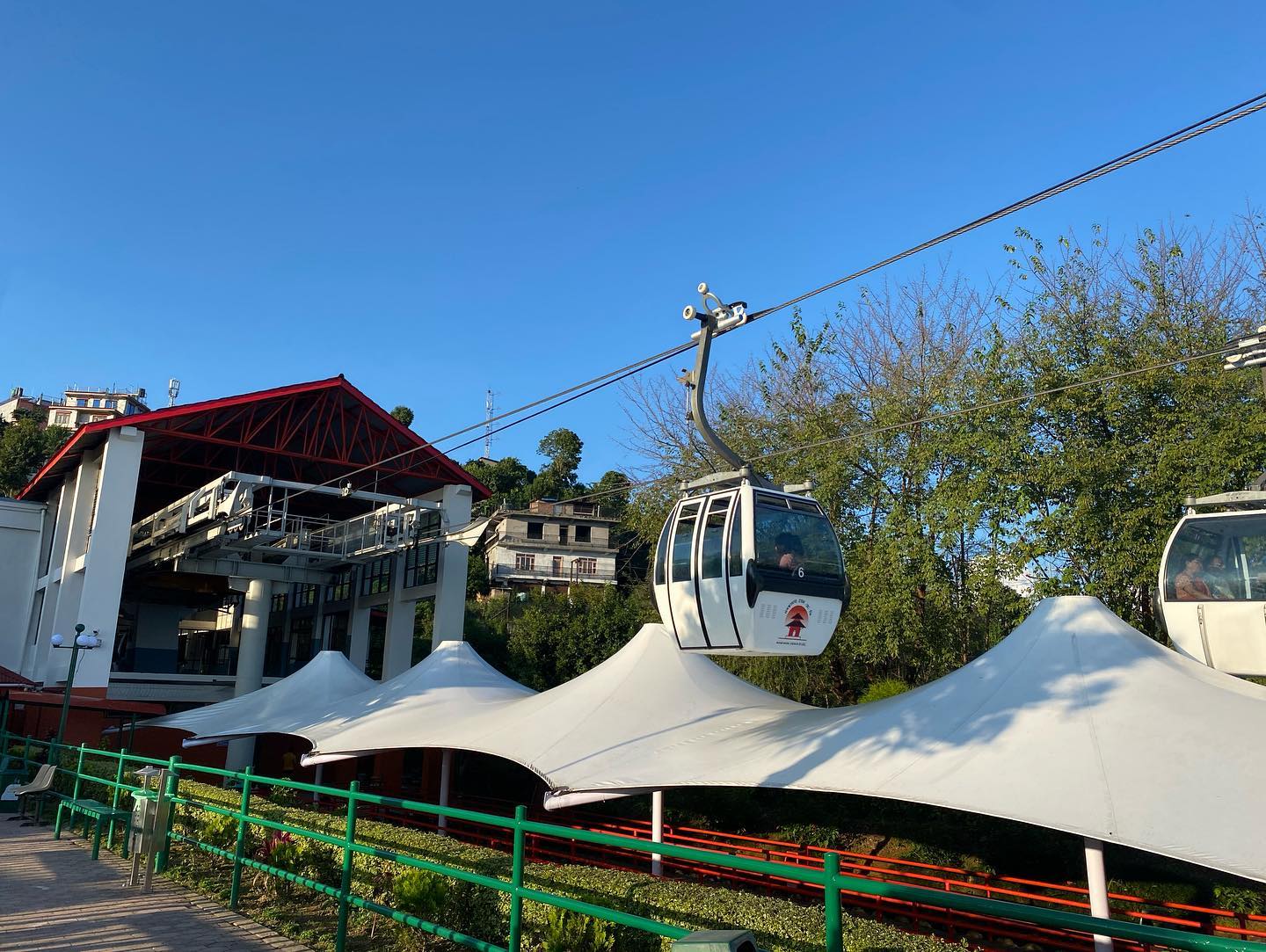 The construction challenges and early troubles are now a distant memory. The cable car company has grown with the influx of foreign tourists. "Domestic passengers comprise 75pc, from India 15pc, and the remaining from China, SAARC and Europe," says Shrestha.
Whether the company comes under the transport or tourism Ministry, he says, "We registered our company under the Tourism Industry category with the Department of Industries. For so many years we were not under any ministry because cable car was a pioneering venture.
"Finally, we came under the Ministry of Physical Infrastructure and Transport Management. Now there are authorities for such projects after lawmakers passed the Local Governance Act (2017) for Metropolitan and Rural Metropolitan areas.
"Now we are under the Ministry of Federal Affairs and Local Development. I think this was not a correct move. It should be either with Physical Infrastructure or Tourism, based on the nature of business and technology involved.
On the impact of the cable car on tourism, Shrestha says, "Cable car has developed the region as a new tourism destination. The hub covers Malekhu in Dhading district, Chitwan and Gorkha district. Many new hotels have come up in Kurintar. Many restaurants and coffee shops have opened along the highway. Our strategic location plays a significant role. Visitors must pass via cable car whether you enter or exit Kathmandu and head to other destinations such as Chitwan, Pokhara, Lumbuni or Birgunj and India as well as by road."
On hotel service and standards, he says, "There is scope for improving the standards of hotels and lodges in Manakamana. Their bed capacity is 2,000 and increasing. There are many restaurants that serve Indian cuisine for tourists from India."
What have the authorities done to attract Indian tourists?
"Yes, we [MCC] did it separately on our own, as well as in collaboration with Nepal Tourism Board. We took part in various tourism markets and fairs in all parts of India. We did special sales promotions in border towns like Patna, Gorakhpur, Lucknow, and Siliguri. Now we are more active on social media marketing through FB, Instagram and TikTok. We have over 1.5 million followers on FB. Indians know about Manakamana.
"Most Indian tourists visit Pashupati, Manakamana and nowadays Muktinath after Prime Minister Narendra Modi made an official visit to Nepal in 2014. There are several road entry points on Nepal-India border from where Indian tourists come. Many come with cooks, condiments, and utensils. We provide them spots for picnic with water and toilet at the base cable car station. This has attracted more Indian visitors."
As the hilltop where the Manakamana Temple stands and the entire belt evolves into a happening religious tourism hub Nepal could roll out innovative campaigns to attract more visitors from India. Shrestha's new 40-room resort would certainly help boost 'quality tourism' in and around Manakamana and develop the region beyond a pilgrimage destination.