Corporate News
Xiaomi Nepal offers GOALden opportunity to win 75-inch Mi TV
The World Cup scheme gives customers a chance to win a 75-inch Mi QLED TV on the purchase of any Mi or Redmi TV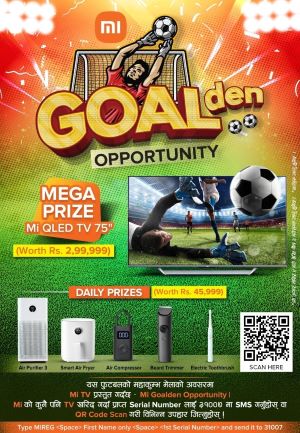 Xiaomi, a leading smartphone and TV company in Nepal, has announced an amazing 'GOALden chance' offer for customers on the occasion of the World Cup 2022.
Under the offer, customers can win a 75-inch Mi QLED TV worth Rs299,999 on the purchase of any Mi or Redmi TV, the company said in a statement. The offer is valid from November 20-December 13.
"FIFA World Cup is an exciting occasion for all the football fans across the world," said General Manager of Xiaomi Nepal Amit Kumar Panda, shedding light on the World Cup offer.
"Many people buy a new TV just to watch the greatest football festival with their loved ones. We are pleased to announce the specific offer to add excitement to our customers' golden desire to buy any Mi or Redmi TV," he added.
Besides the grand prize of 75-inch QLED TV for one lucky winner, the company added, "Customers stand a chance to win Air Purifier 3, Smart Air Fryer, Air Compressor, Beard Trimmer and Electric Toothbrush, etc worth Rs45,999 daily."
To participate in the lucky draw, customers have to scan the given QR code or text the TV serial number to 31007, according to the company.