Crime
Poll Violence
Police detain over 70 in connection with poll violence
One person died in violence in Bajura in the far-west after police opened fire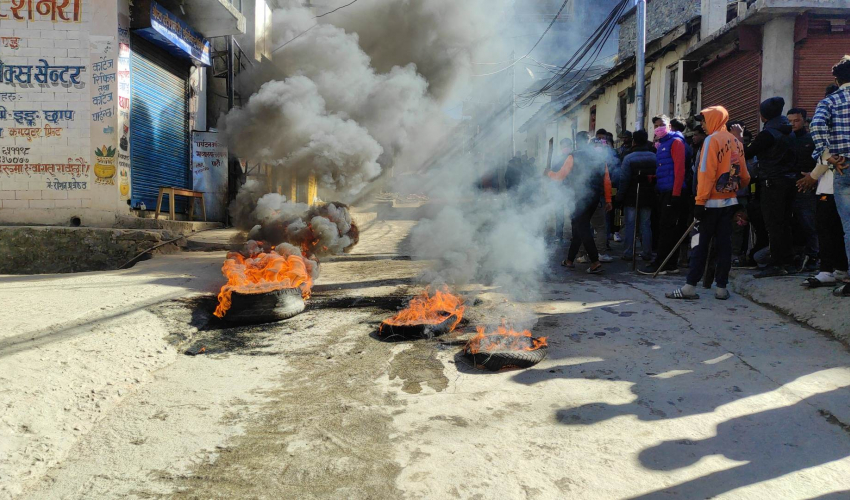 Police have arrested more than 70 people for their alleged involvement in poll-related violence during Sunday's general election.
Some of those arrested are members of Communist Party of Nepal (CPN) Maoist led by Netra Bikram Chand Biplav, who has been leading the splinter faction of the CPN-Maoist Centre. The party, known for its on-again-off-again violent campaigns, just recently decided to boycott polls.
According to the Assistant Spokesperson of the Nepal Police, SP Dan Bahadur Karki, at least 72 people were arrested from different parts of the country on Sunday. He did not specify how many of them were cadres of CPN-Maoist.
The most violent incident was recorded in the far-western district of Bajura in Sudurpaschim Province, where one person died after police opened fire to restore law and order.
While Kathmandu valley saw the highest number of arrestees - 27 people – only two were arrested in Province 1 in eastern Nepal.
Similarly, 11 people were arrested in Sudurpaschim Province, eight in Madhesh Province, seven in Bagmati Province excluding those arrested in Kathmandu.
Four were arrested in Gandaki Province, seven in Lumbini Province, and six in Karnali Province.
"One person was arrested during the voting and was released after a counselling session," said Karki. "Remaining others are still in police custody."
Karki further added that other offenders will face legal punishments depending on the nature of their crime.
Most of the arrested will likely be charged with violating the election act, he said.
"They were arrested in coordination with the Election Commission. We will look at their crime and proceed accordingly," he added.
Millions of Nepalis cast their votes in the general election on Sunday. Then Nepal held polls to elect new members of the federal House of Representatives (HoR) and Provincial Assemblies (PA).
As many as 5,636 candidates contested the election under the direct - or first-past-the-post (FPTP) - system, with 5,907 seats set aside for proportional representation.