Football
WORLD CUP 2022
Apex Court postpones hearing on World Cup live broadcast case
Media Hub, which holds exclusive broadcasting right to FIFA World Cup for Nepal, has appealed against the top court's interim order not to collect additional fees from Nepali customers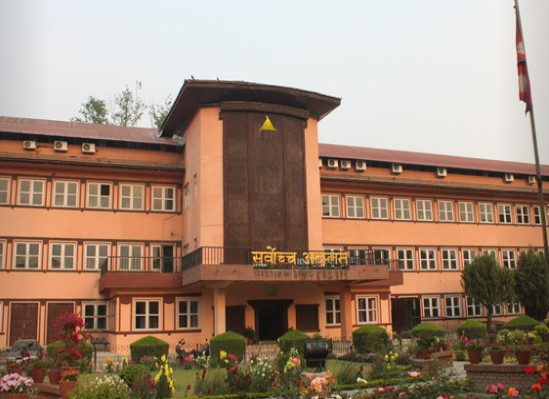 The Supreme Court has postponed hearing on the case regarding live broadcast of the World Cup 2022 in Nepal.
The hearing was scheduled for Sunday after Media Hub appealed against the apex court's "short-term interim order" to not charge Rs500 Nepali spectators to watch the World Cup matches.
With the quadrennial sporting showpiece kicking off in a week, the postponed of the hearing on the case has left a cloud of uncertainty hanging over the live broadcast of the World Cup 2022.
The hearing, originally scheduled for last Friday, was rescheduled for Sunday after Media Hub filed a petition demanding an amendment to the order. However, the hearing, which was due to take place before the bench Justices Prakashman Singh Raut and Manoj Kumar Sharma, has been postponed citing time constraints.
Last Tuesday, the court had issued the order after a preliminary hearing on the writ petition filed by Advocates Kishore Paudel and Anupam Bhattarai on behalf of the consumers.
The petitioners have made Media Hub – the holder of exclusive broadcasting rights of World Cup 2022 for Nepal – along with television service providers and the Ministry of Communication as the opposition in the case. The football's global showpiece is scheduled to take place in Qatar from November 20 to December 18.
The court had also said Media Hub's decision to collect additional fees under its "package view" model for the World Cup would cause irreparable loss to the Nepali customers.
Media Hub has acquired all the rights of terrestrial, satellite, DTH, only broadband and mobile and other electronic broadcasting in Nepal. The company has agreed with Himalaya Television to broadcast all 64 World Cup matches in the country.
With the competition around the corner, the service providers have urged Nepali customers to pay Rs500 to their respective service providers on top of the regular subscription fee to watch the World Cup matches. There are an estimated two million Nepali television subscribers in Nepal.
"The football World Cup begins in Qatar on November 20. It is very unfortunate that we did not get an opportunity to be heard on the case," Media Hub Executive Director Som Dhital said, reacting to Sunday's development.
Dhital said the delay in hearing on the case had forced his company to put on hold all preparations for the World Cup broadcast.
According to Dhital, the game's world governing body FIFA has sold broadcasting rights for Nepal in a territory-locked model, Nepali viewers cannot watch the World Cup broadcast through any other means than Media Hub.