Culture
Shrawan Sombaar
First Monday of Shrawan attracts throngs of pilgrims to Pashupatinath (Photo gallery)
Why Hindu men and women fast and worship Shiva on Mondays during Shrawan?
The month of Shrawan (mid-July-to-mid-August), considered to be the favourite month of Lord Shiva, holds utmost significance to Hindus the world over - and Nepali Hindus are no exception, who thronged various Shiva temples scattered around the country, marking 'Saune Sombaar' on Monday.
Hindus consider it even more important and auspicious when it's Shrawan and it's Monday, or Sombaar, the day of Lord Shiva who, in mythological times, is believed to have lied down in Kailash Parvat after consuming the 'Kalakut', a deadly poison that was produced after the churning of the ocean.
Then in the month of Shrawan, the sky is believed to have released incessant downpour to calm the Hindu almighty struggling to bounce back from the deadly effects of the 'Kalakut'.
That's why Hindus consider Shrawan auspicious from religious, cultural, spiritual, and traditional points of view. Many religious activities including Rudri puja, worship of Shiva, are solemnised this month.
On Shrawan Mondays Hindus visit nearby Shiva temples. In Kathmandu valley, devout Hindus visit temples like Pashupatinath, Doleshwor, Dattatreya, Dupcheshwor and so on and worship Shiva, seeking his blessings.
Sanatan history
According to Hindu – or rather the Sanatana – scriptures, goddess Parvati, wife of Shiva, did rigorous fasting in the month of Shrawan to get Shiva. Later, she got him as her husband. This "story" was narrated by Shiva himself to Brahma's son Sanat Kumar, as mentioned in one of the ancient scriptures.
That is believed to have inspired Hindu women to fast and worship Shiva.
Another narrative mentions that after drinking the 'Kalakut' poison that arose from the churning of the 'Ocean of Milk (Ksheer Sagar)', Lord Shiva could not bear the pain. He came to earth to release the pain. Then heavy rains started so the lord could recover sooner.
Likewise, among the five elements (Panchatatwa), Shiva is considered the water element as told in Shiva Purana. Like the Sanatan scripture says, the moon resides in Lord Shiva's head. In Vedic astrology, it is said that the moon becomes stable after fasting on the Mondays of Shrawan.
Also, as per the solar cycle in the Hindu calendar, the Sun leaves the sign of Gemini and enters Cancer. Because of this, the sun becomes less hot and the earth becomes cooler due to rain.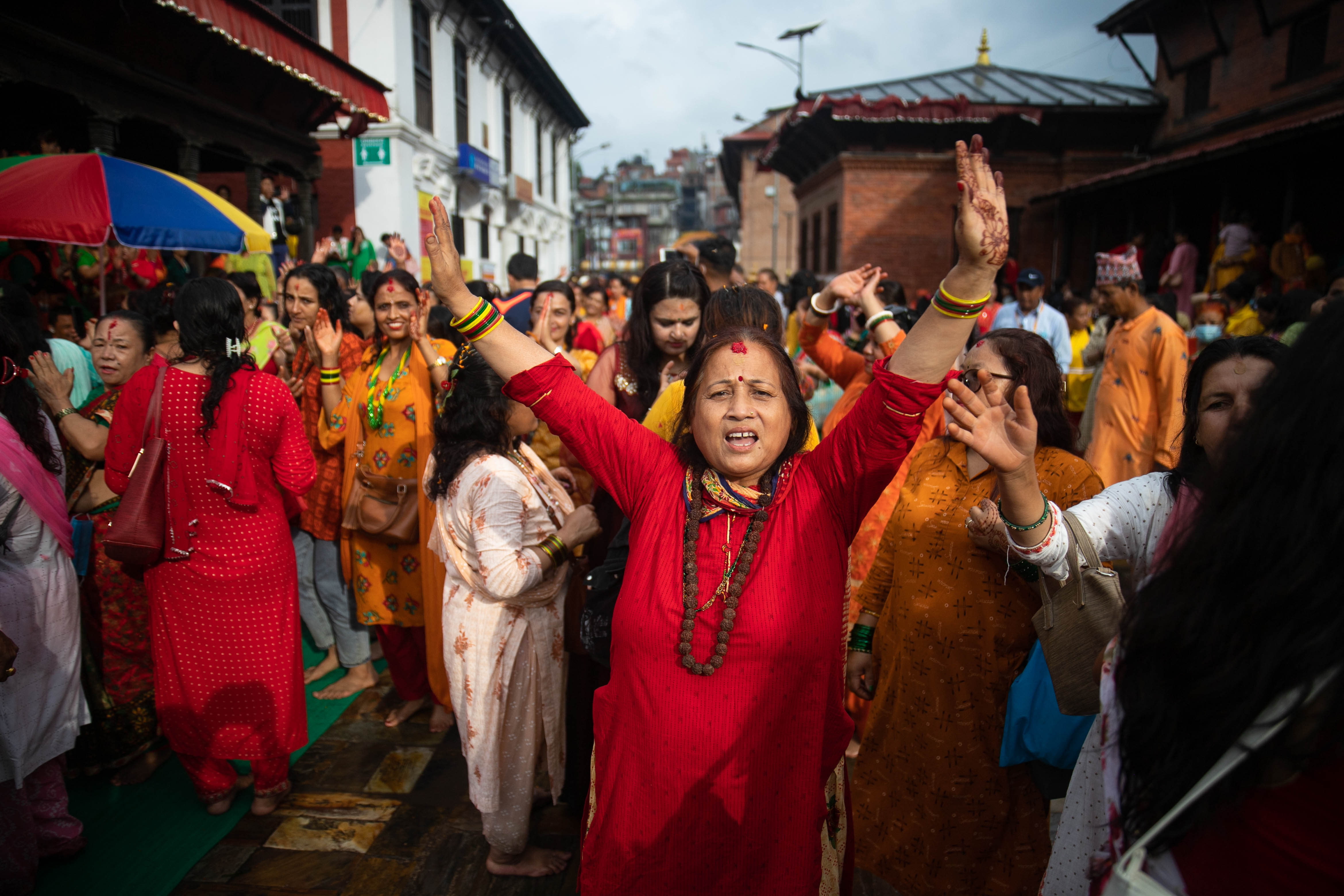 Fasting in Shrawan
In Hinduism, fasting has always been taken as a method to align mind, body, and soul to meet some kind of spiritual attunement.
Many Nepali Hindu men and women fast as per the religious belief that says worshipping Shiva in the month of Shrawan will bring blessings. Married women fast to ensure good health and prosperity for husbands and unmarried women fast to seek husbands like Lord Shiva.
And those who find it impossible to fast throughout the month avoid eating non-vegetarian food items in addition to vegetables like garlic and onion, which are considered "spiritually harmful". After worshipping Lord Shiva in the evening and hearing the story associated with him, women end their fast by consuming Karkalo leaves (Colocasia esculenta).
Health benefits
As per the Vedic medical system, fasting helps in cleansing our body from the toxins that are accumulated in our system, especially the digestive system.
From the spiritual aspect, the spiritual guru, Sadhguru aka Jaggi Vasudeva, agrees that fasting is also a method for self-discipline and a way to cleanse the toxins in our body system. "This will help our body to take a reset."
He says in one of Isha Foundation videos: "Simply denying yourself food and water could cause damage to the system. So, one must support it with necessary practices. If we have necessary practices, the need for food will come down."
However, health experts say that one can get a nice balance of antioxidants while fasting. And our body starts to heal as well. However, water is essential for our body whatsoever and fruits and juice can be consumed even while fasting.
Tradition vs trend
Green is regarded as the colour of the month in Shrawan, simply because Mother Nature comes back to life and is at its peak. The colour holds symbolic significance and reflects nature at its best. As farmers finish planting rice saplings, they get to relax as Shrawan begins.
Therefore, depicting the colour of nature in Shrawan, women wear green Saris and dresses and sport accessories like Chura and Pote in green. Of late, they have started having their hands and feet painted with Henna arts.
Photo Gallery:
(All photos: NepalMinute)